The 2023 Oscars: The Winners, Surprises, Memorable Moments, and More!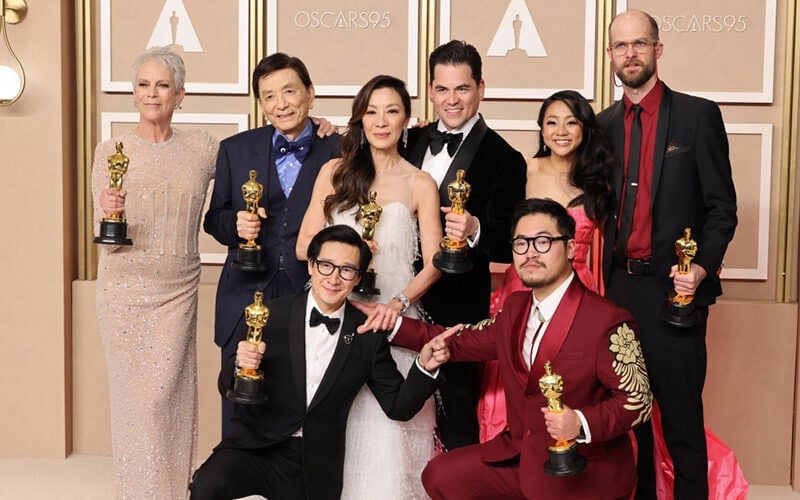 Last night, the 95th annual Academy Awards honored its 2023 Oscars winners. And while the night, thankfully, didn't have incidents like the 2022's slam heard around the world, it wasn't short on surprises, emotional speeches, and memorable moments.
The night opened with host Jimmy Kimmel's comedic monologue, which, of course, included a few jabs (or slaps) at the Will Smith and Chris Rock incident from the 2022 Oscars.
Jimmy Kimmel's Opening Monologue
Kimmel, 55, addressed last year's scandal – which saw Will Smith scoop the Best Actor award for King Richard shortly after striking Chris Rock over a joke he made about his wife, Jada Pinkett Smith. Kimmel urged the star-studded crowd to listen to the "strict policies" that have been put in place.
"We want you to have fun. We want you to feel safe. And most importantly, we want me to feel safe. So we have strict policies in place. If anyone in this theatre commits an act of violence at any point during the show, you will be awarded the Oscar for best actor and be permitted to give an 18-minute long speech," Kimmel joked. "Seriously, the Academy has a crisis team in place. If anything unpredictable or violent happens during the ceremony, just do what you did last year — nothing. Maybe even give the assailant a hug."
Kimmel went on to joke that there was even a high possibility of such an event having again.
"Five Irish actors are nominated tonight, which means the odds of another fight on stage just went way up," he teased.
Kimmel followed the jokes with a list of "tough guy" characters – including Michael B. Jordan's Adonis Creed and Tobey Maguire's Spider-Man – that could protect him "if you want to come up here and get jiggy with it."
Kimmel Also Addressed Tom Cruise and James Cameron's Absence from the 2023 Oscars
Kimmel also took a moment to poke fun at two big names not present for last night's award show, including Tom Cruise and director James Cameron.
"Tom Cruise and James Cameron didn't show up. The two guys who insisted we go to the theatre didn't go to the theatre…," Kimmel snickered. "James Cameron is not here. You know a show is too long when even James Cameron can't sit through it … Some of the critics are saying Jim Cameron isn't here because he didn't get a best director nomination. And while I find that very hard to believe about a man of such deep humility, he does have a point. I mean, how does the Academy not nominate the guy who directed 'Avatar'? What did they think he is, a woman?"
2023 Oscars Best Picture: Everything Everywhere All at Once
The big winner of the 2023 Oscars was A24's Everything Everywhere All at Once, which took home seven awards from the evening.
The comedy-drama-fantasy is now the most-awarded Best Picture winner since 2009's Slumdog Millionaire, which won eight of its Oscar nominations. But Everything Everywhere All at Once took home quite a bit more than the night's biggest award. The film also won Best Director and Best Original Screenplay for filmmaking duo Daniel Kwan and Daniel Scheinert as well awards for Michelle Yeoh, Jamie Lee Curtis, and Ke Huy Quan, who took home the Leading Actress and Supporting Actress and Actor awards, respectively.
Additionally, the film also won Best Film Editing.
2023 Oscars Best Supporting Actor: Ke Huy Quan in Everything Everywhere All at Once
It was an emotional evening for Ke Huy Quan, who not only won Best Actor in a Supporting Role for his role in Everything Everywhere All at Once. But the actor also shed a number of tears as he received a standing ovation when he won.
Quan, 51, first made an impression on audiences when he starred in Indiana Jones and the Temple of Doom when he was just 13 years old. Now, nearly four decades later, he admits he is living the American dream.
"Oh, my God. Thank You. My mom is 84 years old. And she's at home watching Mom, I just won an Oscar," Quan emotionally said in his acceptance speech. "My journey started on a boat, I spent a year in a refugee camp. And somehow I ended up here on Hollywood's biggest stage. They say stories like this only happen in the movies, I cannot believe it's happening to me. This is the American dream."
"Thank you so much to the Academy for this honor of a lifetime. And thank you to my mom for the sacrifices she made to get me here. To my little brother who calls me every day to remind me to take good care of myself," he added. "Thank you to Kendall, A24, The Daniels, Jamie, Michelle, and my brother for life Jeff Cohen. I owe everything to the love of my life, my wife Echo, who month after month, year after year, for 20 years, told me that one day my time will come. Dreams are something you have to believe in. I almost gave up on mine."
"To all of you out there, please keep your dreams alive," Quan said as he wrapped up his speech. "Thank you, thank you so much for welcoming me back, I love you. Thank you, thank you, thank you."
2023 Oscars Best Supporting Actress: Jamie Lee Curtis in Everything Everywhere All at Once
One of the bigger surprises of the evening was Jamie Lee Curtis beating out Angela Bassett for Best Actress in a Supporting Role. Most media outlets had predicted that Bassett would take the award for her incredible performance in Black Panther: Wakanda Forever. However, we all know that sometimes the Academy likes to award a winner for more than just their performance in a single film. And that was likely the case here, as the Academy was acknowledging Curtis' remarkable career as a whole.
Curtis, 64, was equally surprised, as the actress exclaimed, "Oh shut up!" in shock as her name was announced.
As she took to the stage, Cuturisr insisted the award was recognition for more than just her.
"I know it looks like I'm here by myself. But I am not. I am hundreds of people, The Daniels, Jonathan, Ley Line, the entire crew, my bae Michelle, Ke, Steph, the group of artists who made this movie – we just won an Oscar. To my dream team, we just won an Oscar. To my family, my beautiful husband, Christopher Guest, our daughters Annie and Ruby, and my sister Kelly, we just won an Oscar," Curtis said as she accepted the accolade.
Curtis also thanked horror movie fans, saying, "To all of the people who have supported the genre movies I have made these years, the hundreds of thousands of people, we just won an Oscar together."
As she wrapped up her speech, she got emotional as she paid tribute to her parents, Janet Leigh and Tony Curtis.
"And my mother and father were both nominated for Oscars in different categories. I just won an Oscar," she concluded.
2023 Oscars Best Actress: Michelle Yeoh in Everything Everywhere All at Once
Michelle Yeoh took home the Best Actress in a Leading Role award, which wasn't a surprise as most outlets had predicted she would win the award for her incredible performance in Everything Everywhere All at Once.
During Yeoh's acceptance speech, she called her win a "beacon of hope and possibilities" for the Asian community and urged those watching at home to "dream big".
"For all the little boys and girls who look like me watching tonight. This is the beacon of hope and possibilities. This is proof to dream big. And dreams do come true," Yeoh said. "Ladies, don't let anybody tell you you are past your prime. Never give up…"
"Thank you to the Academy, this is history in the making, thank you," she added.
2023 Oscars Best Actor: Brendan Fraser in The Whale
Another surprise during the evening was the award for Best Actor in a Leading Role, which went to Brendan Fraser for his powerful work in A24's The Whale. While the quality of his performance and the fan support around him was never in question, most had anticipated that the award was going to Austin Bulter for his work in Elvis as Elvis Presley.
"So this is what the multiverse looks like. I thank the Academy for this honor and our studio A24 for making such a bold film," Fraser said as he emotionally accepted the award. "I'm grateful to Darren Aronofsky for throwing me a creative lifeline and hauling me aboard the good ship 'The Whale'. It was written by Samuel D. Hunter, who is our lighthouse."
Backstage, after his win, Fraser admitted that he thought there had been another Oscars mix-up (referencing 2017's incident where La La Land was accidentally announced as Best Picture when the actual winner was Moonlight) when he heard his name called as the winner.
"When I first heard my name, I heard my name and I thought: 'That can't be right'… but it was, so I guess I should get up there and say something quickly," he confessed.
2023 Oscars Best Original Song: "Naatu Naatu" from RRR
Another beautiful moment during last night's show was M.M. Keeravaani and Chandrabose's win for Best Original Song. Their song 'Naatu Naatu' from RRR is the first Indian song to win the accolade.
During the acceptance of the award, Keeravaani sang a reworked version of The Carpenters 'On Top Of The World'.
"Thank you, Academy. I grew up listening to the Carpenters, and now here I am with the Oscars," he said. "'There was only one wish on my mind, so with Chandrabose and my families, 'RRR' has to win, pride of every Indian and must put me on the top of the world. Thank you"
During the award show, all of the nominated songs were performed at Los Angeles' Dolby Theatre, including 'Naatu Naatu'. It was arguably the most impressive performance of the evening as [erformers Rahul Sipligunj and Kaala Bhairava donned traditional Indian costumes and were joined by a number of energetic backing dancers for the number.
The Full List of 2023 Oscars Winners
Best Picture:
'Everything Everywhere All at Once'
Best Actress in a Leading Role:
Michelle Yeoh, 'Everything Everywhere All at Once'
Best Actor in a Leading Role:
Brendan Fraser, 'The Whale'
Best Actor in a Supporting Role:
Ke Huy Quan, 'Everything Everywhere All at Once'
Best Actress in a Supporting Role:
Jamie Lee Curtis, 'Everything Everywhere All at Once'
Best Director:
Daniel Kwan, Daniel Scheinert, 'Everything Everywhere All at Once'
Best Original Screenplay:
'Everything Everywhere All At Once'
Best Adapted Screenplay:
'Women Talking'
Best International Feature Film:
'All Quiet on the Western Front' (Germany)
Best Animated Feature Film:
Guillermo del Toro's 'Pinocchio'
Best Documentary Feature:
'Navalny'
Best Film Editing:
'Everything Everywhere All at Once'
Best Cinematography:
'All Quiet on the Western Front'
Best Original Score:
'All Quiet on the Western Front
Best Original Song:
'Naatu Naatu' from 'RRR' – music by M.M. Keeravaani, lyrics by Chandrabose
Best Sound:
'Top Gun: Maverick'
Best Visual Effects:
'Avatar: The Way of Water'
Best Production Design:
'All Quiet on the Western Front'
Best Costume Design:
'Black Panther: Wakanda Forever'
Best Makeup and Hairstyling:
'The Whale'
Best Animated Short Film:
'The Boy, the Mole, the Fox, and the Horse'
Best Live-Action Short Film:
'An Irish Goodbye'
Best Documentary Short Film:
'The Elephant Whisperers'