Timothée Chalamet Set to Begin Filming on 'A Complete Unknown' in New York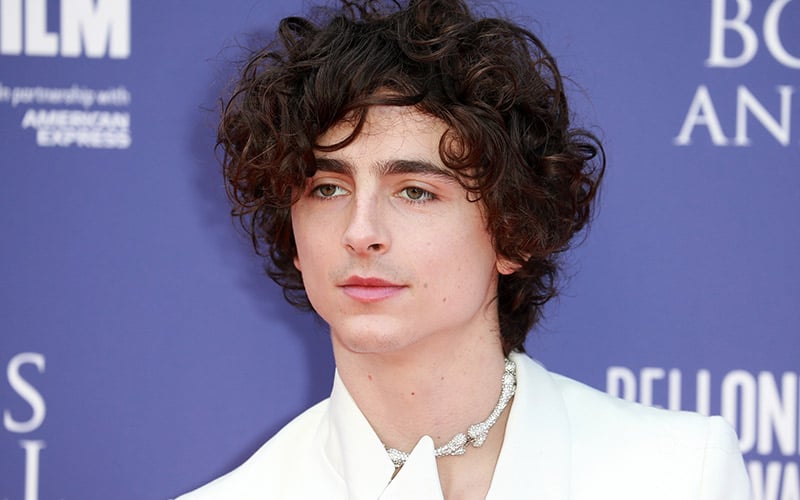 Timothée Chalamet is preparing to begin filming A Complete Unknown this summer in New York.
The Bob Dylan biopic, which will be directed by James Mangold, is already in pre-production, with filming scheduled to begin in August. Mangold, along with Jay Cocks have written the screenplay that will see Timothée Chalamet in the role of Dylan.
Additionally, Mangold has confirmed that the film will follow a teenage Dylan when he arrives in New York in the early 1960s as he is on the path to becoming a "worldwide sensation."
The movie will explore Dylan and his interactions with various sixties music legends. Those legends include Joan Baez and Pete Seeger to name a few.
Moviegoers will see the transformative moment for Dylan as he shook up his folk music act by going electric at the Newport Folk Festival in 1965. The move proved divisive among his fans and the music scene. However, it led Dylan to record some of his greatest songs and albums.
"It's such an amazing time in American culture and the story of Bob. A young 19-year-old Bob Dylan coming to New York with like two dollars in his pocket and becoming a worldwide sensation within three years," Mangold explains. "First being embraced into the family of folk music in New York and kind of outrunning them at certain point as his star rises so beyond belief."
A Complete Unknown Cast
Monica Barbaro, best known for her role as Lt. Natasha 'Phoenix' Trace in 2022's Top Gun: Maverick, is set to play Joan Baez. The 32-year-old actress recently finished filming on the Netflix series FUBAR, where she stars opposite Arnold Schwarzenegger. 
Elle Fanning has also signed on to star in the flick. She will play the role of Dylan's early '60s love interest, artist Sylvie Russo.
A production listing that went out also listed Benedict Cumberbatch as a possibility for the role of Pete Seeger. However, the potential casting has not been confirmed.
Filming on A Complete Unknown
A Complete Unknown entered pre-production this March. However, the movie was in the works long before then. The biopic was first announced in 2020, with Chalamet attached to play the lead. At the time, it was not known if the actor would perform the music legend's songs. Though, it was revealed that Chalamet had started taking guitar lessons in preparation for the part.
With filming set to begin in August, movie fans could see the movie as early as 2024. Though, it's unclear at the present what, if any, impact the writers' strike will have on the project.
In the meantime, Mangold's excitement about the film is palpable.
"It's such an interesting true story about such an interesting moment in the American scene, different characters from Woody Guthrie to Bob Dylan, to Pete Seeger to Joan Baez, all have a role to play in this movie," Mangold says.
Is Bob Dylan Involved in the Biopic?
Bob Dylan, 81, is involved in the flick. He serves as an executive producer alongside Fred Berger, Bob Bookman, Alan Gasmer, Alex Heineman, Peter Jaysen, Jeff Rosen, and director James Mangold.
We'll keep you posted as additional news is released.