Jessica Lange's 'Places, Please' Continues Atlanta Filming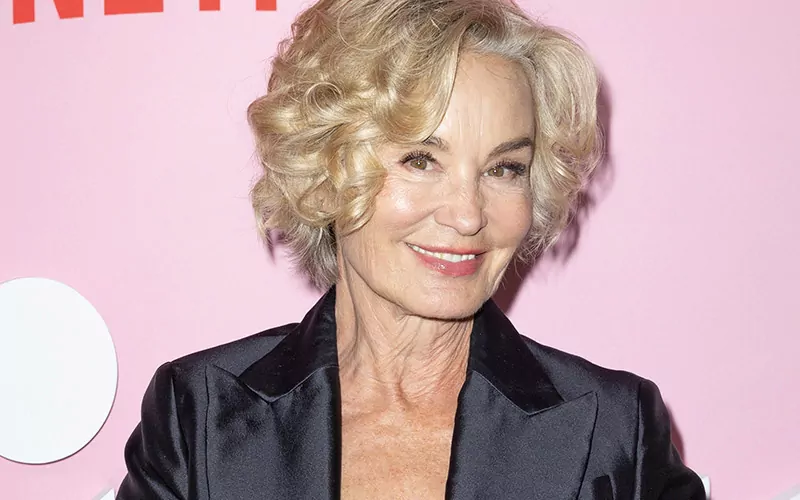 Places, Please started filming last month in Atlanta, Georgia, and continues to film around the city. Filming was most recently spotted at the Strand Theater just off the square in Marietta, Georgia.
The production stars Jessica Lange in the lead role of Lillian Hall. Starring alongside Lange are Lily Rabe, Lauren Buglioli, and Michael Rose. Michael Cristofer, who penned the screenplay for the 1987 horror comedy The Witches of Eastwick, is directing.
Production notes also listed Kathy Bates as a part of the cast, though no official announcement has gone out. And she's not listed on the IMDB page either. However, the news has been reported by several American Horror Story sources as well, including The AHS Zone.
Elisabeth Seldes Annacone wrote the screenplay. And Bruce Choen, Marie Halliday, Steven Rogers, and Scott Thigpen are producing.
What Is Places, Please About?
Places, Please follows Lillian Hall (Jessica Lange), a synonymous actress with Broadway. And throughout her long and illustrious career, she has never missed a performance. No matter the circumstances, be it for her daughter, illness, or any other reason, she has always delivered. However, her unwavering confidence faces a formidable challenge as she enters the rehearsals for her upcoming Broadway production. People and events begin to conspire against her, threatening to strip away her ability to pursue what she loves most.
Hall finds herself confronted with the repercussions of her past and the sacrifices she has made in both her personal life and artistic career. Now, she must face the consequences of a lifetime of neglecting her parental responsibilities.
Can she mend the fractures caused by her choices? Will she come to terms with the challenges of aging, with its tangible and intangible limitations? As she navigates the treacherous waters of self-doubt, grief, and the betrayals inflicted by others and her own body, a burning question emerges: Will she leave an indelible mark in the annals of history, or will she succumb without a fight?
The History of Places, Please
In 2021, it was rumored that Meryl Streep had been slated to take the lead role in this film. Michael Cristofer was already in place to direct, with filming scheduled to commence in New York.
However, in a surprising turn of events, in 2022, Glenn Close reportedly stepped in to replace Streep. The casting would switch up yet again before filming started in May, with Jessica Lange signing on to star.
Jessica Lange's Upcoming Projects
Aside from Places, Please, fans of Jessica Lange can also look forward to seeing her in the upcoming Long Day's Journey Into Night opposite Ed Harris and Ben Foster. The flick was filmed on location in Ireland last fall and has been in post-production since last November.
Additionally, Lange has signed on for Ryan Murphy's upcoming untitled Marlene Dietrich mini-series for Netflix. However, that project has been listed in pre-production since 2021. So the status of this one remains unclear with new IMDB updates or additional media coverage.
And she's also attached to the drama The Secret Life of the Lonely Doll opposite Naomi Watts. The project is still in the early stages of development.
Additional Details
Places, Please is scheduled to wrap filming in Atlanta on June 30. At this time, it doesn't appear that the WGA strike has impacted production.
However, it is still possible that an actors' strike may slightly overlap with the production. On June 5, SAG-AFTRA members voted to authorize a strike on June 30 if an agreement wasn't reached with the Alliance of Motion Picture and Television Producers (AMPTP) before that date.
Stay tuned for more updates!