11+ Must-See TV Shows and Movies Filmed in Atlanta: From 'The Walking Dead' to 'Avengers: Endgame' and More!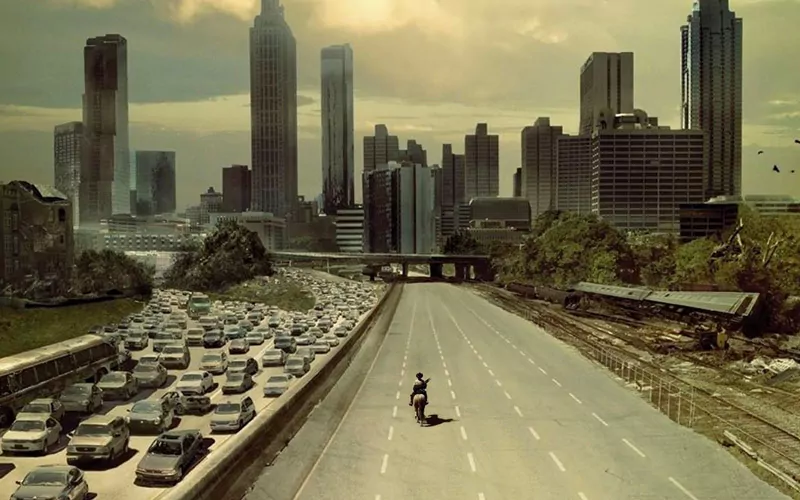 In 2005, Georgia first passed a film tax credit, creating a financial incentive to encourage film production in the state. With the creation of that tax credit, major Hollywood productions began moving to Atlanta for filming.
From The Walking Dead to Stranger Things to Avengers: Endgame and so many more, Atlanta now competes with New York and Los Angeles for the top filming spot in the country. And with more than 700 movie and TV projects filmed in the Peach State in just the last few years, the industry has generated more than $9 billion of income for the state.
While hundreds of TV shows and movies filmed in Atlanta are worth highlighting, we've compiled a list of the must-see productions. The following TV series and movies were filmed in Atlanta, Georgia.
Television Shows Filmed in Atlanta
Atlanta
The FX comedy Atlanta is set in and filmed in Atlanta. The series, which star Donald Glover created, follows aspiring rapper Earnest "Earn" Marks and rapper Alfred "Paper Boi" Miles as they navigate Atlanta's hip-hop scene. Several city landmarks are shown in the series, including JR Crickets and Zesto restaurants. The show has also filmed an episode in Helen, Georgia.
Atlanta stars Donald Glover, Brian Tyree Henry, LaKeith Stanfield, and Zazie Beetz.
Fun Fact: While Donald Glover wasn't born in Atlanta, he was raised in Stone Mountain, Georgia.
Black Lightning
Atlanta is no stranger to superhero franchises, including The CW's Black Lightning, which is part of the network's DC Arrowverse. The show, which aired its series finale in 2021, was filmed in Atlanta, including the Walton and Mitchell streets downtown. Black Lightning has also featured the Boogalou Restaurant & Lounge in Midtown.
The DC show follows Jefferson Pierce, a principal at Garfield High School in Freeland, Georgia. Jefferson was formerly known as the superhero Black Lightning until he retired when he saw how his double life affected his family. However, when the notorious criminal gang The 100 decides to take over the city, Jefferson is forced to return to his crimefighting ways.
Black Lightning stars Cress Williams as the titular character. Alongside Williams, the show also stars China Anne McClain, Nafessa Williams, Christine Adams, Marvin "Krondon" Jones III, Damon Gupton, James Remar, Jordan Calloway, and Chantal Thuy.
Cobra Kai
Cobra Kai is the sequel to the original Karate Kid movies from the 1980s, taking place years later when the characters are now adults. The Netflix series is filmed in several locations in Atlanta, including the Cascade roller skating rink, Underground Atlanta, and the Fernbank Science Center. The show sees Daniel LaRusso and Johnny Lawrence opening rival dojos with their students facing off against each other.
Cobra Kai stars Ralph Macchio, William Zabka, Courtney Henggeler, Xolo Mariduena, Tanner Buchanan, Mary Mouser, Jacob Bertrand, Gianni DeCenzo, Martin Kove, Peyton List, Vanessa Rubio, Thomas Ian Griffith, and Dallas Dupree Young.
Dynasty
The reboot of the 1980s soap opera was also filmed in locations in Atlanta, where the story also takes place. While most of the show was filmed in a studio in Norcross, the Dynasty mansion is in Buford, Georgia. The series follows the Carrington family, with Fallon clashing with her father Blake's new girlfriend over the future of the family business.
Dynasty stars Elizabeth Gillies, Nathalie Kelley, James Mackay, Robert Christopher, Riley, Sam Adegoke, Rafael de la Fuente, Alan Dale, Grant Show, Nicolette Sheridan, Ana Brenda Contreras, Maddison Brown, Sam Underwood, Daniella Alonso, Michael Michele, Adam Huber, Elaine Hendrix, and Eliza Bennett.
Dynasty aired its series finale September 16, 2022.
The Walking Dead
One of the most popular zombie apocalypse shows, The Walking Dead follows a group of survivors looking for refuge. The Walking Dead was filmed all over Atlanta and surrounding cities over its multiple seasons. The first season, in particular, featured the city itself. Some of the notable filming locations included the Cobb Energy Center, Jackson Street Bridge, and the Goat Farm Arts Center.
The Walking Dead stars Andrew Lincoln, Norman Reedus, Danai Gurira, Steven Yeun, Lauren Cohan, Jeffrey Dean Morgan, and Melissa McBride among an ensemble cast.
Most of The Walking Dead was filmed near Senoia, Georgia, at Riverwood Studios. And while the show ended in November 2022, the series resulted in countless spin-offs, including Fear The Walking Dead, The Walking Dead: Dead City, and The Walking Dead: Daryl Dixon – to name a few.
Stranger Things
One of the most popular supernatural series on Netflix is also filmed in Atlanta, despite being set in Indiana. Stranger Things follows a group of friends in the 1980s who meet a girl with psychic powers. However, she's being hunted down by not-so-great people, including a creature from another world. While Stranger Things films in Georgia, and much of the production is done in Atlanta.
Some of the locations filmed include the Emory University Briarcliff campus, the South Bend Pool, and the Sleepy Hollow Farm.
Stranger Things stars Millie Bobby Brown, Winona Ryder, David Harbour, Finn Wolfhard, Gaten Matarazzo, Caleb McLaughlin, Natalia Dyer, Charlie Heaton, Joe Keery, Sadie Sink, Cara Buono, Matthew Modine, Noah Schnapp, Dacre Montgomery, Priah Ferguson, and Maya Hawke.
Movies Filmed in Atlanta
Anchorman 2 (2013)
The sequel to Anchorman: The Legend of Ron Burgundy, Anchorman 2 was filmed in several locations including in Atlanta. The sequel sees Ron Burgundy already married to his original love interest Victoria Corningstone. Ron learns that he's set to be fired as the bosses find him sloppy and unprofessional. Ron breaks up with Victoria and takes a job as an anchor in the GNN network in Atlanta.
Anchorman 2 stars Will Ferrell, Paul Rudd, Christina Applegate, Steve Carell, David Koechner, Dylan Baker, Meagan Good, James Marsden, Fred Willard, and Kristen Wiig.
Baby Driver (2017)
Edgar Wright's Baby Driver follows a getaway driver trying to leave the life of crime behind with his girlfriend, Debra. However, the couple faces a dilemma – Baby happens to be the best getaway driver in the business. Throughout the movie, audiences see a considerable amount of Downtown Atlanta, which plays heavily into the story.
Baby Driver stars Ansel Elgort, Jon Hamm, Lily James, Kevin Spacey, Eiza Gonzalez, Jamie Foxx, and Jon Bernthal.
Driving Miss Daisy (1989)
The classic Driving Miss Daisy follows an elderly Jewish woman and her growing friendship with her African-American driver over a span of 25 years in Atlanta. The movie was filmed in Atlanta, featuring the Druid Hills neighborhood, Castleberry Hill, and Five Points.
Driving Miss Daisy stars Jessica Tandy, Morgan Freeman, Dan Akyroyd, Patti LuPone, and Esther Rolle.
Gone With the Wind (1939)
Arguably one of the most famous films in Hollywood, the Academy Award-winning Gone with the Wind takes place in Atlanta. However, the epic romance was not filmed in the city. Though, we're still including it in the list – because author Margaret Mitchell wrote the novel while in Atlanta. So don't be mad.
Filming took place in northern California at Selznick International Studios. Additional locations used included Agoura, Malibu Lake, Simi Valley, and San Bernadine National Forest in California.
The movie follows Scarlett O'Hara and her trials and tribulations following the American Civil War and Reconstruction. Scarlett's romantic pursuit of Ashley Wilkes, who is married to her cousin Melanie Hamilton, also leads to her eventual marriage to Rhett Butler.
Gone With the Wind stars Vivien Leigh, Clark Gable, Leslie Howard, Olivia De Havilland, and Hattie McDaniel.
The film is based on the real-life female African-American mathematicians in NASA: Katherine Goble Johnson, Dorothy Vaughan, and Mary Jackson. Hidden Figures was mostly filmed in Atlanta, showing the campus of Morehouse College, Emory University, and Fort McPherson.
Hidden Figures stars Taraji P. Henson, Octavia Spencer, Janelle Monae, Kevin Costner, Jim Parsons, Mahershala Ali, Aldis Hodge, Kirsten Dunst, and Glen Powell.
The MCU
Perhaps the biggest superhero TV and movie franchise today, the movies under the Marvel Cinematic Universe are primarily filmed in Atlanta. Among them are The Avengers, Black Panther, and Ant-Man. Additionally, some of the Sony-owned Marvel properties filmed in Atlanta as well, including Venom and the most recent Spider-Man flicks starring Tom Holland. Upcoming Marvel projects filming in Atlanta will include Thunderbolts and Blade. Captain America: New World Order also filmed just south of the city earlier in 2023.
Additionally worth noting, other popular Atlanta MCU filming locations that fans can visit include Sweetwater Creek State Park, the High Museum of Art, the Porsche Headquarters, and the DeKalb Courthouse.