Rick Ross' House: Everything You Need to Know About the Rapper's Opulent Estate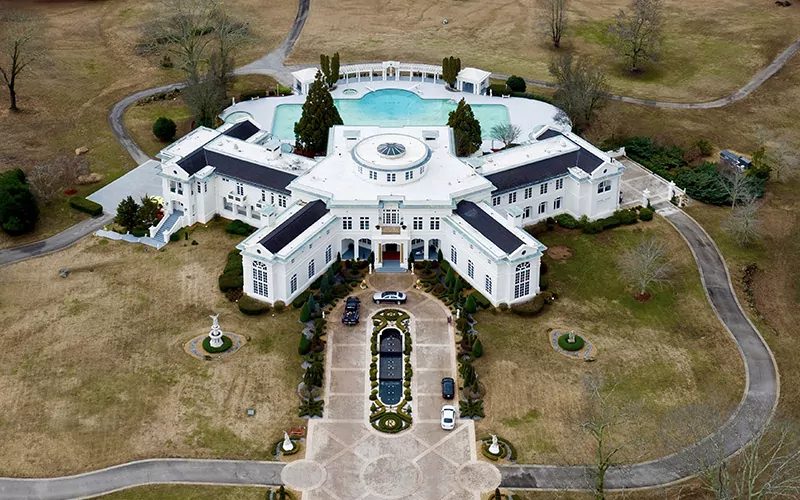 When it comes to extravagant spending, few celebrities can rival the likes of rapper Rick Ross. Not only is he one of the richest recording artists in the music industry, but he has also taken his success to a whole new level by acquiring an array of lavish properties. Among his notable assets is Rick Ross' house in Georgia, an opulent estate that is as grand as it is impressive.
Ross, known for his larger-than-life persona, has spared no expense regarding his real estate holdings. Whether it's a sprawling mansion, a secluded retreat, or a private oasis, each of Ross' properties is a testament to his astronomical wealth and his penchant for the finer things in life.
One of the Largest Homes in the US
Perhaps the most extravagant of all of Rick Ross' houses is a mansion in Fayetteville, Georgia. Ross purchased the property, which was built in 1994, from former heavyweight champion Evander Holyfield. It's also one of the largest homes in the US today, with 109 rooms, making it almost as big as the White House.
The mansion, which Ross has dubbed, "The Promise Land," is 45,000 square feet. And Holyfield sold the estate to a bank for $7.5 million. The asking price at the auction was $2.5 million. Ross revealed that he paid $5.8 million for the house in 2014.
There are 12 bedrooms, 21 bathrooms, and a massive formal dining room that can seat up to 100 people. Ross has certainly put the space to good use as he often throws lavish birthday parties in his extravagant home.
The mansion also comes with an Olympic-sized swimming pool that can hold over 350,000 gallons of water. It also includes a basketball court, a tennis court, and a softball court. But there's also an indoor pool, a movie theater, a boxing gym, a recording studio, and a bowling alley.
Holyfield previously revealed to The Atlanta Journal-Constitution that it cost him $1 million per year for the upkeep of the house.
Rick Ross' House Has a Private Zoo
While one might think the amenities in Rick Ross' Fayetteville mansion are extravagant already, it gets even more over-the-top. Rick Ross' house in Fayetteville even has its own private zoo, definitely living up to its name of "The Promise Land." The rapper sought to fill up the space by housing a variety of animals like horses, buffalos, and cows.
It was also reported last year that Ross was looking to bring in more animals to his private zoo, like lions. The rapper took to Instagram to make the announcement, saying that one lion and one lioness will be brought to The Promise Land from Senegal, according to their handler.
"My pet cats are ready to come home," wrote Ross in the caption of the video announcement.
Private zoos aren't unusual among big-time celebrity homes. Michael Jackson's Neverland ranch had its own private zoo, including the elephant gifted to him by Elizabeth Taylor. The late Hugh Hefner's Playboy mansion also had its own private zoo.
Used in Filming for Coming 2 America
With how big and opulent the mansion is, it's no surprise film producers have gravitated to the property when scouting for potential filming locations. Ross revealed during an Instagram live that he charges producers and film crews who come to his home to tour the property. So there's a chance you've already seen the inside of the house before. In fact, Rick Ross' house in Fayetteville has also appeared in a number of projects.
Rick Ross' house appeared in the movie Superfly back in 2018. However, its most notable appearance was in Coming 2 America, the sequel to Coming to America starring Eddie Murphy. Coming to America also happened to be Ross's favorite movie.
For the sequel, Rick Ross' house was transformed into Zamunda Palace, where Prince Akeem lives with his family. The movie's production designer, Jefferson Sage, revealed they looked into other possible locations before they settled on the rapper's mansion.
"That entrance foyer with the big two-story interior and double-winding staircase was perfect," Sage told Variety at the time. "Off of that, there were two beautiful big rooms with giant windows and 18-foot ceilings. We used five key spaces that we turned into Zamunda."
Both the bedrooms and the dining room were converted for the film to make them suitable for the Zamundan king. The color palette in Ross's primary bedroom was changed from warm whites to blues and silvers. The production crew also gifted Ross the dining table created for the movie.
"They changed the wallpaper in the dining room. So I asked them to keep it up there. They also created that huge dining room table for a dining scene that seats 50-60 people. And they left that for me as a gift. It's humongous," said Ross.
Rick Ross Bought Atlanta Mansion from Meek Mills
Aside from the 109-room megamansion, Ross has also purchased an equally opulent property from rapper Meek Mills for $4.2 million in cash. The Atlanta mansion boasts eight bedrooms and nine-and-a-half bathrooms. The property also includes a tennis court, a two-car garage, a media room, a gym, a sauna, and a swimming pool.
Before Ross would ultimately purchase the house, it was on sale for two years without any buyers. Meek Mills took to Instagram to post the listing of the house, frustrated with the job his realtor was doing.
The unfurnished three-story house also has mostly white walls and ceilings, a gray chef's kitchen, and two towers topped by turrets at the back.
$37 Million Miami Mansion
Adding to Rick Ross' lavish properties is a mansion in Miami that the rapper purchased for $37 million. The waterfront residence is located in the gated community of Star Island, which is close to Biscayne Bay and is known to be where many high-profile figures reside.
The property occupies 40,0000 square feet of land with 100 feet of waterfront, according to Ross's realtor Kimberly Knausz of ONE Sotheby's International Realty. Knausz worked with Ross's sister, Tawanda Roberts, who is a real estate agent in Miami, to secure the deal on the house.
The house is 12,374 square feet, with six bedrooms, eight-and-a-half bathrooms, a chef's kitchen, and a bay-facing primary suite. The suite itself has dual walk-in closets and bathrooms. Outdoors, the house has a heated pool, a summer kitchen, a 40-foot dock, and direct access to the bay and the ocean.
"He instantly fell in love with the grand entry – it has a very long driveway stretching towards the mansion that creates an air of real luxury," Knausz told PEOPLE. "The architecture also played a part, as it's far beyond the ordinary modern home. And he plans to enhance it to reflect his personal style."