Mark Cuban's Net Worth: Unveiling the Billion-Dollar Empire and His Most Profitable Investments
Billionaire businessman Mark Cuban is popularly known for being part of the investor-themed show Shark Tank. Cuban is also known for having several stakes in major businesses, including a controlling stake in an NBA team, the Dallas Mavericks. But compared to many of his peers, Cuban built his fortune from the ground up. So it raises the question of what is Mark Cuban's net worth.
Despite his substantial wealth, Cuban is known to live a relatively modest lifestyle, exemplifying that his success is driven more by his passion for business than by the pursuit of luxury. Read on for an in-depth look at Cuban's career.
Early Life
Mark Cuban was born on July 31, 1958, in Pittsburgh, Pennsylvania. His father installed upholstery in cars while his mother worked a series of odd jobs. Cuban attended Indiana University's Kelley School of Business and sold stamps to pay his way through his studies. In 1982, Cuban moved to Dallas.
"I grew up in a working-class family," Cuban revealed in an episode of Shark Tank. "People thought I might go to work at a mill. My mom wanted me to learn how to lay carpet because she was concerned about my future."
"Nobody had high hopes for me," said the billionaire. "But I was a hustler."
Career
Mark Cuban was inspired to pursue his own business after getting fired from his job at a software shop. Cuban was fired when he closed a $15,000 sale instead of cleaning the store.
Cuban's first business, a computer consulting company called MicroSolutions, was sold for $6 million in 1990.
In 1995, Mark Cuban co-founded the video portal Broadcast.com with fellow Indiana University schoolmate Todd Wagner. Cuban and Wagner co-founded the company out of wanting to watch Hoosier basketball while they were living in Dallas. Before it was called Broadcast.com, it was originally called AudioNet, essentially one of the world's first streaming services.
"There was nobody doing it. Nobody," Cuban told CBS Sunday Morning. "People thought I was an idiot."
Cuban and Wagner eventually sold the company to Yahoo for $5.7 billion in 1999. This sale was a massive boost to Mark Cuban's net worth, bringing him to billionaire status by the time he was 40 years old. The sale also came at a good time for Cuban as a few years later, Broadcast.com would be discontinued.
"I'm not retired because I'm too competitive," said Cuban in the Re: Thinking with Adam Grant podcast in 2022. "Every entrepreneur in the back of their mind says, 'I want to be that entrepreneur that disrupts an industry and changes it.' what's better than that?"
Cuban also owns a media company called 2929 Entertainment.
Investments
Mark Cuban owns the NBA team Dallas Mavericks. The team is listed by Forbes as one of the most valuable sports franchises. Cuban holds a majority stake at 85 percent in the team which is worth $3.3 billion. The billionaire decided to buy the majority stake in the team in 2000 for $285 million.
"My seats are right by the Mavs bench…two rows back," Cuban told Bloomberg. "I was into it and there was nobody there. And I remember, 'I can do a better job than this.' And then it hit me: 'Ding, ding, ding! Now, I can afford this stuff!'"
In January 2022, Cuban co-founded Cost Plus Drugs. The pharmaceutical company was launched with the aim of lowering prescription drug prices for Americans.
Cuban also invests in mission-driven companies through his venture capital firm, Mark Cuban Companies. Such companies include Luminaid, a firm that provides lighting to disaster areas, and Mahmee, a maternal healthcare tech company. Aside from mission-driven companies, Cuban also oversees a nonprofit through his firm.
"The one thing in life you can control is your effort," said Cuban in a video shared by entrepreneur Randall Kaplan on LinkedIn. "And being willing to do so is a huge competitive advantage because most people don't."
Through his venture capital firm, Cuban has invested in over 400 businesses. However, it was his investment in the Dallas Mavericks that is regarded as the most lucrative.
Cuban also owns a whole town. In December 2021, Cuban bought the small town of Mustang, Texas for $2 million. The town spans 77 acres and has a population of 23 people.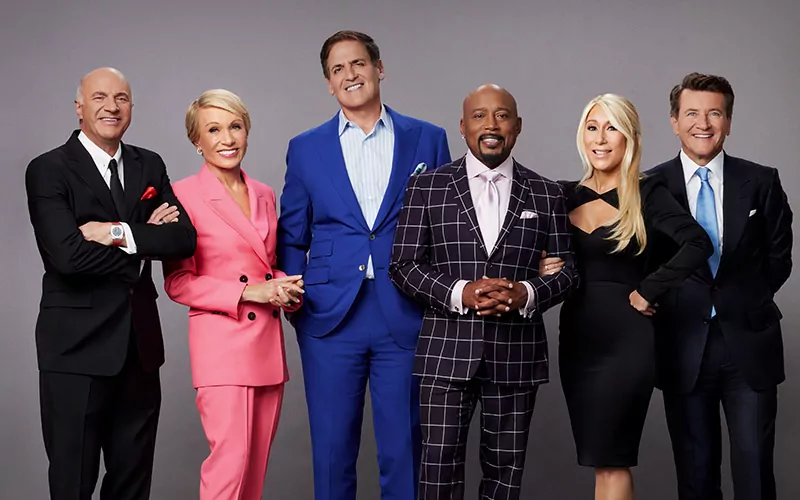 Shark Tank
Perhaps the most popular gig for the businessman was as a potential investor in the show Shark Tank. Cuban was part of the show for 12 out of its 14 seasons. During his time on Shark Tank so far, Cuban has invested over $22 million. Cuban's largest investment was in Shark Tank Season 5, giving Ten Thirty-One Productions $2 million in exchange for a 20 percent stake in the company.
In 2022, Cuban told the Full Send Podcast that he hadn't made a profit in any of his investments.
But Cuban has also received a paycheck for filming Shark Tank. According to Variety, in 2016, the sharks were paid around $50,000 per episode, perhaps more today. Back in 2014, the leaked emails from the Sony hack revealed that Cuban was being offered $30,000 per episode in Season 5, $31,200 per episode in Season 5, and $32,488 in Season 7.
But Business Insider reported that Cuban wasn't exactly happy with the offer. It remains to be seen what resulted from further contract negotiations.
In 2022, Cuban has floated the possibility of leaving Shark Tank. The billionaire told Forbes at the time that he was considering leaving Shark Tank to focus on Mark Cuban Cost Plus Drugs.
"Part of me wants to quit," said Cuban at the time. "They'll survive fine without me."
Personal Life
Despite accumulating all the wealth he has, Mark Cuban revealed that he and his family do their own household chores. This includes washing clothes and cooking meals. Cuban explained that there is no privacy in hiring staff to do those tasks for him and his family.
"I've been around people who hire somebody to do everything for them," Cuban said in an interview on The Really Good Podcast. "And that's just like, no privacy."
Most of the billionaire's friends are also from his early days in Dallas or old schoolmates from Indiana.
Even when Cuban stays down-to-earth when it comes to his relationships with his family and friends, he also makes big purchases like his wealthy peers. Cuban has owned several private jets over the years. At least two of those jets are currently in service.
Mark Cuban's Net Worth Today
According to Forbes, Mark Cuban's net worth today is $5.1 billion. Cuban is among the top 540 richest people in the world. But the billionaire has revealed that he would be fine without that wealth.
In an interview with CBS, Cuban was asked if he could be happy with just one percent of his net worth.
"Yes. If I had my same family and everything, for sure," said Cuban.
Cuban is also a bestselling author aside from a businessman. He's the author of the book, "How to Win at the Sport of Business." Cuban also holds multiple patents and has executive produced many award-winning movies like Good Night and Good Luck. These ventures have further contributed to his net worth.