'The Marvels' Movie Review: Entertaining, A Lot of Fun, and Way Over-the-Top
I was one of the seemingly few movie critics who fell in love with 2019's Captain Marvel. I absolutely loved the film, and I've been eagerly awaiting this sequel ever since. So my expectations were (pun intended) higher, further, faster for The Marvels. And while the film still managed to engage and entertain me, it wasn't without its share of shortcomings.
Let's set the stage. Carol Danvers, aka Captain Marvel, has freed herself from the oppressive Kree and exacted revenge on the Supreme Intelligence. However, unintended consequences see Carol shouldering the burden of a destabilized universe, which she must now rectify. When her duties send her to a unique wormhole connected to a Kree revolutionary, her powers become entangled with that of Jersey City super-fan Kamala Khan, aka Ms. Marvel, and Carol's estranged niece, now S.A.B.E.R. astronaut Captain Monica Rambeau. Together, this unlikely trio must team up and learn to work in concert to save the universe as "The Marvels."
Check out the trailer below.
The Marvels Movie Trailer
The Marvels Movie Review: What I Did and Didn't Like
At one hour and 45 minutes, The Marvels is the MCU's shortest movie yet, and it feels like it. Numerous scenes feel rushed, and there's more than a handful of scenes I could have done without. That said, it's still a fun film with a number of things working in its favor, including one of the most likable characters in the MCU, Kamala Khan.
My biggest gripe with the movie is that it goes overboard with excessive over-the-top moments, which often feel unnecessarily extravagant and detract from the overall story.
Story
Contrary to social media chatter and underwhelming marketing, The Marvels isn't the downfall of the franchise that many feared it was. It just leaves a lot to be desired. While it offers a delightful adventure led by a trio with undeniable chemistry, it suffers from a hurried pace and an erratic tone.
The movie often breaks its own flow in an attempt to clarify the storyline – a challenging endeavor for all involved. The cast, particularly Larson, seems to wrestle with this task, as her character feels unengaged and seemingly uninterested at points – and it's hard to fault her for that. Especially in scenes that feel less like a Marvel film and more like a live-action Disney princess origin story remake. (To not get too descriptive here, I'm referring to the singing island world, which took me entirely out of the story for a solid 5 minutes.)
I adored everything about Captain Marvel. And while this one provides a lot of laughs, it also provides a lot of WTF moments that shake you out of the world you're trying to immerse yourself in. (And I'm not even talking about ALL the crazy moments with the Flerkens – because I was actually all in on the wild cat montage.)
Long story short, there are problems with the script – and that's my only real issue with the film.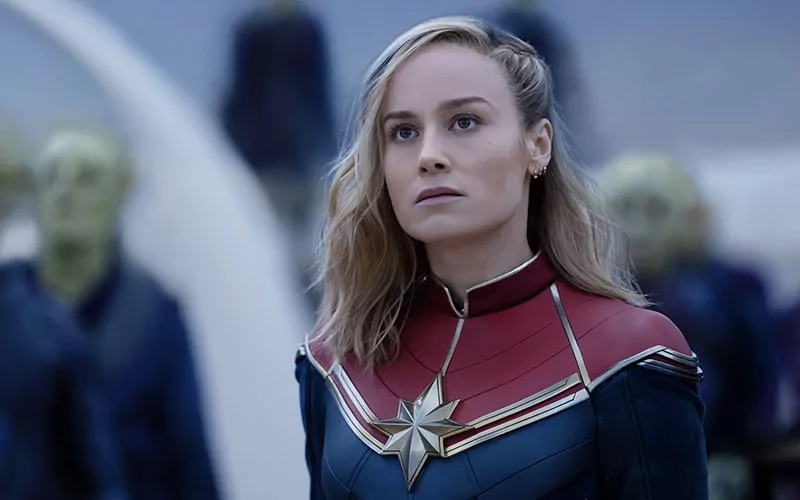 Acting
The Marvels truly shines life when it focuses on its main trio. It's all girl power up in here. Despite sharing the limelight, Brie Larsen's Carol feels more relaxed this time around and, sometimes, even emotionally uninvested. Though again, like I said above, I can't fault her. There are scenes that don't feel like they belong in Carol's timeline, and Larson works through those in the best way that the material allows.
Though Teyonah Parris has the least screen time of the three, she delivers a wonderful performance here, serving as the film's emotional anchor. And then there's Iman Vellani, who truly steals the show, balancing comic relief and the more intense scenes with ease. Her portrayal of Kamala Khan is endearing, and Vellani excels in channeling Khan's inner fangirl, crafting a character that audiences can genuinely connect with.
Overall
The Marvels is a fun film filled with no shortage of laugh-out-laugh moments. So while the script may have its flaws, the film's strength in humor, chemistry, and character development make it an enjoyable watch for MCU fans and newcomers alike.
Not to mention, there's a one scene at the end and one mid-credits scene that Marvel fans will want to see, as it's a pretty big setup for what's to come with the MCU.
The Marvels Movie Review:
Grade: C+
Note: FanBolt's Featured Image is fan art. We create this fan art purely for the love of design and fan culture. (We're movie and design nerds). The property and fandom inspire the artwork, and no infringement is/was intended. The Marvels is property of Disney/Marvel.