Netflix and Marvel's Latest 'Jessica Jones' Trailer Reveals More About 'Hard-Drinking, Short-Fused Mess of a Woman'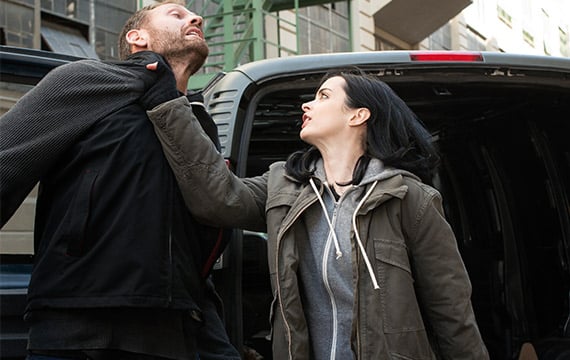 The latest look at Netflix's highly anticipated superhero series Marvel's Jessica Jones reveals not only the power that Jones possesses, but also uncovers her flaws.
Jessica Jones stars Krysten Ritter as the titular character who tries to start her life over as a private investigator focusing on assisting people with extraordinary abilities and rebuilding her personal life and career as a detective after her superhero career was tragically ended.
The second trailer for the new series gives fans some new looks at the "hard-drinking, short-fused, mess of a woman" as Luke Cage (Mike Coulter) so delicately puts it. In the video, we see Jones struggling to maintain control of her mind as villain Kilgrave (David Tennant) fights to win her over for the dark side. We also see that the lady loves her whiskey (but what respectable woman doesn't?).
In addition to Ritter, Coulter and Tennant, the series stars Carrie Ann Moss (The Matrix), Eka Darville (The Originals) and Rachael Taylor (Grey's Anatomy).
The series is executive produced by series showrunner Melissa Rosenberg (Twilight, Dexter) and Liz Friedman (Elementary), along with Jeph Loeb (Marvel's Agents of S.H.I.E.L.D., Smallville, Heroes), who also serves as Marvel's Head of Television.
Marvel's Jessica Jones premieres November 20, 2015 at 12:01am PT on Netflix.
Photo Credit: Youtube/Netflix
Recommend

0

recommendations
Published in Entertainment, Entertainment News, Featured, TV, TV News