The Hunger Games Exhibition Is a Must-See for Fans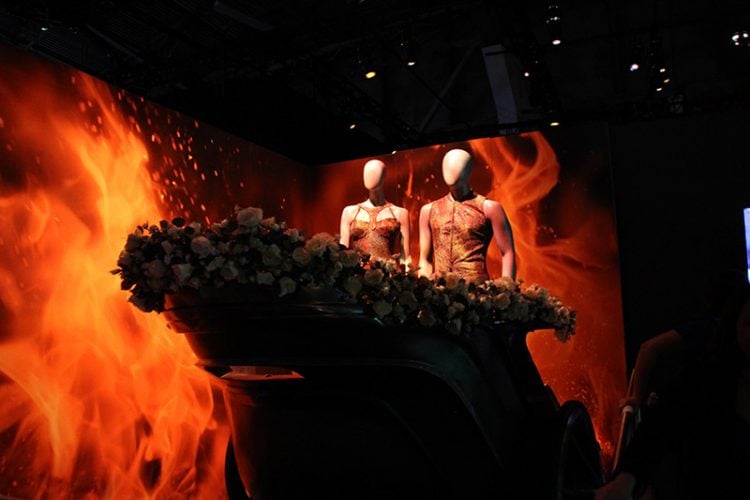 FanBolt was invited out to San Francisco for the opening of The Hunger Games Exhibition which is residing inside of the Innovation Hanger on Lyon Street, an absolutely beautiful part of the city. The exhibition features a truly immersive experience for fans into the world of Panem, from actual props and costumes used onscreen to interactive photo opportunities, the story of Katniss Everdeen comes to life right before you.
During my visit to the exhibition, bloggers were greeted with a delicious Capitol-style gathering complete with macaroons, mini sandwiches, mocktails, as well as makeup artists to create a custom Capitol look for us.
Before getting to fully explore the exhibit, we got to speak with Willow Shields (who plays Primrose Everdeen) and Elden Henson (who plays Pollux). Both spoke with us about their experience working on the franchise as well as their thoughts on the exhibit, and which parts they were most excited about.
Willow Shields and Elden Henson Talk About The Hunger Games Exhibition
"The Mockingjay pin. I have kinda of a connection with that, because I wore it at the reaping and then I gave it to Katniss," Shields answered. "It just held so much meaning between me and Jen I think. It holds a lot of meaning to the whole series obviously. It's the symbol of hope and what becomes the rebellion."
"My favorite stuff is from the movies that I wasn't in, because I'm also a film fan – a movie nerd. I watch a lot of movies," Henson revealed. "I really enjoyed those first two movies, so to be able to come and see that stuff as a fan was pretty cool for me."
Once we ventured into the exhibition, it was easy to see how lost fans could become in each of the rooms. There's such amazing attention to detail and the overall experience that fans are journeying through. The audio tour comes complete with challenges itself, turning the exhibit into a bit of a game as well – but don't worry – the odds are your in favor!
The Hunger Games Exhibition Fun Facts
Exhibit covers 12,000 sq ft
7 galleries
16 scenic vignettes
46 costumes
1,000+ authentic props
Here's a look at some of my favorite highlights.
The Hunger Games Exhibition
The Hunger Games Exhibition is stationed at the Innovation Hangar, Palace of Fine Arts Exhibition Hall (3601 Lyon St., San Francisco) and is open until July 31 from 10am to 7pm Sundays – Thurdays, and 10am to 9pm Friday and Saturdays. You'll want to allow a hour to a hour and half to explore the full exhibit. Tickets are $27.50 adults, $25 ages 65 and older, $22 ages 3-11, $50 for two tickets, $90 for four tickets, $49 for VIP (front of line, undated, untimed access and on-site mobile guide), and $7 on-site mobile guide rental.
Learn more at www.thehungergamesexhibition.com! Hunger Games: Mockingjay Part 2 is now available on Digital HD, and it will be available on Blu-ray/DVD on March 22!