Bryan Cranston and Kevin Hart in Talks for 'The Intouchables' Remake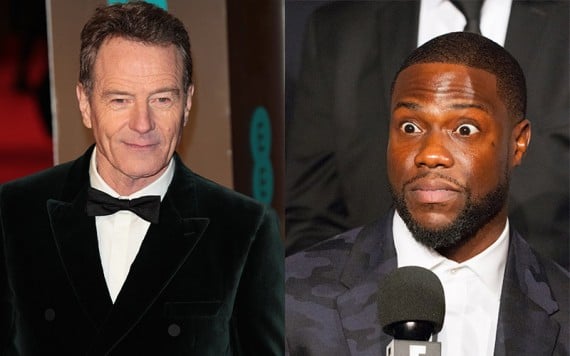 Bryan Cranston and Kevin Hart are in negotiations to star in the Hollywood remake of French-language film The Intouchables.
The former Breaking Bad star is in advance talks to play a paraplegic aristocrat who hires a man from the projects to become his caregiver following his tragic paragliding accident.
The King's Speech star Colin Firth and Chris Rock were also considered for the roles, according to reports.
The original comedy-drama starring Francois Cluzet and Omar Sy was released by The Weinstein Company in 2011 and made more than $410 million worldwide from an estimated $10 million budget. It became the second biggest box office hit in France following its release.
After quickly acquiring the remake rights, Bridesmaids filmmaker Paul Feig was planning to direct the movie, but he dropped out after writing the screenplay, according to Deadline.com.
Now My Week With Marilyn filmmaker Simon Curtis is in talks to helm the movie, which is expected to start shooting over the summer.
Following his Oscar-nominated portrayal as blacklisted screenwriter Dalton Trumbo in 2015's Trumbo, Bryan has lined up a string of projects including comedy Why Him? with James Franco and drama Wakefield with Jennifer Garner, which are both in production.
The actor previously told Britain's The Times newspaper he had created the Cranston Assessment Project Scale to help him decide whether to take on a role. He ranks the story, script, role, director, and cast out of five and adds bonus points for salary and time away from home. If the project fails to achieve 16 points, he won't do it.
"I don't have to work again in my life," he explained. "So why would I do something I'm not interested in passionately? I think, 'What's happening in my life personally?'"
He also revealed he will not consider a part if a contract won't let him leave the set if his mother-in-law falls ill.
Photo Credit:
Twocoms / Shutterstock.com
Michele Eve Sandberga / Shutterstock.com