Carrie Fisher's Role in 'Star Wars: Episode VIII'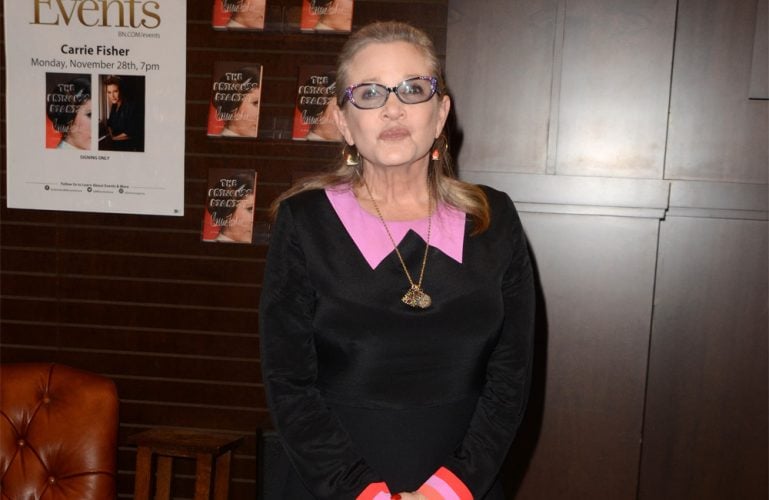 Carrie Fisher had a "larger role" in Star Wars: Episode VIII. According to Deadline, the 60-year-old actress – who passed away this week, just a few days after suffering a heart attack on a plane from London to Los Angeles – was due to play a bigger part in the next movie than she had in The Force Awakens.
An official from Lucasfilms previously said Carrie was "absolutely wrapped" on the new movie, but it was too early to know how her untimely death would affect future movies.
Carrie co-stars with her daughter Billie Lourd in Episode VIII.
Star Wars: Episode IX is not due to start filming for at least a year.
Meanwhile, Lucasfilm president Kathleen Kennedy has paid tribute to her "very special friend" Carrie. The 63-year-old film producer spoke of the "indomitable spirit, incredible wit and loving heart" of the actress.
Kathleen said in a statement: "Carrie holds such special place in the hearts of everyone at Lucasfilm it is difficult to think of a world without her. She was Princess Leia to the world but a very special friend to all of us. She had an indomitable spirit, incredible wit, and a loving heart. Carrie also defined the female hero of our age over a generation ago. Her groundbreaking role as Princess Leia served as an inspiration of power and confidence for young girls everywhere. We will miss her dearly."
And Disney CEO Bob Iger also remembered the actress, who he dubbed as "one of a kind".
He shared: "Carrie Fisher was one of a kind, a true character who shared her talent and her truth with us all with her trademark wit and irreverence. Millions fell in love with her as the indomitable Princess Leia; she will always have a special place in the hearts of Star Wars fans as well as all of us who were lucky enough to know her personally. She will be sorely missed, and we join millions of fans and friends around the world who mourn her loss today."
Recommend

0

recommendations
Published in Celebrity, Celebrity News, Featured, Movie News, Movies