Dakota Johnson Was Adamant She Would Do 'Fifty Shades'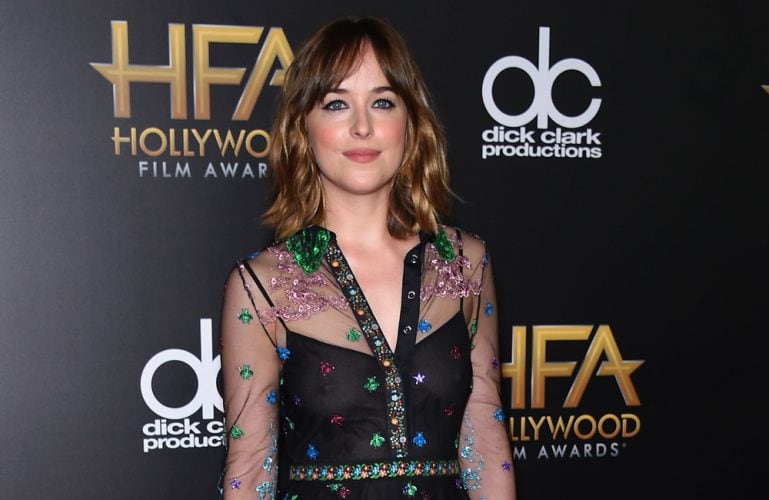 Dakota Johnson was "pretty adamant" she would star in the Fifty Shades trilogy.
The 27-year-old actress' parents – actors Melanie Griffith and Don Johnson – were understandably concerned about their daughter playing Anastasia Steele in the raunchy movies but Dakota insists she didn't give them a "choice" but to let her do it.
She said: "When I was growing up I was taught that women are beautiful. We should be comfortable with our body and there's nothing wrong with it. That came from my mother … I think I am equally as sensitive as I am tough. I just feel things more than the average human maybe. And when it comes to taking on this role, they didn't have a choice. I was pretty adamant … I think they would like to be able to see the movies that have put me in this place in my life, but because it's pretty inappropriate, they haven't seen them … They don't judge me on what projects I decide to do. They judge me on what kind of human I am to other humans."
And the brunette beauty – who stars in the movie alongside Jamie Dornan – says the latest instalment in the film franchise is "more about discovering Anastasia's arc as a woman" and Dakota enjoyed being able to film some "emotionally intimate" scenes with her co-star, who has become a close friend.
She added to news.com.au: "This film, as opposed to 'Fifty Shades of Grey', is more about discovering Anastasia's arc as a woman and also her sexual journey. She's trying to figure out who she is and what she likes alongside this other person who is so steadfast in his goals. This film focuses on the details and the relationship between the two people … We spent six months shooting the two movies and we became so close. I think that is quite a lucky thing to have happen, especially in this situation because we are so intimate. Even the scenes that are not sexually explicit, they are emotionally intimate so the fact that we get along and can hang out outside of work and do stuff on the weekends, it's a lot nicer than it could have been."
Recommend

0

recommendations
Published in Celebrity, Celebrity News, Featured, Movie News, Movies