Geek Girl Review: 2017 Toyota Prius Three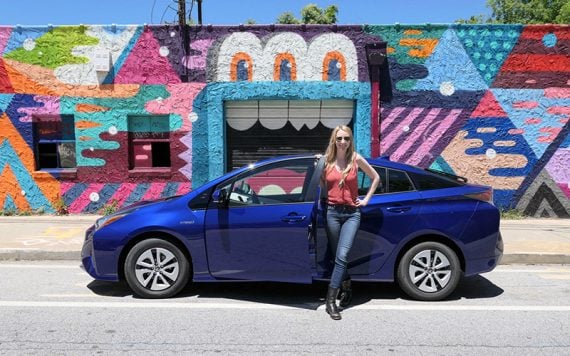 Note: Toyota provided me with 3 amazing weeks with the 2017 Prius. I did not receive any other form of compensation. All views and opinions expressed in this article are my own.
Before I get into totally geeking out over how amazing the 2017 Toyota Prius Three is (because holy cow…), I have to say something. I'm a long-time fan of Toyota. They make great cars that last a long time – in fact that's why I've only ever owned one car to date. So before we get started reviewing the new model, let me tell you my personal history with this brand.
You're reading this right, at 33 I've only owned one car. I got it when I turned 16. It was a 1996 Toyota Rav 4 (4 years old at the time with 40,000 miles on it), and it was a beautiful relationship I never wanted to end. Sure, the cassette player was almost comical in 2017, and the lack of any form of modern technology in the car made people question my true "Geek Girl" label, but I didn't care. I loved that car with all of my heart.

When the day came in April of this year when we finally said our goodbyes – it was tough. I took my driver's test in that car, I had my first kiss in that car, I went to high school and college in that car…. I went on countless amazing road trips in that car… So many incredible memories happened inside of my Rav – it was more a member of the family than it was a car. It was always along for the journey, and great companion for the 17 years I owned it.

So now that you know how much I loved that Rav- I can proceed in this review without feeling like I'm cheating on my dear friend.
Disclaimer out of the way, I was more than thrilled to check out Toyota's 2017 models, and the very first in this series is the 2017 Toyota Prius Three – which immediately had me geeking out. The gas mileage is insane, the Head-Up Display felt futuristic, the interior felt luxurious…. Let me just walk you through 5 of my favorite features.
It was a challenge to pick 5 favorite features on this car, because I felt like I had at least 10, but we'll get into some cool tech features below as well!
The gas mileage on the Prius is what gets the most buzz, and rightfully so – 52 miles per gallon on city and the highway combined (We actually got up to 56 miles per gallon on the highway in our 48 hour vacation video below!). That's $3,500 in fuel savings across 5 years!
By the way, that's Doug – the incredibly awesome boyfriend (whose parents have driven multiple Prius (Prii – not sure the plural term there) over the years).
The moonroof is something I previously would have considered a luxury add-on. However, after having it for 3 weeks and experiencing how much more enjoyable it made my rides – it's a must for me on my future car. Being able to get a fresh breeze in by opening it up, or even with just a beautiful view of the city lights – or a little extra sun – it's such a nice addition to the car.
Qi-Compatible Wireless Charging – let's talk about how awesome this is to not have to carry your charging cord with you, dig it out of wherever you left it, or just have cords going everywhere. Sure, you can still charge via USB if you want – but being able to have such a clean way to charge is a great way to keep the car uncluttered. And if your phone doesn't support it – there's a little card that you can get to plug into to your phone that will still allow you to charge this way.
Lastly, the displays – I loved the screens, I loved the usability of them and the navigation – and holy cow did I love the Head-Up Display. Which I couldn't safely get a photo of, but you can see more of it here – and read more about it below. (And yes, that double rainbow is real! Encountered it on our 48-hour vacation documented below in the video!)
Toyota Prius Three Noteworthy Tech Features
Enhanced Parking Support: The Prius scans for stationary objects like walls or lampposts when you're parking – and will emit an audible alert – A huge help if you're parking in a tight space!
Qi-Compatible Wireless Charging: Charge your phone with no wires. As I mentioned above this is one of my favorite features!
Color Head-Up Display: It was near impossible for me to get a photo of this as it only shows up when you're going above a certain speed, but this feature is a huge help – it projects your speed and the speed limit onto the windshield – giving the illusion that it's on the road. No need to look down or to the side for your speed or for your GPS directions. It feels like something from the future!
Toyota Safety Sense: Lane Departure Alert, Pre-Collision System with Pedestrian Detection, Automatic High Beams (allowing for enhanced visibility for nighttime driving), and Full-Speed Range Dynamic Radar Cruise Control
Smart Key System: This took me a while to get used to. As in I didn't know how to turn the car on when I first got in it (remember I'm coming from a 1996 Rav 4), but it ended up being a huge help to not have to dig my keys out of purse to get in and start the car – which is a huge help when you're juggling a purse, coffee, laptop bag, and whatever else may be along for the ride.
Smart-Flow Climate Control: If you're the only person in the car – you can cool or heat just the front seats and put the priority on you. Also, if you have little ones who end up freezing the backseat while you're trying to keep cool in the sun in the front seat – this is a great solution too. I would have loved this on road trips with my parents when I was younger.
Entune Premium Audio: The App Suite on the Prius is amazing. It makes any trip, no matter the length, easier and more fun
Geek Girl Review Video: 2017 Toyota Prius Three
Toyota's tagline "Let's Go Places" really breaks down what I want to do – professionally and personally. As an entrepreneur with several companies – and consulting gigs with several others – I want to go places in my career, but I also have to remember to take moments to recharge and relax. I haven't had a true vacation in years, so I managed to fit a 48 hour one in thanks to the awesomeness of this Prius. Take a look at my adventures and the places I went in the Prius below!
All in all, the Toyota 2017 Prius Three got a 5 out of 5 from me on the "Geek Out" factor. Incredible comfort, amazing mileage, and some pretty awesome tech features that you'll totally nerd out over!
Stay tuned for more reviews! We've also checked out the 2017 Toyota Corolla and the 2017 Prius Prime – and we have those reviews coming shortly!
Do you have a Prius? We'd love to hear your thoughts on the car! Share with us below your thoughts and the adventures you've taken!
Note: Toyota did provide me with 3 amazing weeks with the 2017 Prius. I did not receive any other form of compensation. All views and opinions expressed in this article are my own.
Recommend

0

recommendations
Published in Emma's Geek Girl Blog, Featured, Lifestyle, Technology, Travel