ThinkGeek Launches Geeky Subscription Box Service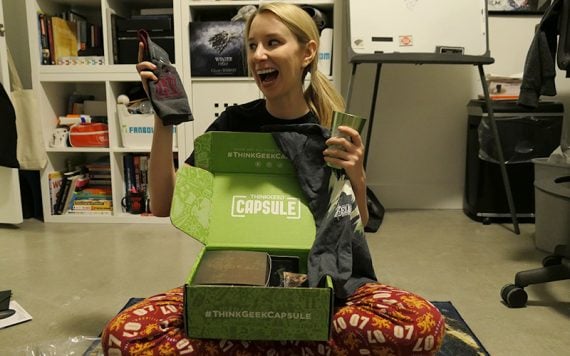 I've loved ThinkGeek since the early 2000's when I first discovered the online store. They had shirts that any geek would be proud to wear – and this geek girl was no exception. From the caffeine molecule shirt to "no I will not fix your computer" shirt – I was an early adopter for all thinks ThinkGeek. Now though, with the explosion of geek culture popularity and the growth of ThinkGeek (they even have physical retail stores now), they're hoping into the subscription box service.
The ThinkGeek Capsule is a limited-edition service that delivers fun, geeky items to customers' doors every month and this new service will include three cleverly curated Capsules full of unique ThinkGeek merchandise valued at more than $50, including t-shirts, pins, desktop replicas, household essentials, art prints, and much more!
Curious what all was in the very first Capsule? Take a look at my Geek Girl Review of the ThinkGeek Capsule below!
"At ThinkGeek we are obsessed with sharing with our fans unusual and fun merchandise that stimulate their imaginations and fuel their geek core," said Chris Berejik, Vice President of E-Commerce and Marketing at ThinkGeek. "With plenty of surprises planned as part of the ThinkGeek Capsule service, we think it will be something our subscribers will look forward to every month."
To commemorate the new service, ThinkGeek is providing prizes for the first 1,000 subscribers, like an exclusive collectible pin of Timmy, the classic ThinkGeek monkey mascot, as well as an entry for a chance to win one of five Nintendo Switch consoles (retail value of $299.99). Those who sign up for the three month subscription will receive a bonus mystery Capsule.
The new ThinkGeek Capsules will include several novelty items from popular fandoms like The Legend of Zelda: Breath of the Wild, Fallout 4, and Harry Potter to name a few, as well as many fan favorites found on ThinkGeek.com and in its retail stores. Starting today, fans can subscribe to the service for $24.99 a month. The first ThinkGeek Capsule will be mailed by the end of June.
To order the ThinkGeek Capsule, and for more information, visit http://www.thinkgeekcapsule.com/.
Note: FanBolt did receive a Capsule for the above video review. No other compensation was involved. Everything stated above is my true and honest opinion (if you couldn't tell from my sock reaction in the video).
Recommend

0

recommendations
Published in Emma's Geek Girl Blog, Featured, Lifestyle