Geek Girl Geekout: BulbBotz and LEGO Watches Review
With the holidays right around the corner and a million and one things to do – there's one thing for sure that none of us have enough of – time. So giving the gift of time seems rather appropriate it doesn't it? I wanted to give you guys a preview of a few items that will be all over our holiday gift guide which will be releasing next week!
I recently was made aware of two product lines, BulbBotz and LEGO Watches, both from the same parent company – and both equally as awesome! From Star Wars to Wonder Woman and a number of titles in-between, there's literally something for everyone in your life.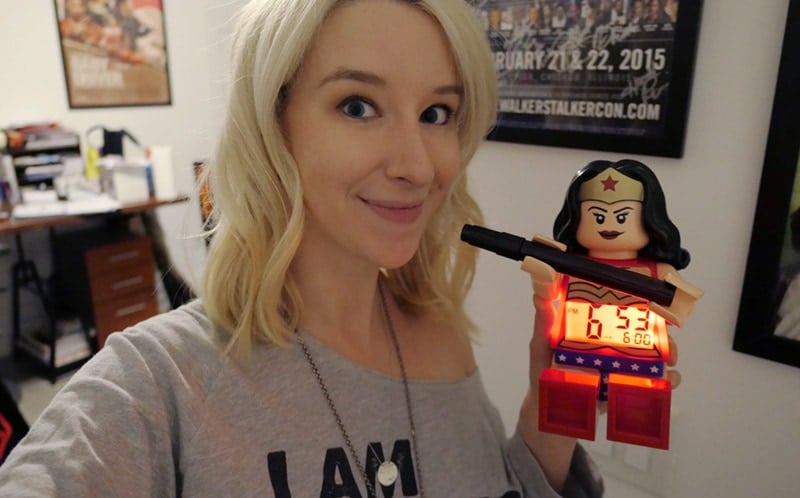 Whether your a fan of Guardians of the Galaxy or even just LEGO in general, there's a ton of titles to pick from – whether you want a clock for your nightstand or desk – or even a wrist watch for the little geek in your life.
For me, my favorites are obvious – Star Wars and Wonder Woman – I adore the oversized LEGO versions of both Wonder Woman and Darth Vader – and both fully adjustable with a backlit LCD screen.  And you can even make them multiple purpose, and maybe have one of them hold your favorite pen for you on your desk. Every Geek Girl can use an extra hand or two from Wonder Woman every once in while!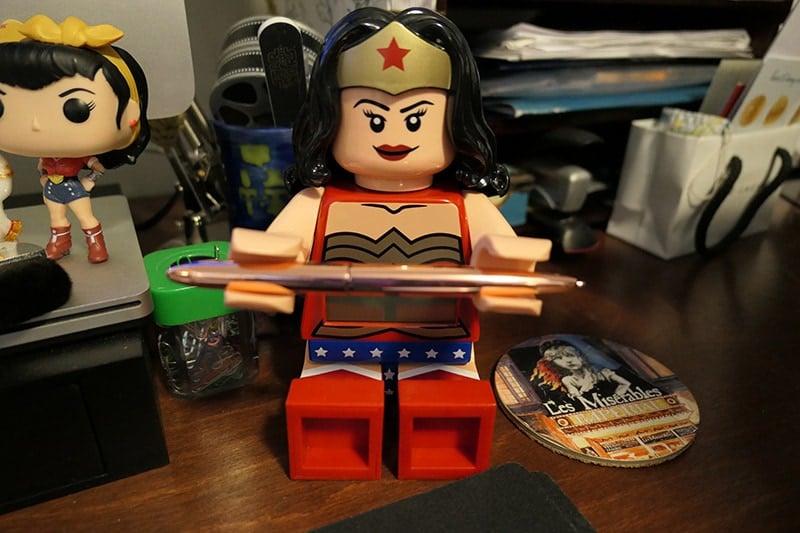 With Star Wars: The Last Jedi coming out in just a few weeks, everyone will be geeking out over Star Wars for the holiday. In fact, we may be counting down the hours, minutes and seconds until the film releases on 12/14!
The Star Wars BB-8 Clock ($34) stands at 7.5 inches and comes with a light up head and LDC display, you also get the alarm clock and snooze functionality that you do with all these clocks. This little clock is equally adorable to our favorite new on-screen Star Wars character!
And what can you say about LEGO Star Wars Darth Vader Minifigure Clock ($30), other than he's freaking awesome. With his iconic black armor and a backlit LCD screen, this clock is a must for any Star Wars fan. It stands at 9.5 inches tall and is fully adjustable – you can have some fun with it!
The Darth Vader BulbBotz ($24) is also super cute for the Star Wars fan in your life that appreciates the cute… even in the Dark Side. This clock stands at 5.5 inches tall and even comes with character voices and sounds – not to mention the head and LCD screen light up – making it easy to see if you can snooze the alarm clock for a little bit longer – or if you need to leave the Dark Side and head into the light of morning.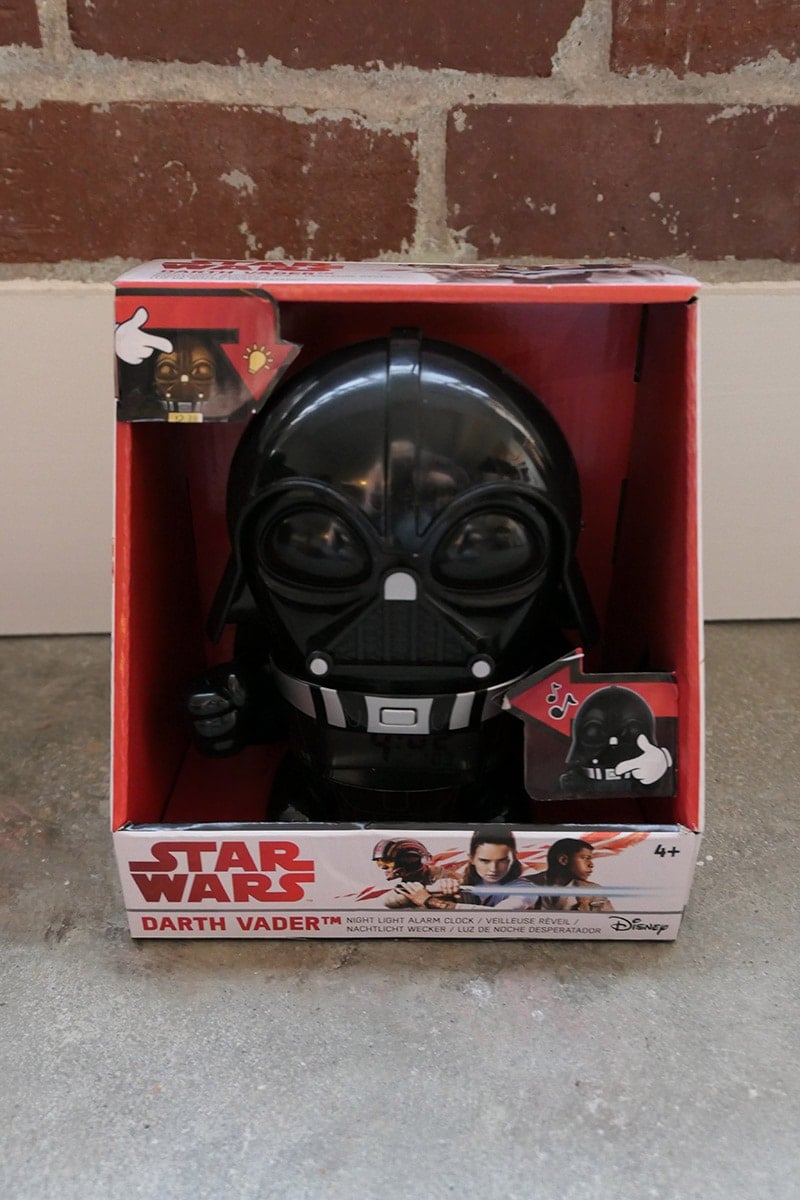 Not into Star Wars, but dig Guardians of the Galaxy? They've got you covered there as well with Groot and Rocket clocks. I personally prefer the Marvel Guardians of the Galaxy Vol. 2 Groot Night Light Alarm Clock ($24) which also stands at 5.5 inches. You also get special character voices and sounds with this one as well as the light up head and LCD display – and of course the ever important snooze function for your alarm clock.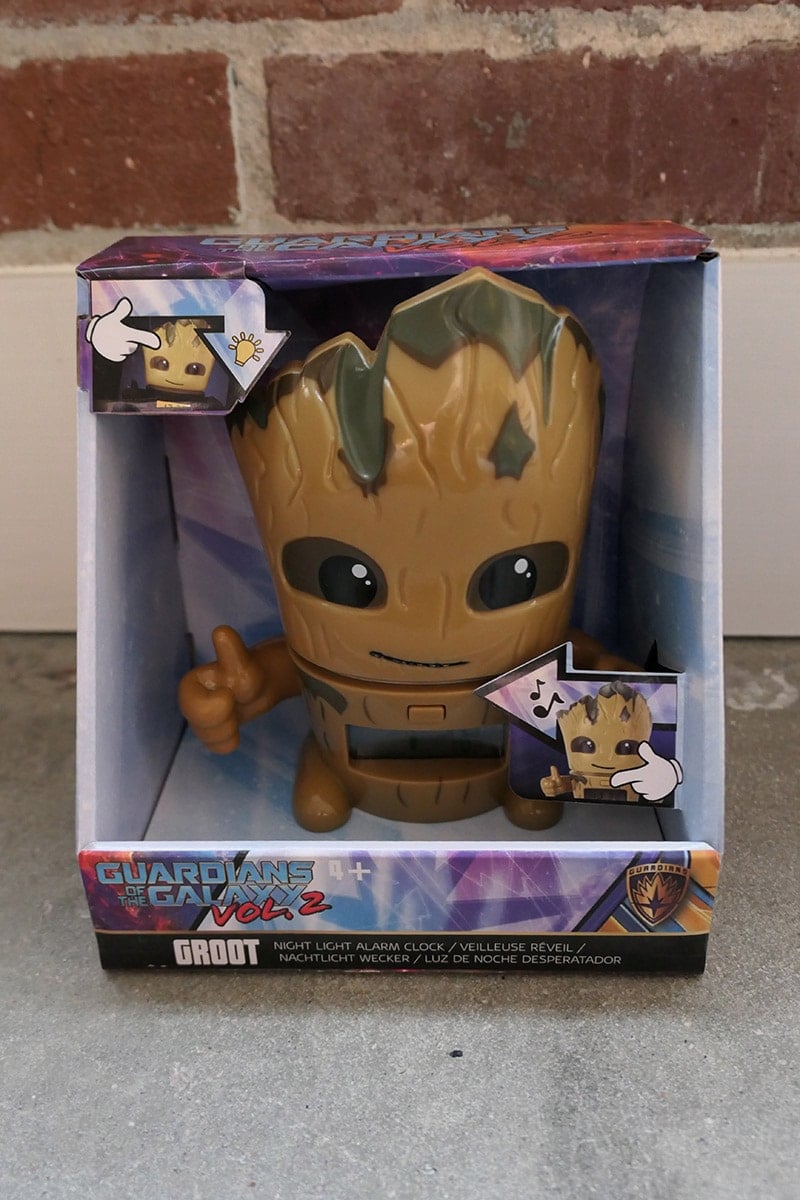 Want something a little more subtle for your office? How about just a simple LEGO block? It's the foundation of creativity! The LEGO Brick Alarm Clock ($30) is a subtle way to express your inner geek while still keeping it former. It also comes with a LCD screen with backlight, snooze function and the envy of all your friends.
And incase you were wondering, the LEGO minifigures do not fit on this. You can pose them on top of course – but their little feet won't lock into the top of this clock. Maybe in a future version?
So what about for the little geek in your life? Check out one of these watches available from a variety of different fandoms – it's the perfect way to teach little geeks that they should be proud of who they are and what they love – and they can even literally where their geek pride on their sleeve!
My favorite of the above has to be the BB-8 Minifigure Link Watch ($25), because I mean it's BB-8. The watch comes with multi-colored, interchangeable links which allows for plenty of design possibilities that allows for an unique watch that fits all wrist sizes.
That's one of the things I loved the most about LEGO growing up – and even now. It promotes and encourages creativity. You can create whatever your mind comes up with – whether it's following the directions – or doing something that is completely unique and outside-the-box.
Fancy one of the other watches I have above for your little geek (Or even for yourself? Hey no judgement here!), you can check them out here: LEGO Batman Movie Batgirl Minifigure Link Watch ($25), BulbBotz Star Wars Stormtrooper Watch ($19), and BulbBotz Marvel Spider-Man Watch ($19)
The BulbBotz watches deserve highlighting as well, they're digital LDC watches with heads that light up and a date-month function on them on them as well.
So take a rest this holiday season, give the gift of time and fandom! For us, both of those things deserve a high five!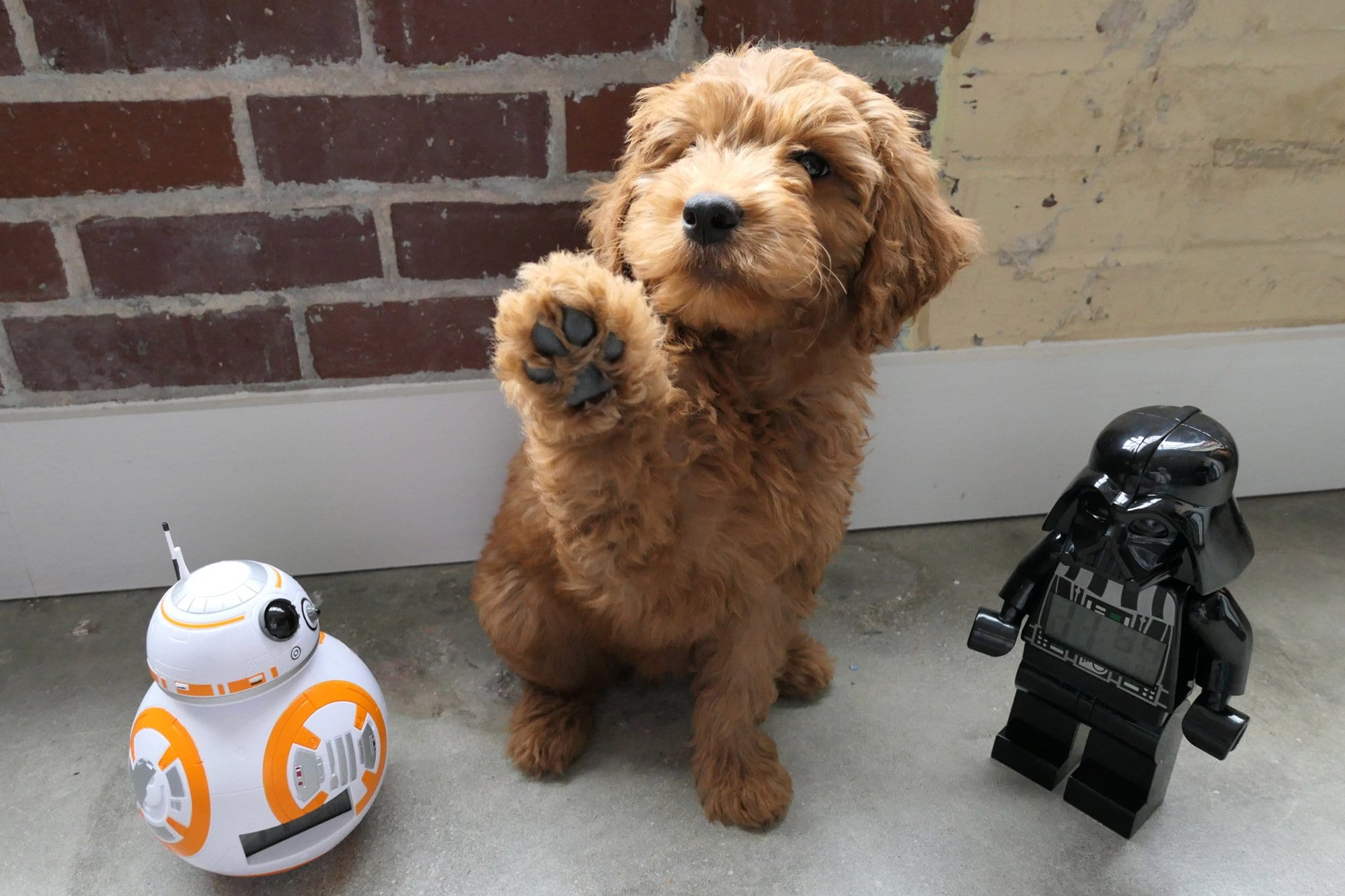 Disclaimer: This is a sponsored post in which we also received free product for review. However, all opinions are our own.