Free At Home Screening: 'Let Him Go' Movie Screening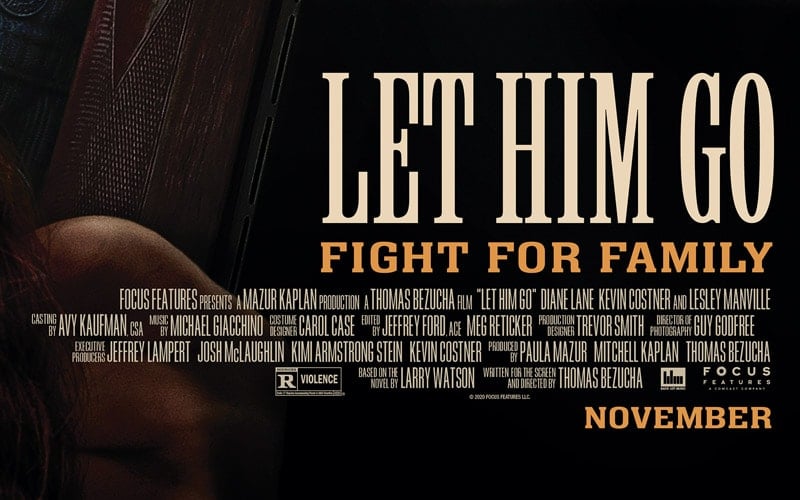 Missing movie screenings? We are too! But we have got good news! We have 50 passes to give away to virtual screening (at-home screening) of Focus Features' Let Him Go, which will open in select theaters nationwide on Friday, November 6!
Because this is virtual, it's open to all FanBolt fans in U.S. – All you need to do to enter is:
Leave a comment below saying you want to see the film!
We'll be giving away (50) passes to the screening, and we'll be picking winners randomly from the comments below. So post below – and you'll hear from us by Monday, November 2, if you've won!
Let Him Go Movie Screening Info:
Winners will receive an email from us by end of the day Monday (November 2), on how to access the screening. Email instructions will be sent to the email address you used in signing up for FanBolt. Be sure to check your spam and promotions folder – and mark our email address ([email protected]) on your whitelist!
——————
RELEASE DATE
Friday, November 6 in theaters
MPAA RATING
R
SYNOPSIS
Following the loss of their son, retired sheriff George Blackledge (Costner) and his wife Margaret (Lane) leave their Montana ranch to rescue their young grandson from the clutches of a dangerous family living off the grid in the Dakotas, headed by matriarch Blanche Weboy (Manville). When they discover that the Weboys have no intention of letting the child go, George and Margaret are left with no choice but to fight for their family.
Recommended

1

recommendation
Published in Contests, Featured, Movie News, Movies