Larkin Poe & Nu Deco Ensemble's "Paint the Roses" Album Review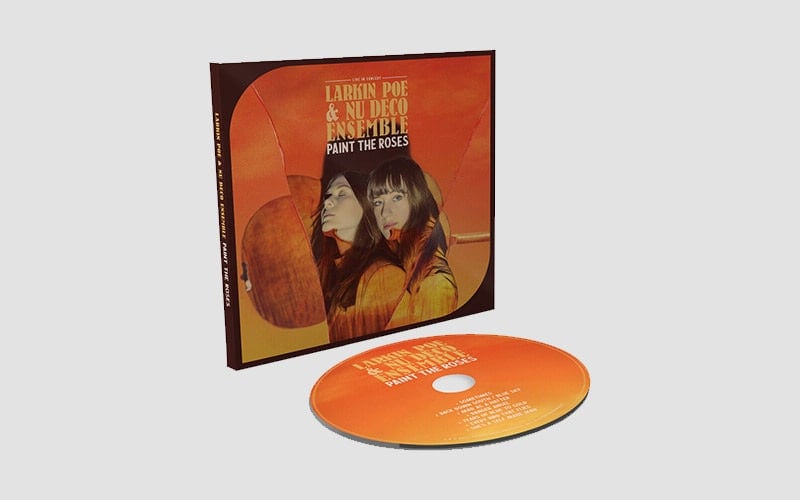 If you are not familiar with the band Larkin Poe, you really should be. Comprised of two sisters Rebecca and Megan Lovell from Calhoun, Georgia, these girls have a ton of talent.
I actually first discovered them a few years back when they opened for Elvis Costello at a local concert and have kept up with them ever since. After their successful albums "Self Made Man" and "Kindred Spirits" they have now teamed up with Nu Deco Ensemble (a Miami-based orchestra that specializes in genres well outside of classical orchestra music) and the two take us back into their world of Americana/ Blues/ Rock sound.
Rebecca Lovell sings with so much passion and soul in her voice you get a feeling she is much older than her real age (which is roughly 30). She also can kill it on the guitar. Her sister, Megan, generally provides backu x vocals but she can wail on her slide guitar.
It's amazing and an instrument you don't hear enough of these days. While they do transcend several genres of music, they are most at home in the blues (with a touch of rock). Their music is emotive and powerful in a way that draws out feelings from the listener.
While I have known about these sisters for a little while now, I really anticipate them getting a larger following and becoming more of a household name in the coming years. They are immensely talented.
Their collaboration with Nu Deco Ensemble adds another level to their music. It's quite unique. If you are familiar with their music you will recognize some of the songs. Mad as a Hatter Stands out as one I know that got a nice remake on this album.
All those who have an ear for fresh and fresh blues (rock) music should definitely check this out.
Larkin Poe & Nu Deco Ensemble's "Paint the Roses" Tracks:
Sometimes
Back Down South/Blue Sky
Mad As A Hatter
Danger Angel
Tears Of Blue To Gold
Every Bird That Flies
She's A Self Made Man
Paint the Roses – Live in Concert is currently available to own.