Lucifer Season 6 Review: A Bittersweet Ending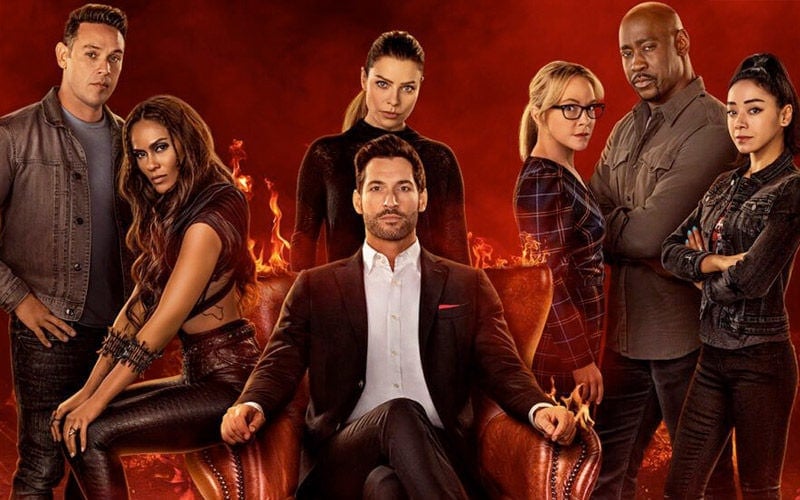 The television series Lucifer developed by Tom Kapinos, receives a bittersweet ending in Season 6.
First, there are beautiful moments like Mazikeen's "Maze" (Lesley-Ann Brandt) and Eve's (Inbar Lavi) wedding. Then there are bitter moments; for example, Lucifer Morningstar (Tom Ellis) returning to Hell, leaving behind his family, including the love of his life, former Detective Chloe Decker (Lauren German), and stepchild Trixie Espinoza (Scarlett Estevez).
In all, Lucifer Season 6 is a mixed bag but the perfect ending for the main character.
Maze and Trixie
Maze and Trixie's friendship is only slightly referenced in the final season, erasing the relationship that helped the demon evolve. In Lucifer Season Two Episode "Trick or Treat?", Maze created a President of Mars costume for the then eight-year-old. Trixie's dream career is to be President of Mars, which she told Maze about in the first season.
Trixie also accepted Maze, even with her full demon face on during Halloween. For a long time, the only person the demon truly liked on Earth was Trixie. Maze taught her how to fight when she was babysitting. She took Trixie's advice about important issues. The two are best friends. But after the third season, Maze and now thirteen-year-old Trixie are barely on screen together.
This season, the only reference to their close bond is Trixie telling her secret angel sister Rory (Brianna Hildebrand) that she is Maze's best friend. Maze and Trixie also gesture to each other when the demon bride walks down the aisle.
I understand that as a recurring character, Trixie can't interact with everybody, and there have been fewer episodes to play with since the show moved to Netflix. Still, I wish Kapinos and the writers could have ended the show with Trixie advising Maze on her wedding jitters or a sparring session.
Lucifer Season 6 Explores Different Visual Aesthetics
Lucifer Season 6 explores different visual aesthetics, easing tension-filled moments in the plot. The best example is in "Yabba Dabba Do Me," where animation brings humor to a serious quest. Lucifer believes that he will feel ready to become God when he can help somebody he hates. He and Chloe fly down to Hell to help the murderer Jimmy Barnes (John Pankow) from Lucifer's pilot episode.
Before opening a portal door, Lucifer warns his girlfriend that Jimmy's hellscape will be horrific because he drove the music producer insane. Instead, the couple enters a Hanna-Barbera-style cartoon universe. Both Lucifer and Chloe turn into cartoons with no genitals and eyes that can bounce out of their sockets.
Now, the old-fashioned animation is not just a fun gag but a clue about what Jimmy truly desires. When Jimmy was a troubled young boy, he used to watch Hanna-Barbera cartoons to comfort himself. The dead music producer was watching them the day his musician mother abandoned him.
Lucifer can't take Jimmy out of Hell, but he comforts the tortured man by trapping him in a time loop. For the rest of the time, Jimmy watches cartoons with his mother right before she leaves. The viewer, like Jimmy, can't help but giggle watching a Hanna-Barbera cartoon though the storytelling technique moves the plot forward.
Happiness Only In Death
Many human characters don't find self-actualization or happiness until after they die, which I find troubling. Now I know that Lucifer is an urban fantasy television show, not a serious drama, but it conforms to problematic Judeo-Christian beliefs. Beliefs like humans need to live a hard life, so they go to paradise when they die.
Nobody should or needs to feel joyful twenty-four-seven, but there is no need to feel tortured most of the time. Therapist Dr. Linda Martin (Rachael Harris) and forensic scientist Ella Lopez (Aimee Garcia) live happily. But Linda's son Charlie Martin is half-archangel, and the father of her child, archangel Amenadiel (D.B Woodside), becomes God.
Ella Lopez is the only main human character with no romantic (former or current) affiliations with an immortal that lives fully. Dan Espinoza (Kevin Alejandro) doesn't get his forever after with Charlotte Richards (Tricia Helfer) until they're both in Heaven. Chloe and Lucifer don't get their happy ending until she dies, then is flown down to Hell to be his partner.
The Love Story in Lucifer Season 6
Chloe and Lucifer are the television show's sweetest love story, but it still seems unfair that they spend decades apart. Lucifer could have been the Devil and still visited his family, but he promised Rory he wouldn't. Rory's logic on why Lucifer needs to isolate himself from his family is never explained, making the ending feel unfair to both the audience and the characters.
Lucifer Morningstar's mental health journey ends on a high note, with the Devil finding his true purpose. The whole series starts with Lucifer vacationing in Los Angles because he felt bored constantly torturing souls in Hell. However, he stayed in Los Angeles because of his feelings for the detective. Helping Chloe solve murders was fun for Lucifer but not his true purpose. Chloe loves catching criminals, proven by the fact that retirement doesn't stop her from inserting herself in investigations during a date with Lucifer.
On the other hand, the Devil has no trouble quitting his LAPD advisory position to be God. Lucifer's last unconventional therapy session with Linda reveals that he doesn't want to be the lord. The mantle of God doesn't fit his personality or talents. But throughout the series, Lucifer has been obsessed with bettering himself through therapy.
In the final season, he actively helps numerous lost souls. The Devil stops Rory from letting rage consume her. "Goodbye Lucifer" ends with Lucifer's advice freeing Dan of his guilt, therefore, allowing him to ascend to Heaven.
Throughout the ten episodes, the Devil counsels people makes it natural that he chooses to return to Hell. Lucifer's true purpose is to treat the deceased humans whose guilt traps them in Hell. Lucifer Season 6 reveals the importance of maintaining good mental health.
Watch all seasons of Lucifer on Netflix!
Recommend

0

recommendations
Published in Digital, Featured, TV, TV Reviews