Blithe Spirit Review: A Fun Movie Romp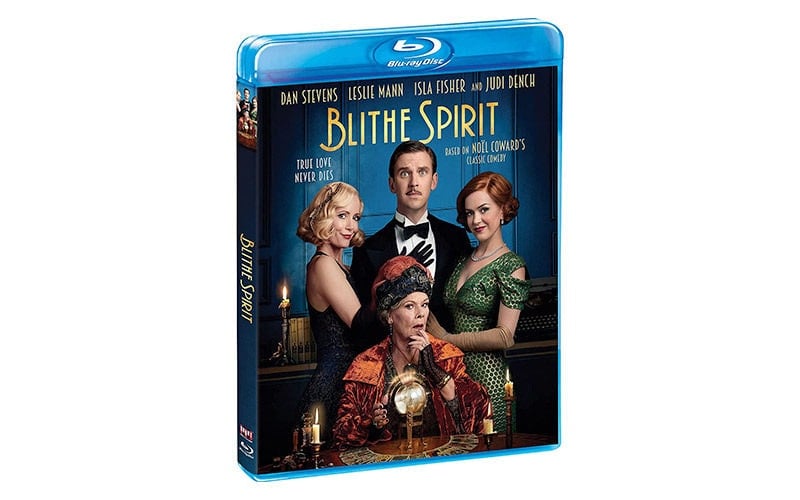 Blithe Spirit is a movie I actually didn't know about but had seen before! That probably doesn't make a lot of sense but let me explain.
Blithe Spirit is a 1941 play by Noel Coward that had previously been adapted into a movie in 1945 starring Rex Harrison. It's an old black and white film that most wouldn't be aware of.
It's pretty fun if you haven't seen it, though. This new version stars Dan Stevens (Downton Abbey), Leslie Mann (This is 40), Isla Fisher (Hot Rod), Judi Dench (Cats). Here's the plot of the film.
Charles is a successful novelist who is doing research for a new novel about the occult. In doing so, he joins a medium as a séance in which she accidentally summons his deceased wife, Elvira. Only Charles can see or hear her.
Elvia can't stand Charles; new wife Ruth, who is her 100% opposite in personality. Elvira conspires to kill Charles in a car accident so he can join her in the afterlife.
She accidentally kills Ruth. Ruth returns for revenge on Elvira. Now stuck in a house with the ghosts of both of his wives, who hate each other, Charles seeks to rid himself of them through more seances and spells which all result in more and more problems.
The movie is a fun romp. While not an original story (though was at its time), this is a great take on ghosts. The best part is the attitude of the individuals involved.
Coward's style had characters that in other situations seem cold, callous, and downright evil. Yet, in the circumstances, it works in comedy to great effect.
Leslie Mann comes embodies this the strongest with her performance. A talented comedic actor, she plays Elvira as ruthless, gorgeous, and doesn't care about anybody else's feelings.
She wants what she wants. The more unhinged Ruth gets, the wider Mann's smile. While everybody else has a sense of feeling sorry for themselves in the situations (an intentional choice of narcissism), Elvira shows glee in all the trouble occurring. The cast is strong all around.
Being a new movie, the video quality is great. All the scenes are clean and crisp as is the dialog and music (which even out nicely). Unfortunately, there's nothing in the way of extras on this release, but it's still a highly enjoyable film!
Blithe Spirit is currently available from Shout! Factory
Recommend

0

recommendations
Published in Movie Reviews, Movies