'The Walking Dead' Cast Ranked by Net Worth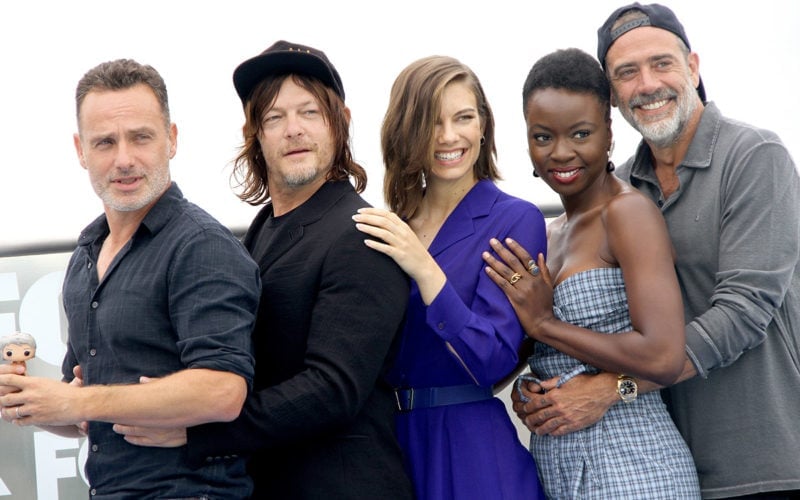 The Walking Dead is by far one of the most successful TV series in recent times, keeping viewers on the edge of their seats for 11 seasons. And because of this, it is not surprising that The Walking Dead cast has made millions.
Over the years, cast members have come and gone. And it would be impossible to rank every single one of them in this article. Instead, we will just highlight the cast members in the series with the highest net worth. And you might be surprised to find out which one of them has the highest net worth.
The Walking Dead Cast Top Earners
Laurie Holden "Andrea Harrison"
Net Worth: $3 Million
One of the highlights of Holden's acting career is playing the role of Andrea Harrison on The Walking Dead. Andrea was one of the regular characters of the series from Seasons 1 to 3. Holden has been acting since 1980. She played some of her most notable roles in The Magnificent Seven, The Majestic, Due South, and Captain Power and the Soldiers of the Future.
Her diverse acting portfolio throughout the years led her to the $3 million net worth that she has today.
Lauren Cohan "Maggie Greene"
Net Worth: $4 Million
Cohan is most known for playing Maggie Greene in The Walking Dead. But she had already been acting long before the show started. She has performed a lot of roles on TV and in film. Some of Cohan's more notable projects were The Vampire Diaries, CSI: NY, Law & Order: Special Victims Unit, Modern Family, and Supernatural.
Cohan's net worth is valued at about $4 million. Her salary per episode is not publicly known. There have been talks, however, that her agents were not satisfied with what she was being given. This has caused Cohan to temporarily leave the show in Season 9.
Cohen is set to star in the upcoming Walking Dead spin-off with Jeffrey Dean Morgan, Isle of the Dead.
Danai Gurira "Michonne"
Net Worth: $4 Million
Gurira joined The Walking Dead in the Season 2 finale as Michonne. And she left after Season 10. After her massively successful performance in the series, Gurira has since started in movies like Avengers: Endgame and The Black Panther. These films have certainly added much to her net worth, which is now valued at about $4 million.
No exact numbers are known of Gurira's salary. But reports show that minor characters were getting anywhere from $40,000 to $60,000 per episode towards the last few seasons.
Gurira will join Andrew Lincoln for yet another Walking Dead spinoff (there are 3 in the works). The news was announced at San Diego Comic-Con 2022. The new series will replace the planned trio of Rick Grimes movies that were originally announced in 2018 when star Andrew Lincoln left the original series.
Steven Yeun "Glenn Rhee"
Net Worth: $5 Million
The South Korean actor was without question one of the most popular members of The Walking Dead cast. Steven Yeun portrayed the role of Glenn Rhee, which many fans found to be very relatable and incredibly charming. Like many other cast members, Yeun did not have a huge salary during the first season. But as the show gained ground, Yeun's salary also increased.
His exact paycheck has not been revealed but analysts say that it is more than $50,000 per episode. In addition to his acting income, Yeun also earns from his restaurant, The Bun Shop. He has also had several lucrative endorsements as well as massive success with films like 2020's Minari (for which Yeun was nominated for an Oscar) and 2022's Nope that contribute to his net worth of $5 million.
Chandler Riggs "Carl Grimes"
Net Worth: $8 Million
Riggs is the youngest member of The Walking Dead cast to make it into this list of top earners. He joined the show as Carl Grimes when he was 11 years old. During the series' highest point, before Riggs' character was killed off, it was reported that Riggs received a salary of $100,000 per episode.
Riggs has won 3 Saturn Awards plus 2 other nominations. And he has also received a Young Artist Award and a Satellite Award.
Melissa McBride "Carol Peletier"
Net Worth: $9 Million
McBride plays Carol, a character that fans have grown more and more attached to since Season 1. She became a regular on Season 2, during which she was reportedly paid $8,500 for each episode. Her salary per episode for the last seasons is not known.
However, she had signed a 3-year contract with AMC that guaranteed her a total of $20 million, even if she gets written off or transferred to another series. Doing the math, this brings her to about $300,000 per episode.
Jeffrey Dean Morgan "Negan"
Net Worth: 12 Million
Jeffrey Dean Morgan first appeared as Negan in the Season 6 finale of The Walking Dead, in April of 2016. While his character irredeemable for a good chunk of the episodes he appeared in, Morgan himself was a beloved actor before joining the series.
He starred as John Winchester, the father of Dean and Sam, on Supernatural, as well as Denny Duquette in Grey's Anatomy. Not to mention his roles as Judah Botwin on Weeds and, of course, his work on the big screen with 2009's Watchmen.
It's reported that Morgan receives $200,000 per episode of the Walking Dead. And while the series is ending, he is set to appear opposite of Lauren Cohen in the upcoming Walking Dead spin-off, Isle of the Dead.
Andrew Lincoln "Rick Grimes"
Net Worth: $16 Million
Lincoln played the lead character of Rick Grimes in the series from Season 1 until he left in Season 9. As the series main star, he was a fan favorite and many were crushed when he left. By that time, Lincoln was receiving a salary of $650,000 per episode, which adds up to earnings of $13 million per season.
Lincoln, whose real name is Andrew James Clutterbuck, is also known for starring in the movie Love Actually. It is a romantic comedy that has become one of the most popular choices for holiday binge-watching.
What's next for Lincoln? As mentioned above, he'll star in an upcoming Walking Dead spin-off with Danai Gurira that is expected to premiere on AMC+ in 2023.
Norman Reedus "Daryl Dixon"
Net Worth: $25 Million
Reedus has been with The Walking Dead Cast since the third episode of Season 1. But he only became a regular in Season 2. Back then, his salary was $8,500 per episode. By the final season, his salary was already up to a whopping $1 million per episode. This places him among the highest paid actors on television.
Back in 2018, Reedus signed a 3-year contract with AMC. This guaranteed him at least $50 million to as much as $90 million, regardless of what happens to his character on the show. In addition, he also has his own TV show called Ride with Norman Reedus. And he has also made an appearance in the 2019 video game, Death Stranding.
Other Big Earners in the Show
The Walking Dead cast were not the only ones to profit from the success of the AMC series. Director Frank Darabont, for instance, was granted a $200 million settlement deal from AMC after a messy lawsuit towards the beginning of the show's run.
Darabont is also an executive producer of the show, along with creator Robert Kirkman, Greg Nicotero, Gale Anne Hurd, Scott M. Gimple, and David Alpert. Showrunner Angela Kang reportedly receives a salary between $50,000 and $100,000 per episode of the series.