'True Detective: Night Country': Release Date, News, Cast, and More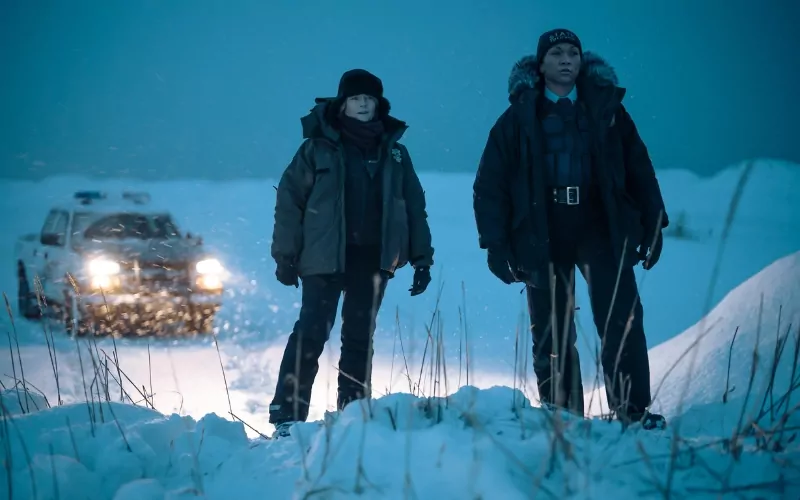 True Detective is returning to the small screens with its fourth season, True Detective: Night Country. The new season will feature the series' first all-women detective duo and is set in Alaska during several weeks of 24 hours of darkness a day.
Here's what we know so far about True Detective: Night Country from its release date to its cast to its plot. Note, that there are possible spoilers from the previous seasons ahead.
True Detective Returns with Night Country
True Detective is returning to the small screens for its fourth season after a long wait since its previous season aired in 2019. A teaser trailer (featured above) was released by HBO showing the programs on its streaming service Max on April 12.
This also marks the first season of True Detective in which the show's creator, Nic Pizzolatto, was not creatively involved. Issa Lopez is replacing Pizzolatto as the new showrunner, writer, executive producer, and director for the new season. Lopez is known for her work in Mexico, including Tigers are Not Afraid and Casi Divas.
Barry Jenkins is also on board as an executive producer with Adele Romanski, and Mark Ceryak. The season's star Jodie Foster is also an executive producer along with the season one True Detective team of Pizzolatto, Matthew McConaughey, Woody Harrelson, Cary Joji Fukunaga, and Chris Mundy. Mary Jo Winkler is also attached as executive producer, and Anonymous Content – which has produced the show's first three seasons – is also in the position.
Alan Page Arriaga serves as executive producer and writer for True Detective: Night Country. Princess Daazhraii Johnson, Cathy Tagnak Rexford, and Sam Breckman are the show's producers. Both Daazhraii Johnson and Tagnak Rexford are part of an Inupiaq advisory panel to consult on Alaskan Native culture that is featured in the new season.
True Detective: Night Country Plot
For True Detective: Night Country, detectives Liz Danvers and Evangeline Navarro team up to investigate the sudden disappearance of eight men from a research station in Alaska. Their disappearance brings about the suspicion that they may have been murdered. In True Detective fashion, the two detectives are also forced to confront their own issues to solve the crime.
The official synopsis for True Detective: Night Country reads:
"When the long winter night falls in Ennis, Alaska, the eight men who operate the Tsalal Arctic Research Station vanish without a trace. To solve the case, detectives Liz Danvers and Evangeline Navarro must confront their pasts and the dark truths lying underneath the Arctic ice."
According to Inverse, True Detective: Night Country may reference the first season through this one particular detail. The detail, which also appeared in the teaser for Night Country, is the mysterious spiral symbol. Fans of the show know this symbol from the first season, closely associated with an entity called The Yellow King.
The Yellow King is seen as a mysterious, possibly cosmic entity that fuels ritual assaults and murders. Even if the killer in season one was ultimately found, the details of the entity are still a mystery. This leads to the speculation that whoever may have committed the crime in True Detective: Night Country is a copycat killer who heard about the first season's case in Louisiana.
However, there is also the possibility, as Inverse says, that both cases are related to the entity itself. Another point to this is that in Season 3, there was a pedophile group called The Crooked Spiral mentioned. However, it wasn't confirmed that it was related to season one.
True Detective: Night Country Cast
Because True Detective is an anthology series, the lineup for this season is different from its previous ones. For True Detective: Night Country, Jodie Foster and Kali Reis lead the ensemble as the season's detectives, Liz Danvers and Evangeline Navarro. Foster is a celebrated actress, known for her roles in Silence of the Lambs, Taxi Driver, Contact, Inside Man, and The Accused among her many movie roles.
Reis is a professional boxer and Indigenous rights advocate and first acted in the film Catch the Fair One. Her performance in the movie also resulted in a special Jury Mention at the 2021 Tribeca Film Festival and a nomination for Best Female Lead at the 2022 Film Independent Spirit Awards.
Other cast members for True Detective: Night Country include John Hawkes, Christopher Eccleston, Fiona Shaw, Finn Bennett, Anna Lambe, Joel D. Montgrand, Aka Niviana, and Isabella Star Lablance.
Hawkes, known for his performance in Winter's Bone, plays Hank Prior in True Detective: Night Country. Hank is a police officer with a tendency to hold grudges despite his quiet demeanor. Eccleston, known for his role as the titular time traveler in Doctor Who, plays the regional chief of police Ted Corsaro. Ted also shares a long history with Liz Danvers.
Shaw, known for her role in Killing Eve, plays Rose Aguineau, a survivalist with a mysterious past. Bennett, known for his role in The Nevers, plays Peter Prior, the protege of Liz Danvers. Lambe plays Kayla Malee, a nurse who is protective of her family. Lambe is known for her work in The Grizzlies.
Previous Stars
True Detective boasts of having slates of talented actors as part of its cast in its first three seasons. Matthew McConaughey and Woody Harrelson starred in the first season in 2014. McConaughey and Harrelson played detectives Cohl and Hart as they investigated the murder of a woman in Louisiana.
In 2015, Season 2 starred Colin Farrell, Rachel McAdams, Taylor Kitsch, Vince Vaughn, and Kelly Riley. Farrell plays Detective Ray Velcoro, who teams up with the County Sheriff Department's Detective Sergeant Ani Bezzerides, played by McAdams. Kitsch plays veteran and CHP officer Paul Woodrow as they investigate the death of a corrupt city manager. Vaughn plays criminal Frank Semyon, who launches his own investigation into the city manager's death.
Four years later in 2019 for True Detective Season 3, the show now had new writers and starred Mahershala Ali, Carmen Ejogo, Stephen Dorff, Scoot McNairy, Ray Fisher, and Mamie Gummer. Ali and West play detectives Wayne Hays and Roland West respectively. The two detectives are investigating the mysterious disappearance of two children in 1980.
True Detective: Night Country Release Date Pushed to 2024
Fans will have to wait a little longer for True Detective: Night Country as MAX pushed its release date to January 2024. This is despite the trailer the network released this summer stating that the series was coming in 2023.
The delay is due to the ongoing WGA and SAG-AFTRA strikes, which pushed back many films and TV shows.