'The Umbrella Academy' Season 4: Everything We Know So Far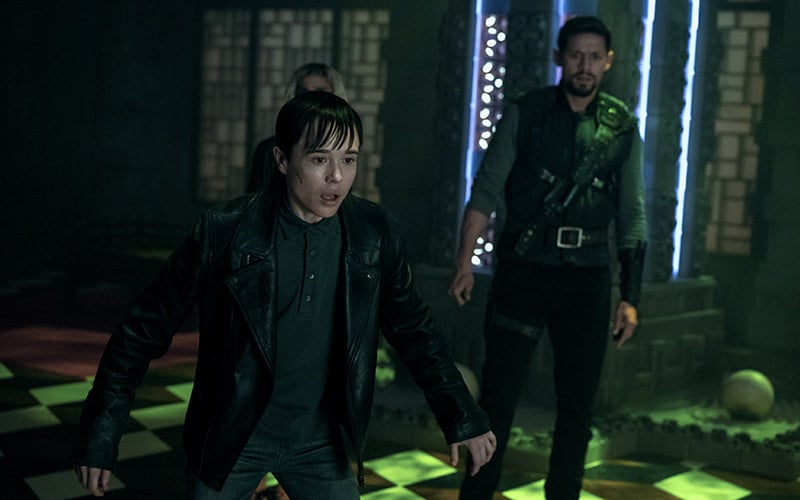 The Umbrella Academy is returning in 2024! The series started production on Season 4 in February 2023 and filmed through mid-May. And this fourth and final season is expected to tie up some loose ends, especially after what happened in Season 3.
So when can fans expect the series to return? And how will the series wrap up? Here's what we know so far about The Umbrella Academy Season 4. Note, there may be spoilers ahead from Season 3.
The Umbrella Academy Returns for Season 4
The Umbrella Academy will be coming back to Netflix with Season 4. The show's renewal for a fourth season is bittersweet since Season 4 will be the last one. This means having to say goodbye to the Hargreeves siblings. The Umbrella Academy is based on comics by Gerard Way and Gabriel Ba and was created for television by Steve Blackman.
In April 2023, Blackman shared the script cover of the show's finale, revealing that Season 4 will only have six episodes instead of the usual 10. In June, Blackman posted a photo of a woman in a vortex with the caption, "Power. Unhinged."
Production on Season 4 started in Toronto in February 2023 and wrapped on May 19, 2023. However, a recent production update has revealed that the show has two additional days of photography planned for November 12 and 13. At the moment, SAG-AFTRA is still on strike, so it's unclear if perhaps the studio has some intel on that, which has not been made public yet.
"I'm so excited that the incredibly loyal fans of The Umbrella Academy will be able to experience the fitting end to the Hargreeves siblings' journey we began five years ago," said Blackman following the show's renewal. "But before we get to that conclusion, we've got an amazing story ahead for Season 4, one that will have fans on the edge of their seats until the final minutes."
Directors Jeremy Webb and Paco Cabezas also returned to direct episodes for Season 4.
What Happened in Season 3
In The Umbrella Academy Season 3, the Hargreeves siblings were in a new timeline. This time, they didn't have their powers. Sloane was also missing when Allison reset the universe.
"The siblings losing their powers isn't going to be the only oddity in this timeline," Blackman said about what might happen in Season 4 after what happened in the latest one. "There are new enemies who want to see them wiped out of existence, but how do they manage without their powers? Is there even a way to get them back? The stakes have never been greater."
Blackman also mentioned the post-credit scene in Season 3, with Ben reading a book on a Korean Subway. The showrunner confirmed that the Ben seen on the subway is Sparrow Ben.
"The question you should really be asking yourself is what the f*** is he doing on a Korean subway train reading a book about pottery?" said Blackman. "As every good Umbrella fan knows, no moment in the show exists in isolation. Everything we see has meaning. And this moment is no exception. Ben has a reason to be there…but you'll have to wait until Season 4 to understand why."
The Umbrella Academy Season 4 Cast
We can expect the main cast to return for The Umbrella Academy Season 4. A photo posted to the show's Twitter (now X) account of several cast members at a table read further confirmed their return. This includes Elliot Page as Viktor Hargreeves, Tom Hopper as Luther Hargreeves, David Castaneda as Diego Hargreeves, Emmy Raver-Lampman as Allison Hargreeves, Robert Sheehan as Klaus Hargreeves, Aidan Gallagher as Five Hargreeves, Justin H. Min as Ben and Ritu Arya as Lila.
We can also expect Colm Feore to return as the patriarch Reginald Hargreeves in Season 4. While it hasn't been confirmed yet, Lisa Repo-Martell may make an appearance as Reginald's late wife Abigail. Abigail reappeared in the Season 3 finale, seemingly back from the dead. Yusuf Gatewood may also be back for Season 4 as Ray Chestnut, Allison's husband in 1963.
Jayme Hargreeves, played by Cazzie David, will also appear for Season 4 despite dying in the previous timeline.
Another character whose fate is up in the air is Sloane Hargreeves, played by Genesis Rodriguez. Sloane went missing by the end of the Season 3 finale so it's unclear if she's still alive.
As for new faces, three stars are confirmed to join The Umbrella Academy Season 4. Real-life-couple Megan Mullaly and Nick Offerman are playing Drs. Gene and Jean Thibedeau. Their characters are described as "a married pair of community college professors from New Mexico who wear sensible footwear and suffer from the most extreme case of deja vu this timeline has ever seen."
David Cross is also joining The Umbrella Academy Season 4. Cross will be playing Sy Grossman, described as "an upstanding, shy business wonder and family man desperate to reconnect with his estranged daughter, who will stop at nothing to get her back."
What to Expect in Season 4
It remains to be seen what's in store for The Umbrella Academy Season 4. Aside from Blackman revealing that the final season will only have six episodes instead of 10, we only have what happened in Season 3 to go on. Blackman also revealed that the title of the Season 4 premiere is "The Unbearable Tragedy of Getting What You Want," with the finale titled "The End of the Beginning."
For Season 4, we can expect the aftermath of the Hargreeves siblings resetting the universe. Sloane also went missing by the end and Abigail seems to be back from the dead.
Fans may also learn about the deal Reginald made with Allison. This might have something to do with Ray, who appears in the present day at the end of the third season. The upcoming season might reveal how Reginald made it happen.
One thing that is confirmed? Gallagher told Collider that Season 4 may see the Hargreeves children be more true to their comic counterparts.
"We may see a more comic book version of Five in Season 4," said Gallagher, who also talked about what fans can expect from Five in the coming season.
"I think he'll go on mission mode and try to figure out how to make everything right with this new, strange reality that Hargreeves has made up. I don't know. It may bring out a more mission-oriented version of Five. It's very final, the way it resolves. It's this new world, with them not having powers. I'd like to see some of the characters, at least for the time being, settle into that reality. I don't know if Five is that type of personality. I think he's still gonna wrestle with it, but we'll have to see," said Gallagher.
The Umbrella Academy Season 4 Release Date
On October 1, 2023, Netflix confirmed on social media that The Umbrella Academy Season 4 will premiere in 2024. For comparison, there was a nearly two-year gap between Seasons 2 and 3. And, there was a year-and-a-half gap between the first two seasons. So, if this timeline tracks for Season 4, it would be around June 2024 for the release.
Fans can expect another update during Netflix's Geeked Week, which takes place between November 6 and 12, 2023. It has been confirmed that The Umbrella Academy will be a part of that event.