Stephen King's House: The Spooky Heart of Bangor, Maine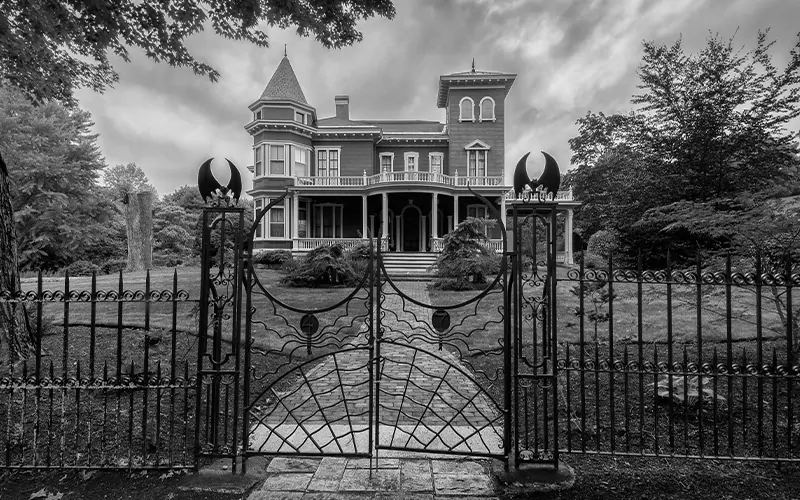 Welcome to Bangor, Maine, a quaint New England town with a chilling secret. It is home to the one and only Stephen King, master of horror and suspense. Nestled among the serene landscapes and charming architecture, Stephen King's residence is a beacon of eerie delight.
Known as 'Stephen King's House,' this distinctive dwelling is more than just an author's abode – it's the pulse of all things spooky in Bangor. From its wrought-iron gates with spider and bat motifs to its Victorian Gothic style, every inch of this house echoes King's macabre imagination. King is known to have written many of his most famous works in this house.
So, join us for a look at the legendary horror writer's Maine residence and what it's like today.
Unveiling the Mystique: A Journey Through Stephen King's Former Home
First off, Stephen King's house in Bangor, Maine, is no longer where King resides with his wife Tabitha.
But let's take a hop back in time first. After publishing one of his most famous works, "The Shining," King and his wife left his hometown in Colorado for Maine in 1980. King purchased the mansion in downtown Bangor for $135,000, where he and his family would live for over 40 years.
Stephen King's former Bangor house has also become one of the most-photographed celebrity homes in the US. It's not hard to miss the Victorian mansion, which was already on the property since it was built in 1858. The original structure was made out of wood and had one tower. The left side tower was believed to be added in 1895, and the large front porch in 1912.
It would initially serve as Stephen King's second residence with his family but inevitably became his primary home.
"West Broadway attracted us, with its graceful Victorian homes, its lovely trees, and its feeling of being a peaceful story of inlet very close to the bustle of downtown," King told the Bangor Historical Society in 1983.
King added that another reason they moved to the area was because of its proximity fo Fairmount School, where his children walked to. The author's residence sits on around two acres of land. There is a view of Hayford Park in the backyard. The 4,952-square-foot house has five bedrooms and six bathrooms.
There is also an indoor pool, an adjacent barn, and a three-car garage.
Where is Stephen King's House?
As said earlier, Stephen King resided at 47 West Broadway, Bangor, Maine. King installed a wrought iron fence that had bats and spider webs. Longtime Maine resident Terry Steel crafted the gate. Steel was discovered at a show in Lovell in the same year the Kings moved to Maine. Tabitha King saw Steel's work and invited him to Bangor.
"This gate has become an iconic draw to Bangor, much photographed by people from around the world," Steel told Bangor Daily News. "People assumed that Mr. King had designed the gates and fences, or at least collaborated on the design. The truth is, I solely designed, built, and installed the gates and fencing, with full support from the Kings, who were delighted with what I created."
King admitted that he regretted installing such a fence around his home, as it turned his neighborhood into a tourist attraction. That didn't seem to faze him when it came to writing, though, as he spent many hours working in his writing studio at the back of the house. So, sightings of King around his house are rare.
But once in a while, the author is known to entertain possible tourists or trespassers stopping by. In 2017, a little ahead of the new It movie, a red balloon appeared in one of the house's windows.
In 2020, King hired sculptor Josh Landry to sculpt a dead ash tree into a towering wooden bookcase on human legs. It featured several birds, a cat, and a dog resembling the author's pet, Molly. Landry created the sculpture using a chainsaw.
Tabitha King, who is also an author, said she was inspired to transform the ash tree into a sculpture that would reflect "the wealth of life" inside a dead tree.
The Inspiration for Many Works
Living in his Bangor, Maine residence for more than 40 years, the neighborhood would also serve as an inspiration. Stephen King's neighborhood inspired the fictional town of Derry, Maine. The fictional town in question appears in a number of King's works like "It," "Insomnia," and "Dreamcatcher."
Stephen King's House Today
Today, Stephen and Tabitha King spend most of their time in Florida and in another home in Maine. The couple has since converted their Bangor residence into a retreat for working writers.
King sought the city's permission to covert his residence in 2019 after announcing that he was moving out in 2018. The house next door will serve as the retreat for writers and will only host up to five writers at a time. The Kings shared that their reason for repurposing the house was that they no longer spent as much time there as they used to.
According to the Bangor Daily News, King's attorney revealed that the neighbors liked the idea: "it will be nice to see some lights on in the building at night."
"They did not want the house to become a Dollywood or some kind of tourist attraction," Bangor city planning officer David Gould previously told New England Cable News. "That would bring all sorts of people to the neighborhood, and they have other neighbors that live there."
It's still private property, so trespassers aren't allowed, and pictures are best taken from a distance. Today, the value of Stephen King's house could be between $900,000 to $1.5 million.
The Stephen King Archives
Stephen King's house also held his archives, known as the Stephen King Archives. The author's manuscripts and other papers would be on display. The University of Maine previously stored these.
"The King Family has been wonderful to the city of Bangor over time and have donated literally millions of dollars to various causes in the community. Preserving his legacy here in Bangor is important for this community," Bangor city councilor Ben Sprague told Rolling Stone.
If you were hoping to tour Stephen King's house and see the archives, there's bad news. The Stephen King archive will not be open to the public, and accessing the archives will be by appointment only. The author has said one of his worst nightmares is the interior of his Bangor home will become a tourist destination.
Even if you might not be able to tour Stephen King's house, don't fret. There are tours for fans visiting the neighborhood of "Stephen King's Derry."