George Clooney Sold Wedding Pictures to Tabloids for Charity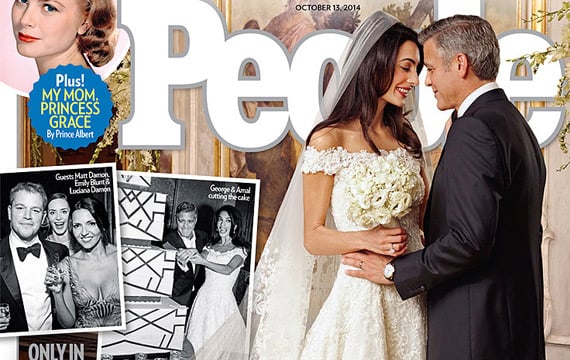 George Clooney reportedly took the high road when it came to selling his and new wife Amal Alamuddin's wedding photos, by making it a win-win for everyone involved and insisting all of the profits from the sale of the pics will be to multiple charities (seriously, can the man be anymore perfect?)
According to TMZ, George auctioned off the coveted pics based solely on who ended up being the highest bidder and in the end, People was victorious for the North American market and while Hello! won out in Europe.
The money made from the photos will reportedly be donated to multiple human rights charities, with an especially large donation slated to go a charity that monitors the Sudan for war crimes called the Satellite Sentinel Project.
A source connected to Clooney also told the site that "Every photo in both magazines will be saving a life."
We have to applaud Clooney for his efforts. Not many celebs would be selfless enough to even think of donating all of their profits from valuable pics such as this to charity and hopefully this action will set a good example.
Photo Credit: People Magazine
Recommend

0

recommendations
Published in Celebrity, Celebrity News, Entertainment, Entertainment News, Featured