HyperX Cloud Stinger: A Good Choice for Under $50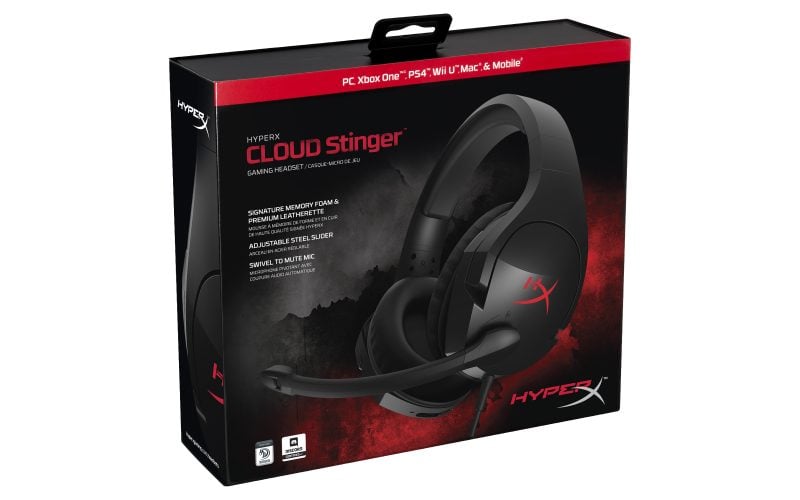 It can be a scary experience when searching for a cheaper pair of headphones as there are many options under the $50 price tag, and many of those headphones usually lack comfort and a quality sound. Kingston hopes to change that by introducing its new HyperX Cloud Stinger headset, which is priced at $49.99.
The HyperX brand has a brilliant track record with headphones thanks to its HyperX Cloud, HyperX Cloud II, and HyperX Cloud Revolver. All three headsets are fantastic options for gamers who are blasting through enemies or taking a break to listen to some tunes. Well, the HyperX Cloud Stinger can be added to this list of excellent headsets as I've never had a better pair at such an inexpensive price.
The HyperX Cloud Stinger is lightweight, smooth to the touch, and maintain a somewhat stylish look even though they are far more simple to look at than the other headsets. They don't feature a detachable microphone that's been common with the other Cloud headphones. However, what's different about the attached mic is that players can swivel it upwards to mute the mic and bring it back down toward their mouth to unmute, which is a nice and simple feature.
On the right ear cup of the headset on the bottom side is a volume control that allows the user to easily adjust volume while in-game. There's no switches to have to deal with on the cord with the HyperX Cloud Stinger, it's all attached to the headset and simple to use. This is nice whether playing on PC, PlayStation 4, or Xbox One.
As mentioned above, the HyperX Cloud Stinger is very lightweight and is comfortable to wear thanks to the memory foam that fits around the ears. This allows the headset to easily grasps the users head and provide a powerful sound with a deep bass.
The sound coming from the HyperX Cloud Stinger is very solid. It has a strong deep bass that allows users to feel all the beats from music or explosions on the battlefield, and it mixes well with the other levels of audio. The mids and highs are heard well, which is important as there's a good balance in sound, but the quality of sound isn't fantastic. It's good, but it's definitely the quality of a cheaper pair of headphones.
Let me make this clear though, it doesn't sound as good as the HyperX Cloud or Revolver, but it does sound far better than I would have expected for the $49.99 price tag. While some clarity in audio may not be present, it's still a smooth sound that isn't distorted by any means at all – there's a deep bass, but not a ridiculous amount that kills the audio. It's a good sound overall.
I appreciate good audio, and I feel those looking for the best option under $50 will make a great choice by going with the HyperX Cloud Stinger. It's lightweight and easily to carry around, and it's very user-friendly with the volume adjustment on the bottom of the ear and mute function done by moving the mic up and down. It's very comfortable and features rotating ear cups to nicely fit any size of head, and most importantly it sends out a decent, yet powerful sound.
The HyperX Cloud Stinger really is a good choice for those looking to spend under $50 for a pair of headphones, and because of this I continue to be a big fan of the HyperX Cloud brand. However, I've seen some great sales for the original HyperX Cloud that brought the price down to around $60, and I would much recommend those over the Stinger.