Atlanta Jewish Film Festival Closes 17th Annual Event with Announcement of First-Ever Jury Award Winner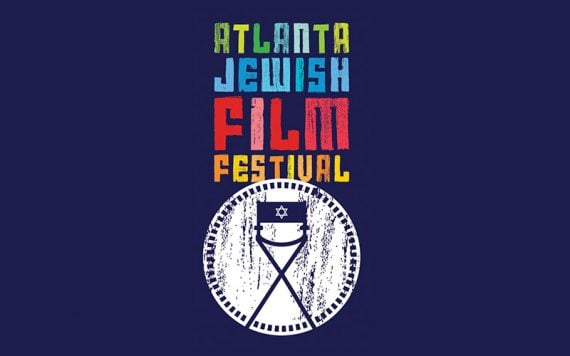 After 23 days and a record 202 screenings, the Atlanta Jewish Film Festival (AJFF) celebrated its Closing Night on Wednesday, Feb. 15 with the announcement of its first-ever Jury Prizes, which were deliberated by an esteemed panel of filmmakers, journalists and experts. In addition, the festival revealed its annual Audience Award winners, which are set for a day of encore screenings in March.
The AJFF Inaugural Jury Prizes went to best Narrative Feature, Documentary Feature and Short, as well as the categories of Emerging Filmmaker, Building Bridges and Human Rights. The Emerging Filmmaker Prize was awarded to a rising creative talent whose film shows exceptional skill and artistry. The Building Bridges Prize honors the film that most exemplifies the mission of AJFF, informed by founder and partner American Jewish Committee, to foster understanding among communities of diverse religious, ethnic and cultural backgrounds. Rounding out the list is the Human Rights Prize, awarded to the film that most powerfully captures the perseverance and strength of those guided by a sense of justice in the face of bigotry, inequality, or persecution.
With the regular festival complete, upcoming AJFF programming includes special encore presentations of the 2017 AJFF Audience Award winning films on Sunday, March 5, at GTC Merchants Walk Cinema. Fanny's Journey, the story of a brave, resourceful young girl who leads a small band of orphans through Nazi-occupied France, won the Audience Award for Best Narrative Feature, while The Freedom to Marry, a thrilling and inspiring insiders' look at the greatest civil rights movement of today, nabbed Best Documentary Feature. Winning the Audience Award for Best Short Film is Oscar®-nominated Joe's Violin, the story of how a musical instrument unites a Holocaust survivor and a Bronx schoolgirl.
The complete list of the 2017 AJFF Jury Prize Winners is below. Each panel also included a film student juror from Emory University.
JURY CHAIR
Arik Sokol (Producer, Opus Media Productions)
FEATURES JURY
Eleanor Ringel-Cater (Film Critic, Atlanta Business Chronicle)
Yair Rosenberg (Senior Writer, Tablet)
Samantha Ann Hughes (film student, Emory University)
Conor Makowski (film student, Emory University)
Narrative Feature Jury Prize Winner: FANNY'S JOURNEY
The moving, beautifully realized story of a young Jewish girl, who led a group of children to safety during the Holocaust. Compellingly acted by young leads and elegantly directed by Lola Doillon, Fanny's Journey adeptly balances the brightness of the human spirit with the darkness of its depravity.
Documentary Feature Jury Prize Winner: AIDA'S SECRETS
The affecting account of two long-lost brothers, one raised in Canada and the other in Israel, who discover each other and attempt to uncover the story behind their separation after the Holocaust. Both historical and deeply personal, Aida's Secrets is a powerful human tale about the meaning of family.
EMERGING FILMMAKERS JURY
Nitzan Gilady (Israeli Filmmaker)
Dr. Nathaniel Kohn (Associate Director, George Foster Peabody Awards)
Emily Schloss (film student, Emory University)
Winner: Eran Kolirin for BEYOND THE MOUNTAINS AND HILLS
Beyond the Mountains and Hills shows an Israeli family in the throes of various crises that intersect in surprising and illuminating ways, giving us new insights into the contemporary Israeli landscape. The director seamlessly interweaves realistic and poetic imagery to create a cinematic picture of life at the edge of change.
BUILDING BRIDGES JURY
Bradley Jacobs (Film Journalist & Communications Strategist)
Melanie Maron Pell (Director of Regional Engagement, American Jewish Committee)
Leila Yavari (film student, Emory University)
Winner: THE 90 MINUTE WAR
When all else fails, the unthinkable becomes plausible. The 90 Minute War depicts, in small and large ways, the realities of the Israeli-Palestinian conflict. Through its realistic characters and complex parallel narratives, the film illustrates — with occasional humor and nuanced wit — that anything besides compromise in this conflict would be absurd.
HUMAN RIGHTS JURY
Dr. Deborah E. Lipstadt (Dorot Professor of Modern Jewish History and Holocaust Studies, Emory University)
Edith Love (National Director of Major Gifts, Center for Civil and
Human Rights)
Sara Grasberg (film student, Emory University)
Winner: THE FREEDOM TO MARRY
This film is an insightful examination into the history behind the struggle for marriage equality. Even though viewers may well and probably do know the outcome, it keeps them engaged and invested in learning the critical journey and the key players in the extra-legal battle. The film helps the viewer understand both the legal process in taking a human rights case to the Supreme Court and the need to galvanize public opinion.
SHORTS JURY
Eric Kohn (Chief Critic & Senior Editor, Indiewire)
Deidre McDonald (Founding Artistic Director, BronzeLens Film Festival)
Claire Barnes (film student, Emory University)
Winner: THE LAST BLINTZ
It is no easy feat to juggle themes such as gentrification, Jewish history, community activism and personal loss within the confines of a half hour. But that's exactly what this film does, using the setting of an old New York establishment to explore the way memories come to define iconic locations to the point where change seems unthinkable — and then arrives, no matter how much resistance there is to stop it. For its ability to present a powerful ode to nostalgia and a wistful portrait of the march of time, we award our top prize to The Last Blintz.
—–
More than 37,500 moviegoers attended the 2017 AJFF. The festival was thrilled to have successfully delivered an improved audience experience this year: more screenings of in-demand films, and at more convenient show times, translating to greater access and an improved onsite experience for all audiences. The experience furthers our mission to foster cultural understanding through the power of cinematic storytelling.
As always, AJFF's guest speakers and panel discussions brought out the best of the 2017 lineup, including discussions with filmmakers, scholars, and other experts throughout the festival. The 2017 AJFF featured a range of international films that included a host of dramas, family-friendly fare, charming comedies, sports-themed films, and a variety of topical subject matter, overall considered by many to be the festival's most well-rounded lineup to date.
For more information, visit AJFF.org, or stay connected via social media on Twitter @ATLJewishFilm and on Facebook and Instagram at /atljewishfilm.
About AJFF
AJFF's mission is to entertain and engage diverse audiences with film through a Jewish lens. In so doing, AJFF fulfills its vision to inspire communities to new levels of social and cultural understanding. Seeking to use the power of film both to entertain and educate, AJFF challenges conventional perspectives on Jewish culture and history, life in Israel, and the work of Jewish artists—particularly where these stories intersect with other communities.
AJFF features an international collection of more than 70 narrative and documentary films (in both feature and short form) that connect with the Jewish experience. The festival brings to Atlanta major films representing more than two dozen countries each year. No screening is without a guest speaker or panel discussion, led by filmmakers, actors, authors, academics and/or other experts.
The Atlanta Jewish Film Festival was founded in 2000 by the Atlanta Regional Office of American Jewish Committee (AJC), a global advocacy organization that enhances the well-being of the Jewish people and Israel through education, outreach and diplomacy. Through the power and shared experience of cinematic storytelling, AJC and AJFF foster stronger bonds within the Jewish community, and intergroup relations with Atlanta's diverse cultural, ethnic and religious communities. Today, AJFF is an independent non-profit arts organization that continues an active partnership with its founding agency, American Jewish Committee.
Recommend

0

recommendations
Published in Featured, Festival, Lifestyle, Movie News, Movies