The TV Show I'm Most Excited For – And How I Discovered It At Comic-Con 2018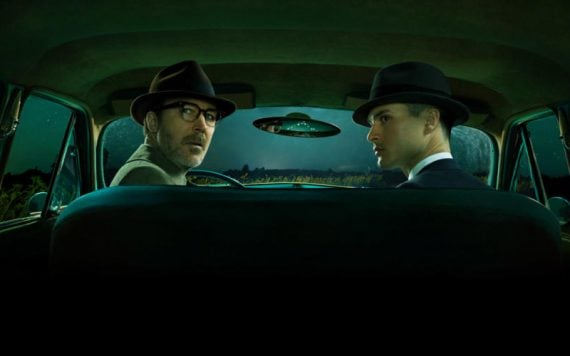 My love of sci-fi is no secret, specifically anything that involves aliens, and it's been awhile since we've had a good alien-focused show on television. Hollywood tends to go in sci-fi/fantasy cycles of zombies, vampires, werewolves, witches, and aliens – and we've been stuck in zombies for while – and vampires for just as long before that. This fall we have Charmed making a return to television, and not long after that we'll have the reboot of Roswell joining for the CW mid-season schedule. But honestly, we've been really lacking a "good alien" series. X-Files tried to come back, and I don't know about you guys – but it didn't work for me.
Well. I have good news my fellow alien-loving friends. Because there's finally an alien show on the horizon to get excited for, and its History Channel's Project Blue Book. It's also got an amazing cast behind it – Aidan Gillen (aka Littlefinger from "Game of Thrones"), Michael Malarkey ("The Vampire Diaries"), Neal McDonough ("Arrow," "Legends of Tomorrow") and Laura Mennell ("Alphas," Watchmen).
So what is Project Blue Book? It was a REAL top secret investigation into UFOs and related phenomena by the United States Air Force from 1952-1969. This series is inspired by the personal experiences of Dr. J. Allen Hynek, a brilliant college professor recruited by the U.S. Air Force to spearhead this clandestine operation (Project Blue Book) that researched thousands of cases, over 700 of which remain unsolved to this day. Each episode will draw from the actual case files, blending UFO theories with authentic historical events from one of the most mysterious eras in United States history.
Let me try to keep from completely geeking out on you guys – because as a girl that has been to Roswell, New Mexico 4 times and even done a dig out at the infamous 1947 crash site (alongside leading ufologists) – I know A LOT about the various history and conspiracy theories surrounding possible contact from unearthly visitors. From Roswell, to Project Blue Book, to the Majestic 12, to a number of well-documented sightings and abduction cases (the Betty and Barney Hill case, the Travis Walton case, Phoenix Lights, etc..), there's so much rich content to explore that would paint an enthralling narrative for a series in this space. Finally, someone agreed with me, and now we have Project Blue Book coming to History in the near future (hoping they're going to be releasing the premiere date at their panel later today).
Enough chat. Check out the trailer for yourselves below.
So let's talk about Project Blue Book's presence at Comic-Con. History brought one of the most mysterious eras of US history to life here in San Diego with modern technology and immersive experiences, they even let fans send a message billions of miles into space in an attempt to answer the timeless question: is there life beyond earth? (I wish I had time to think further on what I would want my message to be – that was a lot of pressure in the moment! What did I end up sending?
Maybe not the best choice?
So I might not have sent the best message into space… ??#projectbluebook #sdcc2018 pic.twitter.com/faGagnrjmt

— Emma Loggins (@emmaloggins) July 21, 2018
Leaving evidence here just incase I've painted a big red X on my forehand for the aliens…
But back to the activation here at Comic-Con! Fans were also encouraged to share their own encounters where a professional sketch artist will help bring their personal stories of the unknown to life. Take a look at the sketch they did of my UFO sighting from 2007 which was actually about 30 miles north of Roswell, New Mexico.
There's still time for you to go and check out "Project Blue Book Headquarters" at Comic-Con 2018! It will be open to the public at the Petco parking lot from through Sunday, July 22. If you go, be sure to comment below or tweet me and let me know your thoughts!
Your Geek Girl,
Emma Loggins
Recommend

0

recommendations
Published in Emma's Geek Girl Blog, Featured