FanBark Unboxing: PupBox 10 Month Review Time!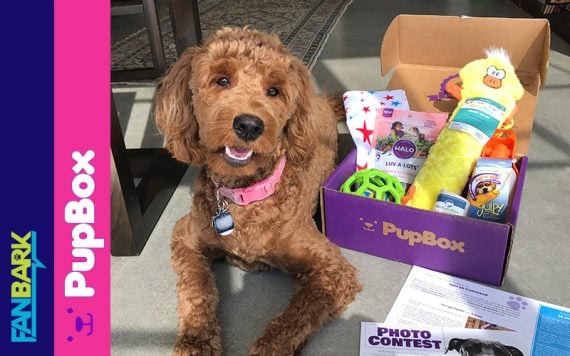 We've got a brand new FanBark unboxing for you! FanBark unboxings are done by our editor's pup, Fozzie! Enjoy her review and unboxing of her 10-month PupBox!
Fozzie here, and I'm a 10-month old F1b goldendoodle who loves to play, eat, play, sleep, and did I mention play?! My mom, Emma, is the editor of FanBolt – and she created this section just for me so I could geek out along with her!
This box couldn't have arrived at a better time, as I'm literally destroying most of my puppy toys now – and my mom keeps taking them away from me, which means this PupBox was like Christmas morning for me!
Here's the full breakdown on what was included in the 10-Month PupBox!
10-Month Old Puppy Training Guide: This guide teaches mom how to get me to spin on command and also gives her a number of tips for handling little 10-month old me! (Including something she hadn't even thought about before – the importance of cleaning your pup's toy bin every 3 months and getting rid of old toys – the reality is that old toys can carry harmful bacteria – so either clean them – or pick up a PupBox subscription for your little furchild!)
JW Hol-ee Roller: This medium size ball is the perfect compliment to the pink ball I have that's a size small – which has been my favorite toy up until now because it's great for fetch and for tug-a-war!! You can put treats inside this toy or even a plush toy to make it more of a challenge for your pup. Either way – it's a guaranteed crowd pleaser!
New Angle Gulpy: Mom and I are equally excited about this one! This is my new personal water bottle and bowl! It's a must for pups on-the-go!
Summer Bandana: Because every pup needs to be fashionable this summer! From July 4 all the way through Labor Day!
Halo Luv-a-Lots Treats: These holistic treats use only real meat protein and says NO to "meat meals" of any kind. THey're made with real meat and non-GMO vegetables and super fruits, cranberries and blueberries! They're my new favorite rewards to high-five too!
Zippy Paws Jigglerz: Let's be real. This duck doesn't stand a chance! But until I get five minutes alone with the squeaker – I'll let mom take some photos of it (See below). This little guy is lined with durable nylon and crinkle paper to maximize play time – along with my new favorite squeaker. I seriously can't tell you guys how much I'm looking forward to playing with this toy!
Barkworthies Blueberry and Cranberry Shin Bone: Long story short – I hit the jackpot this month with PupBox! This bone is stuffed with a blueberry and cranberry blend – and it gives me a healthy chew alternative!
That's a lot of awesome goodies right?! Especially this duck… it makes me so happy!
Here's a recap of how our unboxing went…
I'm extremely protective of my new favorite ball. Gotta keep it hidden from mom…. she can't see it right?
For some reason mom is saving this Barkworthies Blueberry and Cranberry Shin Bone…. I'd really rather have it now.
I know when I look good… just saying. 😉
If I close my eyes tight enough… when I open them she'll have it full of water and ready to take me on a walk!
I would like the treats please ma'am.
Excuse me ma'am.
Want more details on how you can get a PupBox!?
So here's how it works, you create a profile for your pup on PupBox.com – which allows for PupBox to cater each box to the growing needs of your furbaby. Each box is customized based on your puppy's age, development and physical characteristics. I only eat grain-free food and treats, and mom was able to define that with PupBox along with noting her name, birthdate, gender, coat type, target adult weight, and allergies and preferences.
Once you've got your furbaby's profile built out, you can pick a plan that best fits your budget. One month, 3 months, 6 months or annually – and of course the more months you sign up for in advance, the more money you save. You do pay for your full subscription upfront, so be aware of that – and it will renew automatically so you don't miss out on your monthly dose of great products for pup and great information for me. If you change your mind for whatever reason though, you can cancel at any time.
Want to check out PupBox? Use the coupon code FOZZIE for a 15% discount on any PupBox.com subscription.
Licks & Wags,

PupBox did provide us with a free box for this review, but no other compensation was exchanged. Everything mentioned above is Fozzie (and Emma's) honest opinion.
Recommend

0

recommendations
Published in FanBark, Featured