Blu-Ray Review: 'Rick and Morty' Season 4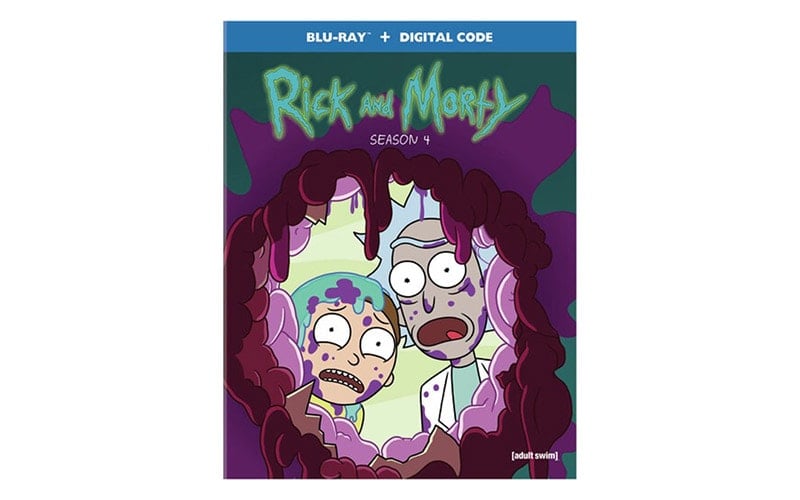 I must admit that I have never seen Rick and Morty before. I know it is immensely popular, and adults love it as much, if not more than children. 
If you're not familiar with the series, Rick and Morty is a Cartoon Network show about a mad scientist named Rick Sanchez and his grandson Morty Smith. Together, they spend about half of their time at home (though still full of adventure) and the other half on interdimensional travels. It's a little out there at times, but it's a lot of fun.
There was actually about two years between the previous season and this one (I believe due to contractual issues), and so before I watched this season, I went back and watched the last couple of episodes of Season 3. You would expect to find a huge lag or inconsistency in the quality, but what I found was it was seamless. A casual watcher would likely not be able to tell these were different seasons, much less made years apart. 
This show is that it is incredibly well-written. That is, surprisingly, something or a rarity these days. While there are a lot of good and fun shows, only a handful have such detail to the universe they created. 
While I won't go into the episodes themselves because not only is that difficult, it also doesn't do them justice, in my opinion. Just know that this show is a well-written and pop-culture reference machine. I'm not sure a single person can catch all of the references from Back to the Future (reflected in the premise) to Aliens (a facehugger makes an appearance of sorts). You will have fun with all of the references while enjoying the originality and cleverness of the show. It's a lot of fun!
Season 4 has ten episodes coming in at about 22 minutes each. The video is presented in 1080p with a 1.78:1 aspect ratio. Even though all of the episodes and extras are on a single disc, it does not appear to impede the quality of the programming on the blu-ray. For an animated show, the colors are bright and engaging and really pop – no more so in the scenes in which computer-generated images are used. The depth and fusion of the two formats (animation and CGI) and seamless and smooth. The audio is clean with no noise or artifacts and is presented in English 5.1 Dolby TrueHD with English subtitles.
Extra
Rick and Morty: Season 4 is a 1-disc release and comes with a redeemable digital code (which can be used on a Hulu account!).

A Day At Rick And Morty: Inside Season 4 (HD, (9:11)

Creating Snake Jazz (HD, 2:30)

Directing Rick And Morty (HD, 2:55)

Samurai And Shogun (HD, 5:24)

Prop Process (HD, 2:48)

Character Creation (HD, 2:36)

Animation Challenges (HD, 2:30)

Inside The Episode –

    Edge of Tomorty: Rick Die Rickpeat (HD, 1:23)

    The Old Man and the Seat (HD, 1:24)

    One Crew Over the Crewcoo's Morty (HD, 1:22)

    Claw and Hoarder: Special Ricktim's Morty (HD, 1:24)

    Rattlestar Ricklactica (HD, 1:23)

    Never Ricking Morty (HD, 1:39)

    Promortyus (HD, 1:47)

    The Vat of Acid Episode (HD, 2:13)

    Childrick of Mort (HD, 2:04)

    Star Mort: Rickturn of the Jerri (HD, 2:07)
Rick and Morty Season 4 is available from Warner Bros on Tuesday, September 22nd!
Recommend

0

recommendations
Published in TV, TV Reviews