'Sweet Tooth' Season 2: Everything We Know About the New Season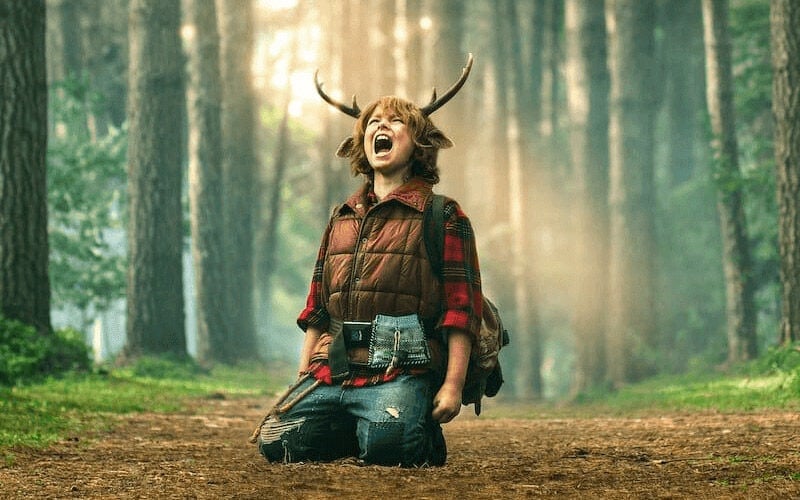 If you're looking for TV shows based on comics that you can't find on Disney+, you'll want to get ready for Sweet Tooth Season 2. Based on Jeff Lemire's limited DC comic series, Sweet Tooth took Netflix subscribers on an exciting and eccentric journey back in 2021. Fans can't wait to see where the second season takes them this time. With young Sweet Tooth in peril at the end of Season 1, it's no wonder people want answers on his fate ASAP.
As Robert Downey Jr and Susan Downey's production company played a large role in the creation of the series, we know we're in store for something special. We can't imagine RDJ would switch from Marvel to DC content for anything less.
Here's everything we know so far about what's to come for Sweet Tooth Season 2.
Sweet Tooth Season 2
While Sweet Tooth found success as a Netflix original, it wasn't always destined for that streaming platform. Originally, Hulu ordered the pilot, and Team Downey, Robert Downey Jr. and Susan Downey's production company, were in charge of producing. Later on, the project got shifted to Netflix with Team Downey still producing. On May 12, 2020, Netflix officially announced that they ordered an 8 episode season of the show with creator Jim Mickle.
The first episode of Sweet Tooth Season 1 aired in the beginning of June 2021. Less than 2 months later, at the end of July 2021, Netflix announced that the cast would be back for a second season. Since Sweet Tooth made its way to the top of the Netflix charts, with over 60 million households tuning in to watch, the renewal for Sweet Tooth Season 2 just made sense. Its watch numbers paralleled that of The Queen's Gambit, Bridgerton, and The Witcher. While they all trail behind powerhouses like Squid Game, they all have rather active fan bases.
In early January 2022, the star of the series Christian Convery (Gus/Sweet Tooth) shared a post on Instagram proving that production had begun. He shared a picture of himself and his stunt double with the caption, "So good to be back with my awesome homie and Stunt Double @liamjreynoldss. Let's do this!"
At the DC FanDome event, Convery shared a fun fact that his infamous deer antlers aren't the work of post-production magic. They're actually powered by a remote control that someone off-screen manages.
Sweet Tooth uses New Zealand as the shooting location. As long as there are no COVID complications, production should wrap in the May or June timeframe.
Sweet Tooth Season 2 Cast
The comic books have a very sparse cast of characters, using that deliberate choice to accentuate the themes of loneliness and isolation. The show has already added more individuals to the story. We see that trend continuing, and expect to see new hybrids and Last Men in the next season to further expand the universe.
As far as returning characters, we of course have Christian Convery as Gus/Sweet Tooth. The Sweet Tooth Season 1 finale had him captured by the Last Men army, so the second season will likely begin with his allies coordinating efforts to save him.
At the head of those looking for him is Nonso Anozie as Thomas Jepperd/Big Man.
We also expect Adeel Akhtar to return as Dr. Aditya Singh, Steffenia LaVie Owen as Becky Walker/Bear, Dania Ramirez as Aimee Eden, Aliza Vellani as Rani Singh, Naledi Murray as Wendy Eden, Will Forte as Richard Fox/Pubba, Neil Sandilands as General Douglas Abbot, Amy Seimetz as Birdie, and Sarah Pierse as Gladys Bell. We're likely to see James Brolin (famous father to Thanos actor Josh Brolin) return as the Narrator.
Among those additional characters are Finn Fox, Wally Walrus, Haley Mockingbird, and Jojo Cat. Casting calls were put out for these new hybrids, but we don't yet have confirmation on who will fill the roles.
Sweet Tooth Season 2 Release Date (Speculation)
So when will this post-apocalyptic Netflix show return to the streaming service? As production has yet to wrap, we're still waiting on an official Sweet Tooth Season 2 release date.
There's a very slim chance we'll see the second season in 2022. If we do, it will be late in Q4, likely sometime in December. While the show doesn't have nearly as many effects as shows like Shadow and Bone, post-production still takes a considerable amount of time. However, Netflix does like to release its popular shows around the holidays, so they might push the team to hit that deadline.
If we don't see the second season arrive in late 2022, we should get the release in early 2023. Until then, we'll have to enjoy the comics if we want more from the young deer boy and the rest of the Sweet Tooth universe.
Recommend

0

recommendations
Published in Featured, Streaming, TV, TV News