'Licorice Pizza' DVD Review: The 'Almost Famous' of 2022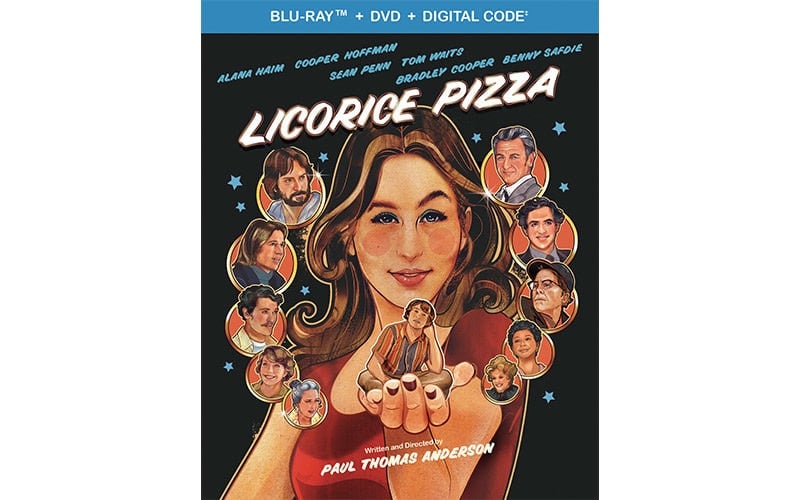 Licorice Pizza was without question one of the breakthrough films of 2021. It racked up most all the major awards with the Atlanta Film Critic Circle, and while I've not been big on collecting DVDs in the last decade (almost no need to with streaming), this was one movie I HAD to have for my collection.
Written and directed by Paul Thomas Anderson (There Will Be Blood, Phantom Thread), Licorice Pizza tells the story of Alana Kane and Gary Valentine as they grow up, get into mischief, and fall in love in California's San Fernando Valley in the 1970s.
Movie Trailer
Licorice Pizza Movie Review: What I Did and Didn't Like
This coming-of-age comedy-drama couldn't be more refreshing and charming. As a whole, Licorice Pizza feels like that first breath of air after you take off your mask. We need more films like this in our theaters.
A few interesting facts before I dive into specifics… The main character, Gary Valentine, is played by Cooper Hoffman, son of the late Philip Seymour Hoffman. If you're a fan of Paul Thomas Anderson, then you likely know that he and Philip Seymour Hoffman worked together on a number of films over the last couple of decades. So it's extra special to see Cooper working with Anderson on this project.
The character of Gary Valentine is actually based on a friend of Anderson's, Gary Goetzman. Goetzman is also the co-founder of Playtone, Tom Hank's production company. While not everything in the film is pulled from real events – some of the events actually did happen, which made me all the more excited for the DVD extras on this release.
The Casting
The casting of leads Alana Haim and Cooper Hoffman is what truly makes this film soar. While the script is fantastic in its own right, the life that each of these young actors brings to these roles is remarkable.
Let's start with Alana Haim, who plays Alana Kane. While she's new to the big screen, she's not new to the entertainment industry. She's a member of brand Haim along with her sisters, who also appear in the film.
Alana Kane is confident, cool, and honest in a way that's disarming. Yet, you still see her insecurities buried beneath her surface. She's a complex character that Haim manages to make shine. You simply can't take your eyes off of her.
Then there's Cooper Hoffman. While he's not typical Hollywood handsome, he's so freaking charming that you can't help but fall in love with Gary Valentine and his drive to never back down or give up. He has a drive and a hustle that fuels him, and his feelings for Alana are palpable in the most innocent way.
Just like falling in love for the first time is something extraordinary, so is watching these two together.
The Story & Script
I voted for for Licorice Pizza's screenplay (for Best Screenplay of the Year) in all the film critics groups I'm in. I absolutely adored the script – despite the one major issue I had with the overall story. Alana Kane is 25, and Gary Valentine is 15. I had a hard time getting past that. Though it's one of the nuances of this story that I think makes it work really well.
There is sexual tension between these characters, which could have gotten uncomfortable due to the age difference. However, both Gary and Alana have mutual respect for each other, which actually aids in their connection. It also makes the audience fall all the harder for this unlikely couple, who feel as if they're soulmates.
The dialogue is brilliantly constructed, and the characters feel real and emotionally raw in such a beautiful and vulnerable way. And while the story does seem to jump around, it does so in a way that feels like a friend telling you an old story.
From beginning to end, it's just effortlessly charming.
DVD Extras (Exclusive to Blu-ray & DVD)
Camera Tests – Pre-production camera tests and unused takes
The Handman Scene – A deleted scene from the film
Fat Bernie's Commercial – An in-universe commercial for Fat Bernie's as shot by Gary Valentine
Behind the Scenes – A glimpse behind the scenes of

Licorice

Pizza

through a collection on-set photos and videos
Licorice Pizza DVD Review: Overall Thoughts
I still remember the magic I experienced the first time I saw Cameron Crowe's Almost Famous. There's a similar vibe and magic here.
Licorice Pizza captures what it feels like to fall in love for the first time. It's enchanting, sweet, comical, and sometimes extremely awkward. And it's something you'll never forget.
This film is a rare gem in today's age of cinema, and it's arguably the best film of Paul Thomas Anderson's career. But, at the end of the day, it's a wonderfully quirky film that will put a smile on your face and warmth in your heart. This one is something truly special.
Licorice Pizza is out on Blu-ray and DVD today!
Licorice Pizza DVD Review:
Grade: A+
Recommend

0

recommendations
Published in Featured, Movie Reviews, Movies