20+ Rare VHS Tapes Worth Money From Your Childhood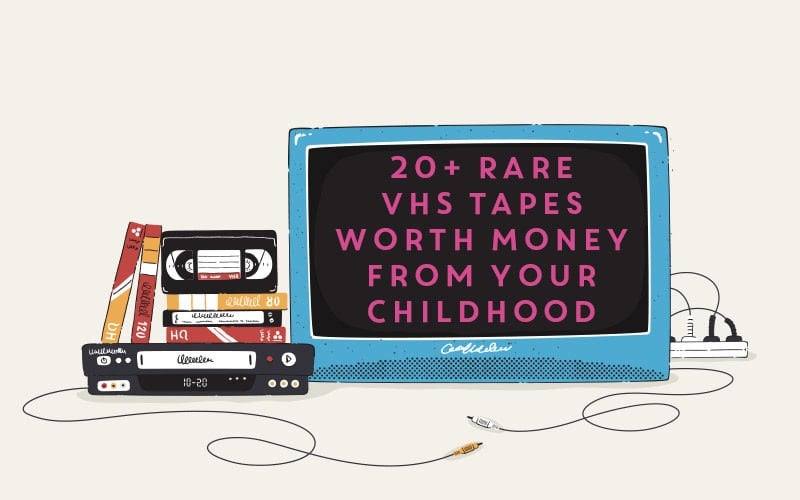 When the world switched over to DVDs and Blu-Ray, many chose to dump their bulky VHS collection. They may have acted too hastily; there are some VHS tapes worth money. Sure, most will only go for 50 cents at a local flea market, much less than it went for originally in the video store. But one singular VHS tape on this list went for $35,000.
So let's talk about valuable VHS tapes and which ones went for how much.
The Star Wars Franchise
Considering the immense popularity of the franchise now, it's no wonder that the original release of Star Wars VHS tapes are worth significant cash now.
Here are some Star Wars movies that might make you some money.
Star Wars: A New Hope
Price Tag: $35,000
You could probably get at least a bit of cash for any original Star Wars VHS tape, especially a limited edition release. But this one collector made what some people make in a year off of just one.
Before you think you can make a quick $35k by rummaging through your old collection, this wasn't just any A New Hope tape. This tape was brand new in the factory sealed plastic wrap packaging from 1984. The packaging even had the CBS/Fox watermark and two original promo stickers. It didn't even have sun damage, as the collector had locked it away.
Star Wars: Red Label Set
Price Tag: $19,908.22
Special collections and releases of popular movies can get you a significant amount of money if stored in the right condition. While this red label set had a bit of wear in it, the buyer was still interested enough in the collection's cover art and pop culture value to drop almost $20k on it.
Looking at how that A New Hope copy went for $15k more than a set of three tells you all you need to know about the importance of condition. Mint condition tapes are worth significantly more than even those that are only slightly used.
Star Wars: Original Trilogy Collection
Price Tag: Around $100
The first three Star Wars movies all released separately, but they got released in a special trilogy set in the 80s. A mint condition collection of this special release of Star Wars (this collection did not refer to it as A New Hope), The Empire Strikes Back, and Return of the Jedi could get you around $100 on eBay.
Disney Videos
Disney VHS tapes notoriously go for high price tags. That is if you have the right ones in the right condition. This demand used to be fueled by the Disney vault, where they stopped selling different movies at specific times to introduce scarcity and increase exclusivity. Before Disney+, if you wanted to watch Beauty and the Beast while it was in the vault, you had to hope you had the original VHS.
Let's look at some of the most lucrative Disney VHS tapes worth money.
Mulan
Worth: $15,295
In 2019, someone sold their copy of Mulan for over $15k. Maybe it was the hype of the upcoming 2020 remake that got the collector excited enough to spend that much on one movie.
101 Dalmatians: Black Diamond Edition
Worth: $14,000
Even though this copy had a small crack in the plastic VHS case, someone's Black Diamond Edition copy of 101 Dalmatians went for $14,000!
Beauty and the Beast
Worth: $1,999.99
A mint-condition Diamond Edition of this beloved tale as old as time will get you around $2k.
The Lion King
Worth: $500-$1,000
From the Broadway show to the live action remake featuring Beyonce, this lion adaptation of Hamlet remains a Disney favorite for many. If you have the original Diamond Edition, you could fetch around $500. However, some have sold their copy for $1k.
Alice in Wonderland
Worth: $450
Before Johnny Depp became the Mad Hatter, Alice wandered through Wonderland in this 1991 classic. If you have the VHS, you could make almost $500.
Fantasia
Worth: $299
Disney's 1940 film Fantasia cleverly paired classical music along with 8 unique storylines. The most famous is certainly Mickey Mouse working for a magical wizard and bringing brooms to life to make his job easier. Unfortunately, he soon gets in over his head. But this vignette is where the classic blue wizard hat with moons and stars comes from. You can still buy the Sorcerer Hat in the parks today. And if you need cash to do so, you can sell your original Fantasia VHS for almost $300.
The Little Mermaid
Worth: $250
If you have a Diamond Edition copy of this Disney princess classic, you could make around $250. $250 for a VHS tape sounds like a better deal than a pair of legs for your voice.
Bambi
Worth: $250
If you were emotionally scarred by this 1942 Disney film, you weren't alone. If you want to put the past behind you, you can put your copy of Bambi up for sale. It could be worth up to $250, but that's only if you have the Diamond Edition.
The Jungle Book
Worth: $225
Disney's The Jungle Book has gone through several remasters. That doesn't even include the live action adaptation released in 2016. If you have a copy from the original release in 1967, you could get over $200.
Cinderella
Worth: $150
If you have an original copy of the 1950 Disney tale of Cinderella, you could score between $150 to $200, depending on the tape's condition.
Snow White and the Seven Dwarves
Price Tag: Around $100
If you have a copy of Disney's very first animated movie, you could make around $100. Released in 1937, Snow White is the very first on the Disney Princesses to get her happily ever after.
The Sword and the Stone
Price Tag: Around $100
Disney's adaptation of King Arthur isn't one of their better known works, but you can get around $100 for your copy.
Pinocchio
Price Tag: Around $50
If you sell it at the right time on eBay, you could get around $50 for your copy of this 1940 classic. Certainly not thousands of dollars, but not bad if you have a copy lying around that you don't want to keep.
The Great Mouse Detective
Price Tag: Around $50
Not one of Disney's better-known animated pictures, but still worth a decent amount. It at least ties with Pinocchio.
The Great Mouse Detective follows Basil as he attempts to solve the greatest case of his career: the kidnapping of London's master toymaker. He goes toe to toe with his old rival, Professor Ratigan, who dreams of becoming the "supreme ruler of all mousedom."
Surprising VHS Tapes Worth Money
Many people know that you can get some good money for original Disney movies. And most would assume that you could get some serious cash from the Star Wars franchise. But what VHS tapes worth money are out there that you may not have assumed were worth much? Let's look at those movies.
Bash at the Beach
Worth: $500
For wrestling fans, Bash at the Beach is a must-have.
It's the VHS tape of the World Championship Wrestling's annual summer pay-per-view event called "Bash at the Beach." It covers some of the most significant wrestling moments, like Hulk Hogan's final WCW appearance.
That explains why to some people, this would be worth $500.
555
Worth: Around $300
For people who love campy horror movies, 555 tops the list. Watching it on VHS would add to the nostalgia feel people get from the movie, which is why some would pay the $100 price tag for it.
The Flesh Eaters
Worth: Around $1,000
When The Flesh Eaters was released in 1964, it was written off as a low-budget horror flick. However, it's become something of a cult classic. VHS copies of this movie about a pilot, actress, and her assistant forced to land on an uncharted island, only to meet a scientist interested in dissolving human flesh could get you up to $1k.
Selling Your VHS Tapes Worth Money
Before you riffle through your collection to find any VHS tapes worth money, think about the condition you will find them in. Unfortunately, tapes in the well-loved condition won't be worth much, no matter what movie it is. But even if you don't have the VHS plastic sealed in the original package, you never know what you could get for it on eBay until you try, right?