Beyonce Crashes Channing Tatum's 'Lip Sync Battle' Party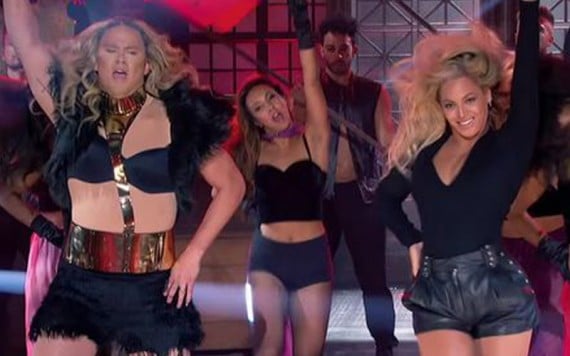 If you haven't watched the full video from Channing and Jenna DeWan-Tatum's Lip Sync Battle performances (complete with grinding and Beyonce!), stop and do so now!
The pair duked it out on the season 2 premiere of the Spike series that pits stars against one another in fantastic lip sync battles. Jenna did an amazing take on her hubby's famous Magic Mike routine to Ginuwine's "Pony." I mean the girl went all out, taking it into full grind mode and making Channing part of her routine, and when Channing took to the stage it was clear to see why.
Watch the couple's amazing performances below (and we dare you to say these two aren't #relationshipgoals for 2016):
The Hateful Eight star immediately won the crowd over when he appeared in full Beyonce form. Wig? Check. Thigh-high boots? Check. Bronzy glow? Check. Then, when Queen Bey herself strutted out in the middle of Channing Tatum's performance, we all felt what Jenna felt:
I mean how long did he keep that a secret from his wife?! It's clear by Jenna's face that she had no clue that her husband was about to blow her performance out of the water in the best way possible.
The show has had its fair share of A-list guests like Joseph Gordon-Levitt, Justin Bieber and Taraji P. Henson, but this is arguably the most epic showdown yet. I mean there are wigs flying, fans blowing, sexual dance moves with power tools, a fake horse… we love you Tatums. Never forget that.
New episodes of Lip Sync Battle air Thursdays at 10/9c on Spike TV.
Photo Credit: Spike
Recommend

0

recommendations
Published in Celebrity, Celebrity News, Entertainment, Entertainment News, Featured, TV, TV News