Darren Star and Debi Mazar Tease 'Younger' Season 3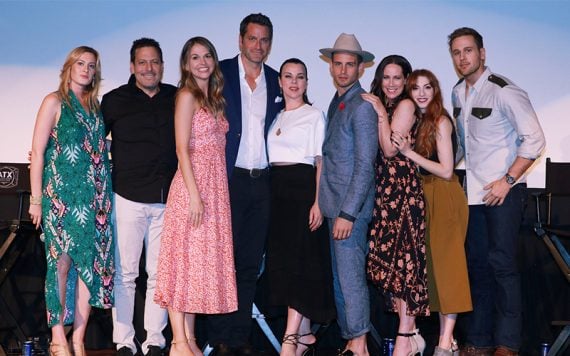 One of our favorite series, TV Land's Younger, returned to the ATX Festival this year, and this time around they brought the entire cast! We had the chance to sit down and talk with them, and with series creator Darren Star and Debi Mazar (Maggie) – we asked about Season 3, the Thad/Chad storyline from Season 2 (Spoiler alert if you're not up to date), and more!
Have you guys started filming Season 3?
Darren Star: We are about to start shooting on Tuesday, we start filming our third season.
Debi Mazar: We've been in pre-production, we've been all seeing each other all of a sudden after not seeing each other for 6 months, and doing a little press, excited we're going to find out what's happening. We're shooting in New York in the summer, it's going to be very different, you know, like Sex And The City. I don't mean to reference that as a show, I meant like, the city is sexy.
Darren Star: Sexy In The City.
Debi Mazar: Sexy In The City, I love it. I'm an August baby.
What can you tease in terms of season 3?
Darren Star: Let's see … season 3 will be-
Debi Mazar: Sweaty.
Darren Star: Sweaty.
Debi Mazar: Sweaty, Fuzzy hair.
Darren Star: I think we left a lot loose ends at the end of Season 2, so I think there's a lot of story to pick up. There's definitely a major love triangle that we didn't have before, there's some surprises in the relationship of Maggie and Lauren, where that goes, Kelsey's going to be out in the dating world in a way that she's never been before, so that's really going to be fun to follow that-
Debi Mazar: And Diana, God knows what she's doing. She broke a penis in the last episode.
She may need to calm it down a little bit.
Darren Star: Diana, she's going to have … she will definitely have her moments. Definitely. There's some major corporate intrigue and storylines that happen, because the show's very much about the workplace also. There's things that really reflect the reality of the publishing world today, which is, it's not the healthiest business in the world.
Debi Mazar: It's also one where the stakes are pretty high.
Darren Star: It's an old school business, and it's being shaken up, and so we address that a little bit as well.
I know we've kind of seen the age difference obviously being a huge thing with Liza and Josh, but with Maggie and Lauren, is that going to be an issue?
Debi Mazar: I don't think there was ever an issue with the age difference. I honestly don't even know what age that she is, or we never really discussed my age. It's not about the number, it's more about the experience and the that she's young and hot, and I'm older and I like it. It's not like I'm a cougar or that she's into old chicks, it's just sex, and it's fun. It's not that deep.
Darren Star: I thought you guys had just the … last season the scene you guys had in bed was just one of the hottest scenes.
Debi Mazar: Oh my God, I looked so … Oh my God … it's so hard to see yourself, because I look so voluptuous.
Darren Star: You do.
There are obviously some big shocking moments in the last season. Is that something that we're going to continue to see in Season 3, things that totally catch us off-guard?
Darren Star: I hope the show keeps people on their toes and is surprising. I think it's not like.. we don't feel the pressure to top ourselves, let's put it that way. For me, the moments that we had felt like they came out of… for me they came organically out of the stories, and where they were going. Good shows are always surprising, I don't know that we're going to have any more construction accidents, but I'm sure we'll have some…
Debi Mazar: That was shocking.
What was your reaction to that?
Debi Mazar: First of all, we didn't know about that. None of the cast except for Dan, until the table read that day and we sat down and we all… Maybe I got the script the night before and I literally screamed, because first of all it was tragic, because I loved the actor, I couldn't imagine that happening at all. It happens all the time in New York.
It does, and that's where the idea came from, spending all of this time in New York.
Debi Mazar: It's crazy.
Darren Star: Seeing these accidents happen, there's a lot of construction going on in New York, and people were really getting hurt, and killed by falling debris. Cranes were falling off of buildings and streets were being closed. We knew that we wanted Thad's character to exit, and we thought, "What would be the the most fun, outrageous way to make that happen?"
Debi Mazar: It's in The Post, it's in The Daily News like, everyday, someone's either falling down an elevator shaft, they're building so much. They're building so much, it's really crazy and tragic.
Did you have the plan to have Chad come in before you decided to off Thad?
Darren Star: We did think about Chad also, yes, as a fun way to kind of like… it was tragic but we kind of wanted to keep the comedy alive a little bit. I think it was just so inspired by the idea of the Winklevoss twins, that it just reminds me of one of those… the physicality is so similar that I felt like we kind of had that reference.
Debi Mazar: It's nice for him, they're playing very different.
Darren Star: It's a brilliant job. It really was a leap of faith, taking a leap of faith with Dan, just believing that he was going to create this entirely different character. I sat down with him and I was like, "So who's Chad going to be?" It was really Dan coming up with this idea.
Debi Mazar: Really?
Darren Star: Who he was, we had some ideas, but Dan took the ball and ran with it, really creates an entirely different kind of character.
Younger Season 3 premieres September 28, and the series has already been picked up for Season 4! We'll keep you posted on the new season as soon as we have more details!
Recommend

0

recommendations
Published in Emma's Geek Girl Blog, Featured, TV, TV Interviews