'Shrek 5': News, Cast, Speculation, and More!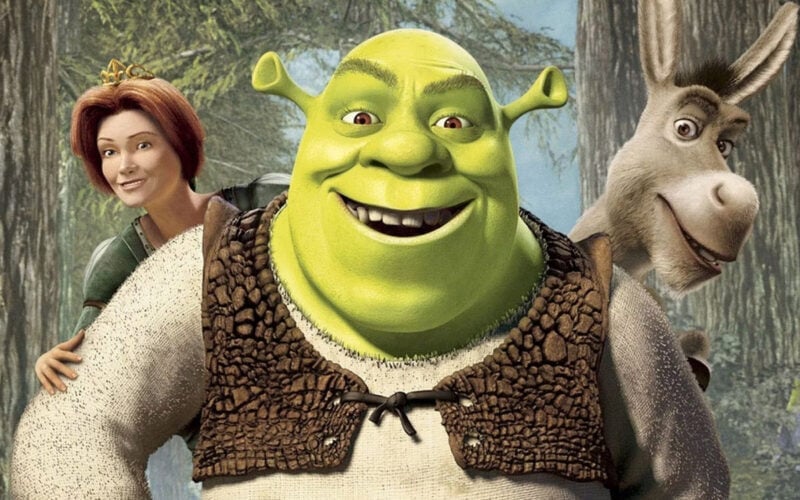 Will Shrek 5 ever come out? It's a question fans have been asking for years. And the good news is it's now confirmed that the project is in active development.
The update comes from Illumination founder Chris Meledandri, who is working alongside DreamWorks to revive the animated franchise. And while the project has been in the works for a while, there hasn't been much news on the production front since the project was announced in 2016. That is until now.
The franchise's fourth installment premiered in 2010. So what's the reason for the delay with Shrek 5? And when will it finally hit the big screen? Here's what we currently know.
The Shrek Cast Is Expected to Return
Chris Meledandri shared the news that the project is not only in the works, but that the original cast, which includes Mike Myers, Cameron Diaz, and Eddie Murphy, are all expected to return for the new movie.
"We anticipate the cast coming back. Talks are starting now, and every indication that we've gotten is there's tremendous enthusiasm on behalf of the actors to return." Meledandri, 63, reveals to Variety.
Eddie Murphy had also previously commented on the opportunity to return to the franchise, saying, "I'd absolutely be open if they ever came with another 'Shrek', I'd do it in two seconds. I love Donkey."
The Shrek cast includes:
Mike Myers as Shrek
Eddie Murphy as Donkey
Antonio Banderas as Puss in Boots
Cameron Diaz as Princess Fiona
Antonio Banderas Weighs in on Shrek 5
In December 2022, while doing press for the latest Puss in Boots movie, star Antonio Banderas, 62, was questioned about the possibility of Shrek 5.
"No, officially, no, no. Nobody has said anything to me," Banderas said in an interview with Collider. "I was the first one who was surprised when at the end of this movie, we saw this wink of an eye that the studio just threw there, with Far, Far Away.
"And so I don't know, I don't know if it's going to happen. But certainly, if I knew something, I will say it. But no, none officially." Banderas added.
It Had Been Over a Decade Since the Last Puss in Boots, a Shrek Spin-Off
2022's Puss in Boots: The Last Wish actually marks the first Puss in Boots film in over a decade. And Banderas had doubts that this film would even get made.
"At some point, yeah. At some point in which I lost contact for maybe a couple of years. But I knew that the studio operated big changes. Because it moved to another studio, actually, to Universal. And at the same time, the pandemic came on, so there was a number of things that were going on at the same time." Banderas reveals.
"So I got in contact with them eventually, but yeah, there was a period of time of maybe not two years, but a year-and-a-half, something like that, in which I didn't receive any news," Banderas continued. "At that point, I thought, 'Oh well, maybe they're just rethinking', because this new panorama that they had in front of them, they are thinking, 'It's something completely new.' They didn't want to revisit things that they have done in the past, something like that. So yes, at some point, I thought about it, but then here we are."
The History of Shrek
It's hard to believe it's been twenty years since Shrek first debuted on the big screen. The film initially premiered at the 2001 Cannes Film Festival, and at the time it was the first animated film to do so since Disney's Peter Pan in 1953.
Shrek went on to make over 485 million at the box office, which was enough for DreamWorks to officially greenlight Shrek 2, which followed shortly after in 2002. Shrek 2 was the most successful out of the franchise, bringing in over 920 million at the box office.
Skip ahead a few years and Shrek the Third debuted in 2007, and the most recent film, Shrek Forever After premiered in 2010. It was before the release of the 4th film in the franchise that the studio announced initial plans for Shrek 5. However, those plans were canceled prior to the release of Shrek Forever After.
In 2016, Shrek 5 was officially revived but has since been stalled multiple times with its official start date (and ultimate release date) continuing to be pushed back.
Just recently, in 2020, the United States Library of Congress deemed the original film "culturally, historically, or aesthetically significant," and it was selected for preservation in the National Film Registry.
On May 18, 2021, Shrek celebrated its 20th Anniversary. DreamWorks Animation posted a sweet tweet to Twitter celebrating the news.
Shrek 5 Is Currently In Development
But let's get back to Shrek 5! The good news is that the film is currently in development.
Chris Meledandri, who also worked on 2022's The Super Mario Bros. Movie, also noted that the reboot of the Shrek franchise will have a similar creative process to the Super Mario Bros. project.
"It's not that dissimilar to the process that we went through with 'Mario', where you look at what the core elements are that audiences have loved. And you do your very best to honor those core elements." Meledandri says.
"And then you're hard at work to build story elements and new characters that take you to brand new places. The original cast is a huge part of that."
There is No Shrek 5 Release Date Currently
The movie had reportedly been aiming for a 2019 release… and then a 2020 release. But after being pushed back numerous times, a new release date has not yet been set.
Numerous sites have attempted to predict a Shrek 5 release date. While we wish had something more concrete to share with fans, there is still no release date. There's not even an estimate right now that would be anything more than a guess.
The Script
In 2020, Michael McCullers, the writer behind Boss Baby and Austin Powers, confirmed he had been working on the script and it had been completed.
"I finished that script which I really, really, really love. "It's really personal to me. It's got a pretty big reinvention behind it that I guess I can't really reveal." McCullers said in an interview with CinemaBlend.
The Plot
Not much is known about the storyline of Shrek 5. We can assume that it will have roughly the same type of structure as the previous films – complete with new twists as well as easter eggs to engage both new and returning fans of the franchise.
"The challenge for us has been to find something that really does feel like it's not simply yet another film in a series of sequels," Chris Meledandri, CEO of Illumination, said in an interview with Variety.
"When you look back on those vocal performances they're awesome. And while you certainly could make a case for a complete reinvention, I find myself responding to my own nostalgic feelings of wanting to go back to those characterizations," Meledandri (who IMDB lists as a writer on the production), continues.
The Future of Shrek
DreamWorks has said that Shrek 5 will completely reinvent the franchise. It'll be a reboot for the property. They've also commented on the large gap between this upcoming film and Shrek 4, saying that it was largely because Shrek Forever After was intended to be the last film in the franchise.
Will There Be More Shrek Spin-Off Movies?
2022's Puss in Boots: The Last Wish was a massive success at the box office. The animated adventure comedy grossed more than $479 million globally against a $90 million budget.
With that kind of success, another film certainly isn't out of the question. However, Puss in Boots may not be the only character heading back to the screen for a spin-off.
Eddie Murphy had previously stated he'd love a standalone film for his character, Donkey.
"You know, they did 'Puss in Boots' movies. I was like, 'They should have done a Donkey movie.' Donkey is funnier than Puss in Boots. I mean, I love Puss in Boots, but he ain't as funny as the Donkey." Murphy said to ETalk.
Chris Meledandri also commented that he is in favor of the idea.
"It's evidence of his strong enthusiasm for a role that he so brilliantly inhabited and really created alongside the artists at DreamWorks. I found that comment to be very exciting." Meledandri says.
No news yet on additional spin-offs. But the interest and box office success is there. It's likely that we'll get Shrek 5 ahead of those films. But either way, we'll keep you posted on developments and upcoming projects with the franchise!
Are you excited about Shrek 5? Do you want to see the next chapter of the story or a whole new beginning for the franchise? Sound off with your thoughts in our comment section below!