Diana Gabaldon Offers Fans Comforting Words for 'Outlander' Season 7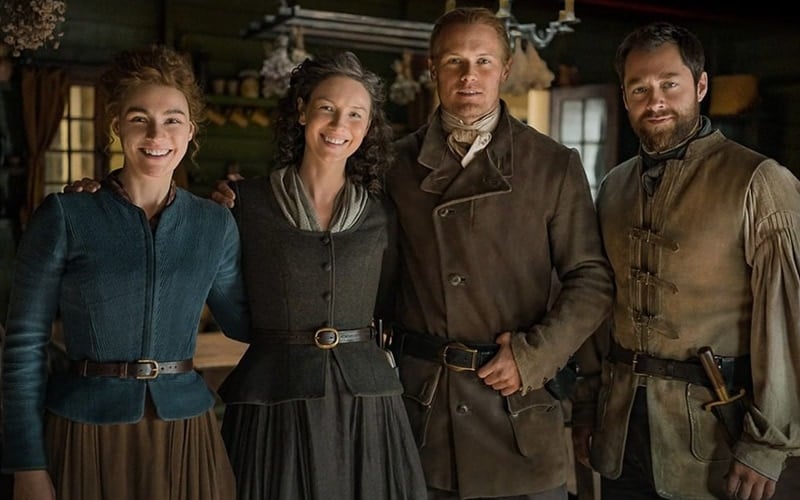 With any show that's gone on for multiple seasons, you always fear that each new season could be its last. For fretting Outlander fans, the author of the book series, Diana Gabaldon, gave some words of wisdom and hope.
Diana Gabaldon: Author of
Outlander
The hit show Outlander that follows the time-traveling love story of Claire and Jamie Fraser is based on the book series by Diana Gabaldon.
The series includes:
Outlander

Dragonfly in Amber

Voyager

Drums of Autumn

The Fiery Cross

A Breath of Snow and Ashes

An Echo in the Bone

Written in My Own Heart's Blood

Go Tell the Bees That I Am Gone
The upcoming Outlander Season 7 will follow the seventh book, An Echo in the Bone. On April 6, 2022, the official Outlander Starz Twitter posted, "The cast and crew are back at it – #Outlander Season 7 is in production!"
Diana Gabaldon Tells Fans Not to Panic Over Outlander Season 7
As many Outlander fans speculate about the possible end of the show, Twitter user @bonnie_bon1 wrote "@SamHeughan Really upset when I read @Writer_DG said that season 7 may be the last season of Outlander. I'm really really really sad."
Unlike most fans, their tweet got a response from someone involved in the show. Gabaldon tweeted back, "Don't pay attention to stupid click-bait online, is my advice. Of course Season 7 _might_ be the last–it may well NOT be the last. Nobody knows that. But people keep pestering, so they get non-answers like, "Maybe" and add silly headlines." She punctuated the tweet with a kissing face emoji.
Essentially, she wants fans not to give up hope and to keep themselves from getting caught up in clickbait. The best way to find out for sure the fate of your favorite show is waiting for the producing network to make an official announcement. Don't let yourself get caught up in rumors and "what ifs" bloggers twist into a story just to get a headline.
She's talked before the The Times about how proud she is that the show has already received 7 seasons. "I'm amazed and pleased that it has run for seven seasons. We have had talks with showrunners about potential endings. We came to a few conditional conclusions. But we won't know until we get further down the road." Gabaldon says.
Gabaldon Weighs in on Outlander Season 8
"If we have a season eight that would be totally great, and if we don't get a season eight, then the seven we have are really good, and we can contrive a reasonable ending if that should be the case. We keep our fingers crossed. It's rare for a hit series to go that long." she adds.
No matter how many seasons the show has left, it sounds like it will end in a satisfying way, rather than an abrupt cancellation. And we already know that Gabaldon has other Outlander stories to tell as well, even after Outlander does eventually come to an end.
How a Show Gets Renewed
Until a show gets greenlit by the company in charge of programming, you don't have any confirmation that you'll get another season. Streaming giants like Netflix will greenlight the next season of one of their originals. This gives the production company the go ahead to start coordinating with actors, writing scripts, and doing pre-production work.
For example, Stranger Things is a Netflix Original Series, but the show gets produced by 21 Laps Entertainment and Monkey Massacre. They need to wait for Netflix to approve the budget for the next season before they start. (We already know the show has been renewed for its fifth season – which Netflix has confirmed will be the last season).
There are plenty of reasons shows do and do not get greenlit. Maybe the amount they spent on producing the show was too much in comparison with how few people watched it. That's one of the reasons Mindhunters is stuck in an indefinite hold. The amount of money they'd need to do Season 3 is not supported by the viewership of Seasons 1 and 2. Executive producer David Fincher said blankly, "on some level, you have to be realistic — dollars have to equal eyeballs."
So the best way you can make sure you get another season of your favorite show? Keep watching! Make posts on social media raving about it. Show the studio with your voice and view time that you're eager for another season. With any luck, we won't have too long of a Droughtlander and the cast and crew will get the go-ahead to make another season.
What are your hopes for Outlander Season 7? Sound off in the comment section below!