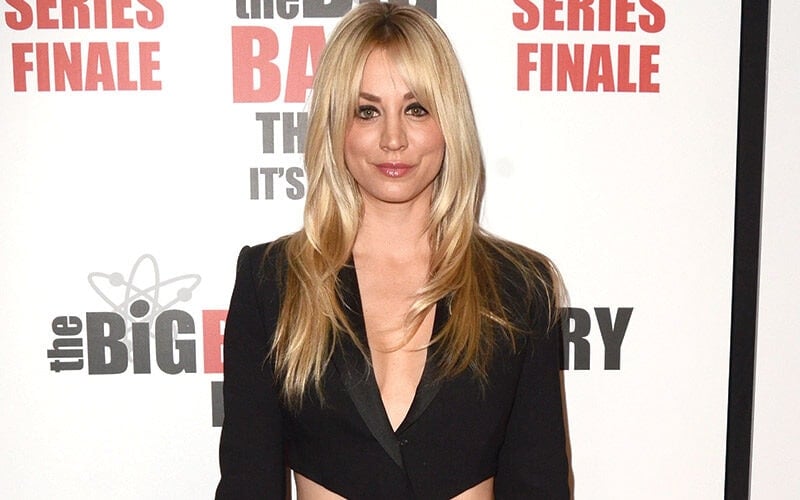 Kaley Cuoco is an American-born actress best known for her roles in the CBS sitcom The Big Bang Theory and ABC's 8 Simple Rules. Having started her acting career in the 1990s, Cuoco has tackled more than 70 acting jobs as of 2022.
However, it's not just her work on the big and small screen that has contributed to her success over the years. Kaley Cuoco's net worth has also been impacted by her work as a producer, her production company, and her brand deals. Read on to discover her most successful projects to date and follow along with her career from the start until now.
Early Life
Kaley Christine Cuoco was born in Camarillo, California, on November 30, 1985. Her father, Gary, is a realtor. And her mother, Layne Ann, is a homemaker. Her father comes from Italian heritage, and her mother descends from English and German ancestry.
Cuoco is the eldest of two siblings. Her sister Briana also acts, sings, and even competed on The Voice during the show's fifth season. She now acts alongside Cuoco on The Flight Attendant and lends her voice to the TV series Harley Quinn as Batgirl.
Cuoco found one of her first loves at the young age of three. She started playing tennis, and she was pretty good at it. However, at 16, she gave up her ranked amateur status to pursue her acting career.
Acting Career
Kaley Cuoco's net worth primarily comes from her lucrative acting career and mostly from one specific project, The Big Bang Theory. However, before the hit CBS series came into her life. She starred in a number of smaller projects.
Her first acting gig was in 1992 when she starred in the TV movie Quicksand: No Escape as Connie Reinhardt. Two years later, she landed her next job, appearing in one episode of Northern Exposure as a young Miranda.
Virtuosity
In 1995, Cuoco made her film debut as young Karin Carter in Virtuosity. At the time, she was only seven years old. The film also starred Denzel Washington and Russell Crowe. Unfortunately, the film wasn't a hit at the box office, only grossing $24 million worldwide against its $30 million budget.
After Virtuosity, Cuoco continued to star in a series of TV movies and made a number of guest appearances on various shows, including Ellen where she stared as little Ellen DeGeneres. Then, in 2000, Cuoco got one of her first big projects, the CBS sitcom Ladies Man. She appeared in all eight episodes of the series, which was canceled in 2001.
While appearing in the series, Cuoco also played Marcia Brady in the TV film Growing Up Brady. In addition, she starred in a Disney Channel original movie called Alley Cats Strike as Elisa Bowers. And she also guest-starred on an episode of 7th Heaven.
8 Simple Rules
After building her resume, Cuoco got a starring role in 8 Simple Rules for Dating My Teenage Daughter. Later, producers simplified the title to 8 Simple Rules. Cuoco played Bridget Hennessy on the ABC sitcom.
Interestingly, Cuoco played the eldest daughter, despite being six years younger than her on-screen little sister, Amy Davidson.
The Big Bang Theory
Before landing her big break on the sitcom The Big Bang Theory, Cuoco continued to bolster her resume. She starred in several films and both animated and live TV series, including Charmed and My So-Called Life.
But in 2007, once she landed the role of Penny, Cuoco's star (and Kaley Cuoco's net worth) rose dramatically. At first, she earned $60,000 per episode, as did her co-stars. And by the time 2010 came around, the cast worked together to negotiate their pay to $200,000 per episode. By August 2014, Parsons, Galecki, and Cuoco made $1 million per episode.
For Seasons 11 and 12, the three leads took a $100,000 per episode pay cut so their co-stars, Mayim Bialik and Melissa Rauch, could have higher salaries.
And although the show ended in 2019, the cast members are still making bank from syndication royalties. The three stars negotiated a 1% cut of all back-end Big Bang Theory earnings. Her salary for the show, not including royalties, has totaled over $150 million.
Needless to say, The Big Bang Theory has been the largest contributor to Kaley Cuoco's net worth.
The Wedding Ringer (2015)
Starring alongside Kevin Hart and Josh Gad, Cuoco played Gretchen Palmer in this 2015 comedy, The Wedding Ringer. With a budget of $23 million, the film grossed over $79 million globally.
And while the film wasn't a hit with fans or film critics, it is Cuoco's fifth highest-grossing movie of her career.
Alvin and the Chipmunks: The Road Chip
In the same year as The Wedding Ringer, Cuoco voiced Eleanor, the female chipmunk wearing the green dress in Alvin and the Chipmunks: The Road Chip. With a budget of $90 million, the movie grossed over $235 million worldwide, making it Cuoco's highest-grossing film.
Harley Quinn
In October 2018, the DCU announced that Cuoco would voice Harley Quinn in the upcoming Harley Quinn animated series. She also acted as executive producer for the series with her company, Yes, Norman Productions.
The series premiered on November 29, 2019, and in 2020, the show headed to HBO Max. The holiday special Harley Quinn: A Very Problematic Valentine's Day Special will premiere in 2023.
Recent Work
While current projects don't contribute nearly as much to Kaley Cuoco's net worth as The Big Bang Theory, she is still keeping busy. Cuoco told Parade, "I think I already had my dream role on The Big Bang Theory. Everything now is icing on top of the cake."
Cuoco worked with Kevin Hart again in The Man from Toronto, which premiered in June 2022 on Netflix. Woody Harrelson also starred in the film.
Cuoco will also play Doris Day in the limited series Doris Day: Her Own Story. The series is based on the 1976 biography authored by A.E. Hotchner and the numerous interviews that Hotchner had with Day herself. Cuoco will also serve as an executive producer on the series.
Photo Credit: DFree
Other Ventures
In October 2017, Cuoco made a bold step to expand her portfolio. She founded her company, Yes, Norman Productions. The company entered an exclusive deal with Warner Bros. Television, and its first production after Harley Quinn was The Flight Attendant, which has since become a huge success.
"I'm known as Cassie now, not [just] Penny anymore, which is so crazy to me," Cuoco said, speaking of her role on The Flight Attendant.
Adding to Kaley Cuoco's net worth is her advertising deals. And there is no shortage of them. The actress appears in countless commercials, ranging from Starbucks, Smirnoff, and Marshalls. Most famously, she appears in Priceline and Toyota commercials, for which she made $2 million for signing.
Real Estate
Also adding to Kaley Cuoco's net worth are her numerous real estate investments over the years. In 2022, Cuoco bought an Agoura Hills home (from Twilight's Taylor Lautner, no less!) for $5.25 million. The estate lies 40 miles outside Los Angeles and resides on a 9-acre lot.
During her divorce from Karl Cook in 2021, Cuoco and Cook sold the home they had purchased in 2019 for $11.75 million. The house sold for $16.2 million.
Personal Life
During her time on The Big Bang Theory, Cuoco dated Johnny Galecki, her on-screen boyfriend, privately for two years. Galecki and Cuoco separated in December 2009. Though the pair have been vocal about how they remain good friends.
In October 2011, addiction specialist Josh Resnik and Cuoco got engaged. Less than a year later, they broke off the engagement.
After dating tennis player Ryan Sweeting for three months, Cuoco got engaged once again. They married on New Years' Eve 2013. But in September 2015, they announced their separation.
The same year as her divorce, she began dating Karl Cook, an equestrian. A year later, they became engaged on Cuoco's birthday. They were married for three years before announcing their split. Kaley Cuoco's net worth was not impacted by the divorce, as they had a tight prenup.
Cuoco and Ozark actor Tom Pelphrey revealed they were dating in May 2022. After five months, on October 11, 2022, she announced that they were expecting a daughter together.
"Baby girl Pelphrey coming 2023 [heart emoji] beyond blessed and over the moon. I [heart emoji] you @tommypelphrey!!! (sic)" Cuoco posted on the social media platform.
Kaley Cuoco's Net Worth
As of 2022, Kaley Cuoco's net worth is estimated at $100 million. While most of her net worth comes from her time on The Big Bang Theory, it's also heavily impacted by her brand sponsorships, her production company, and the other projects she's done since wrapping the hit CBS series.
In addition to the projects we mentioned above, Cuoco's fans can also look forward to seeing her star in the thriller Role Play as Emma. Cuoco also stars as a producer on the project, which is currently in post-production. She'll also serve as executive producer on the upcoming TV series Pretty for Warner Brothers as well as Noonan's for DC Entertainment and HBO Max.
Cuoco also recently starred in Peacock TV's Meet Cute with Pete Davidson. The TV movie premiered on September 21, 2022.