Ethan Hawke's Net Worth in 2023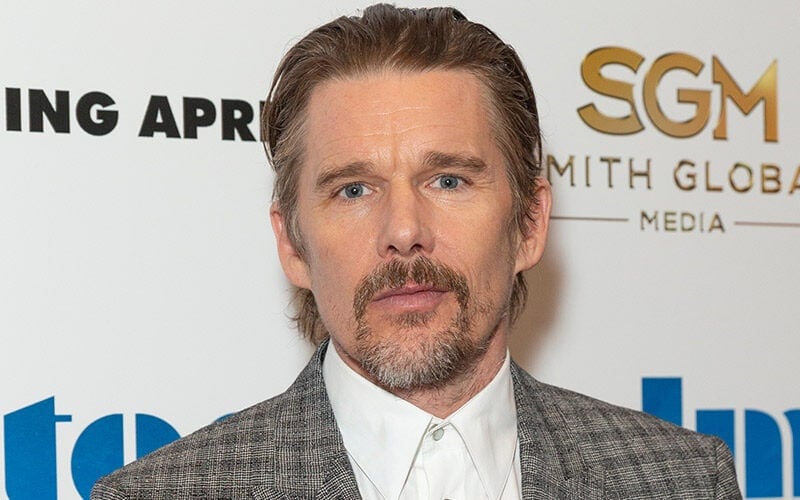 Ethan Hawke is an American-born actor best known for his roles in Before Sunrise, Training Day, and, most recently, Marvel's Moon Knight. Since starting his career in Hollywood in the mid-1980s, Hawke has appeared in over 95 films and television shows.
However, it's not just his work on-screen that has contributed to his success. Ethan Hawke's net worth has also been impacted by his writing, directing, and producing work, in addition to his real estate investments. Read on to discover Hawke's most successful projects and trace his career from its origins until the present day.
Early Life
Ethan Green Hawke was born in Austin, Texas, on November 6, 1970. His parents, Leslie Green and James Hawke, were high school sweethearts who married when his mother was only 17. When Hawke was born, both parents were still college students. They divorced when Hawke was four years old.
Hawke and his mother moved around a lot. They finally settled in New York City, where Hawke attended the Packer Collegiate Institute. When he was 10, his mother remarried and the new family moved to New Jersey. Hawke went to the West Windsor Plainsboro High School and eventually graduated from the Hun School of Princeton in 1988.
Acting Career
While still in school, Hawke participated in several stage productions. He was in the George Bernard Shaw play Saint Joan when he was 13. In high school, he performed in the comedy You Can't Take It with You and the Christmas musical Meet Me in St. Louis.
Hawke continued to pursue acting after high school, enrolling in acting courses at Carnegie Mellon University. Barely a few weeks into the semester, he got a role in Dead Poets Society and the rest, as they say, is history.
Early Projects
Ethan Hawke was only 14 when he attended his first casting call, which resulted in him landing a part in Explorers in 1985. He played a schoolboy obsessed with aliens, along with River Phoenix. Although critics gave generally positive reviews, the film was a box office flop. With a budget of $25 million, the film only grossed $9.8 million worldwide.
Following his film debut, Hawke was so disappointed that he took a break from acting for a couple years.
Dead Poets Society
In 1989, Ethan Hawke's net worth got its first sizable boost. He returned to the screen with a stellar performance in Dead Poets Society. The film won the BAFTA Award for Best Film and was also nominated for Best Picture at the Academy Awards. It was also a huge commercial success, raking in $235.9 million worldwide against a $16.4 million budget. 
As of 2023, Dead Poets Society is still Hawke's highest-grossing film.
White Fang
A couple of years later, Hawke would star in the period adventure film White Fang. With a budget of $14 million, the movie earned more than $34 million worldwide. Additionally, the film also received favorable reviews, which paved the way for a sequel in 1994.
Before Sunrise
In 1995, Hawke was chosen to play the lead role in Richard Linklater's Before Sunrise. His performance and that of his co-star Julie Delpy were highly praised. They even won Best Kiss at the MTV Movie & TV Awards.
However, the film only had moderate commercial success. It made almost $6 million at the box office against a budget of $2.5 million. This came a year after the success of Reality Bites in 1994, which is one of Hawke's most memorable films to date.
In the next few years, Hawke would star in a number of successful films like Gattaca, The Newton Boys, and Snow Falling on Cedars.
Training Day
Another sizable boost to Ethan Hawke's net worth came in 2001. Hawke received a paycheck of $12 million to appear in Antoine Fuqua's Training Day alongside Denzel Washington. Hawke describes this film as his "best experience in Hollywood."
With this role, Hawke received the first of his four Oscar nominations, as well as a nomination from the Screen Actors Guild. The movie was also quite a blockbuster, raking in $104.8 million globally against its $45 million.
Before Sunset
The second film of the Before Trilogy, Before Sunset, reunited Hawke with director Richard Linklater and co-star Julie Delpy. Not only that, the three actually co-wrote the screenplay for the movie as well.
Their work paid off as it was nominated for a number of awards, including Best Adapted Screenplay at the Academy Awards. The film operated on a budget of $2.7 million and earned multiple times that at $15.8 million.
Following his appearance in the film, Hawke starred in Assault on Precinct 13, which earned him $3 million, as well as Lord of War and One Last Thing.
Before Midnight
Nearly two decades after the trilogy's first installment, Before Midnight was released in 2013. It generated $21 million at the box office against a budget of only $3 million.
Once again, Hawke co-wrote the screenplay with Linklater and Delpy. And the movie earned a handful of Best Screenplay nominations, including another one from the Academy Awards.
The Purge
In the same year, Ethan Hawke also starred in the horror film The Purge. It had a very modest budget of $3 million, which it quickly made back on opening weekend, earning $34 million in the US alone. Globally, the movie earned a total of $89.3 million.
The film's success paved the way for four additional movies. However, Hawke did not star in any of the sequels.
The Magnificent Seven
In 2016, Hawke worked once again with Training Day director Antoine Fuqua and co-star Denzel Washington in the Western remake The Magnificent Seven. The film had a sizeable budget of $90 million, and it made $162.3 million worldwide.
Recent Work
In 2020, Hawke starred in the miniseries The Good Lord Bird as John Brown. He was also a co-creator, writer, and one of the executive producers of the show. His performance earned him a Golden Globe nomination for Best Actor in a Limited Series or Television Film and a few other wins and nominations.
He also recently starred in critically acclaimed films Tesla, Cut Throat City, The Guilty, and The Black Phone. There was also Disney+'s Moon Knight, where he played Arthur Harrow, and Robert Eggers' The Northman, where Hawke starred opposite Alexander Skarsgård and Nicole Kidman.
Fans also saw Hawke in Netflix's Glass Onion: A Knives Out Mystery, opposite Daniel Craig, Edward Norton, and Kate Hudson.
Additionally, after a hiatus from Broadway, Hawke returned with True North, earning highly positive reviews from critics. Hawke had been nominated for a Tony Award back in 2007 for his performance on The Coast of Utopia.
Other Ventures
Also contributing to Ethan Hawke's net worth are the novels that he authored. Hawke had written a few books, the first of which was The Hottest State. He published it in 1996 and received mixed reviews. He followed this up with a second novel, Ash Wednesday, in 2002, and reviews were much better for this title. The novel even made The New York Times Bestseller List.
He proceeded to publish more books over the years, including Manhattan Story, Boyhood: Twelve Years on Film, Rules for a Knight, Indeh: A Story of the Apache Wars, and most recently, A Bright Ray of Darkness.
Real Estate
Also impacting Ethan Hawke's net worth are his real estate investments. Hawke had once owned a 3,500 sq. ft. home in Chelsea, New York. He sold this in 2013 for $6.25 million, which is more than double the purchase price of $3 million.
The same year, he bought a bigger home in Brooklyn for $3.9 million. This one with six bedrooms, five and a half bathrooms, and five working fireplaces.
Additionally, Hawke also owns a 3.6-hectare island in Nova Scotia, Canada. It has two cottages and is connected to the mainland via a 60m land bridge.
Personal Life
When filming Gattaca in 1996, Hawke met actress, Uma Thurman. They started dating and got married in 1998. They have two children together, Maya Ray who is an actress herself, and Levon Roan.
The couple split in 2003, and it was rumored that Hawke had cheated on Thurman. Though Hawke has insisted that was never the case. Their divorce became official in 2005.
In 2008, Hawke married Ryan Shawhughes, who had previously been a nanny to Hawke and Thurman's children. And while rumors circulated that Hawke had cheated on Thurman with her, Hawke confessed to The Guardian in 2009 that it had been a long time since he had employed Shawhughes when they started falling in love.
The couple has two children together, Clementine and Indiana.
Ethan Hawke's Net Worth Today
As of 2023, Ethan Hawke's net worth is estimated at $55 million. While his acting work is primarily responsible for that number, his writing, directing, and producing work, and his real estate investments, also impact his net worth.
Fans of Hawke can look forward to seeing him next in Strange Way of Life, starring alongside Pedro Pascal.
After that, keep an eye out for Sam Esmail's Leave the World Behind, which also stars Julia Roberts and Kevin Bacon. The Netflix film is expected to release on December 7, 2023.
And if that wasn't enough, he'll also star in the TV series The Whites for Showtime, and the film Revolver, where he'll star opposite his daughter, Stranger Things star Maya Hawke.