Just Cause 3 Collector's Edition – Just Cause It's Cool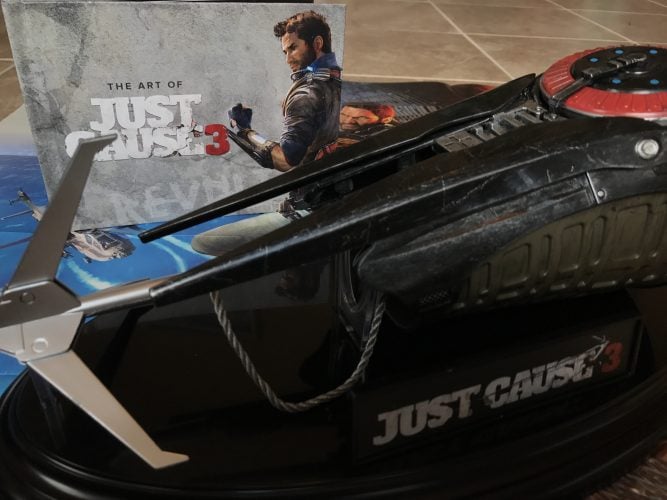 Just Cause 3 is an action-packed game with a huge open world to create chaos in. There are so many weapons, gadgets, and vehicles to use for a massively explosive time. One of those items in the game includes the lead character's grappling hook, and what makes it even more special is that the Just Cause 3 Collector's Edition comes with a 15-inch replica of it.
The Just Cause 3 Collector's Edition is a nice item to own for fans of the explosive series. As mentioned, it comes with a 15-inch replica of Rico's signature grappling hook, as well as a 32-page hardcover artbook, an official map of Medici, and the Day One Edition of the game.
Upon opening the collector's edition, owners will find that it's held safely in basic and standard Styrofoam packaging. It's all about what's inside the box with this collection and not the box that it comes in.
The 32-page artbook contains a nicely written foreward from the Art Director at Avalanche Studios talking about some of the thinking process behind the creation of the game. The hardcover book contains artwork from the environments, architecture, lead characters, weapons, and vehicles, all crammed into 32 pages to provide just a taste of everything.
Then comes the two pieces for the 15-inch grappling hook. This includes the hook and the base that it rests on. Owners will need to attach clear plastic pieces that hold up the arm band and hook on the base structure.
When handling both the base structure and grappling hook owners can definitely feel the light plastic quality of both items. They feel very cheap, but it's meant to be placed on a shelf and not touched. So, once the grappling hook is nicely resting on the base platform and on display on the shelf, it looks far better than it feels. It might feel cheap, but it looks awesome with its detail and design.
Just Cause 3 fans who absolutely love the game and think it would be great to have a grappling hook on display on their shelf can't go wrong with this collector's edition, especially with its recent price reduction of $39.99 during the Black Friday sale on the Square Enix store.