NVIDIA Shield TV: An Excellent Streaming Device
During NVIDIA's recent conference at CES 2017 I was very interested in learning about what they would announce at the show, especially when it comes to computer gaming as I'm always putting the latest GeForce GTX graphics card to the test with many of the greatest PC games. However, it was a different piece of hardware that caught my attention this year as NVIDIA announced a new Shield TV streaming device. Not only is it for streaming movies and TV shows in 4K, but also for streaming games in a new and much improved way. This totally peaked my interest.
NVIDIA announced a new subscription service known as GeForce NOW. Owners of the new NVIDIA Shield TV can subscribe to this service for $7.99 a month and gain access to a large library of quality PC games in several different genres. Even though many of these games that are included for free with the subscription are older titles, it still features many great games like Tomb Raider, the Batman Arkham series, Hitman Absolution, Sonic All Star Racing Transformed, and many more. And what makes this subscription service the most intriguing is that subscribers can get the power of a GTX 1080 in the cloud so they can play these games at 1080p, 60 frames per second without needing a PC. And that's not all when it comes to games.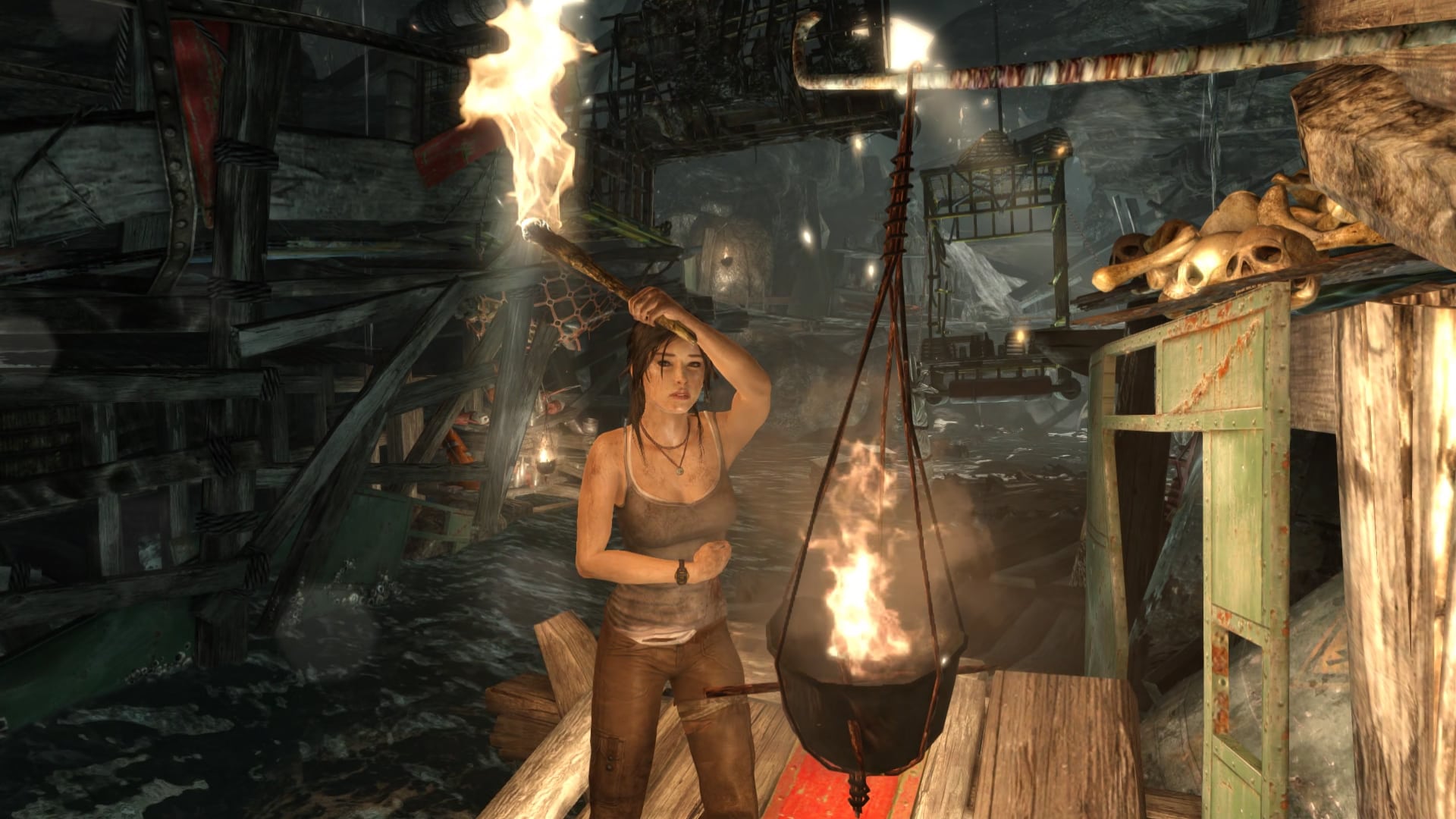 Players can also purchase newer games through GeForce NOW, such as The Witcher 3, Shadow Warrior 2, No Man's Sky, and many more. These games will also run at the same 1080p, 60 frames per second, providing PC quality performance in the living room. Additionally, the store updates every Tuesday with new content to look forward to.
It's been absolutely fantastic playing GeForce NOW games on the new NVIDIA Shield TV. This is the main reason why I became interested in the device. I've played Tomb Raider, Just Cause 2, Sonic All Stars Racing Transformed, Shadow Warrior 2, Hard Reset: Redux, Giana Sisters, and more without running into many issues. It's simply been a rather smooth and enjoyable experience. I must note that the Shield TV can be connected through either an Ethernet cord or wireless connection, and that I played the entire time wirelessly. And during all those hours, I've only encountered a few moments where the sound and game would skip briefly. There's also a connection indicator that will show up in the top right corner if your connection is having problems, but this has been a rare occurrence for me.
GeForce NOW comes with a free 30-day trial that allows newcomers to the service to give it a lengthy try before committing to it. This is a great way to test it out if you're unsure about the service. It's also a great way to check out games that you may have never played before. So even if you have a super computer, GeForce NOW is good for that reason as well.
Another great thing about the NVIDIA Shield TV is that players can capture gameplay video and screenshots with the use of a feature that looks just like GeForce Experience. This allows users to capture video to the device if they want to share something unique in a game. Also, it features the same replay function that's on the PC version of GeForce Experience. So, if you're playing a game with replay active and something crazy happens, players can capture that moment as well. I will note that the gameplay sometimes feels a little sluggish when using the recording functionalities. Hopefully that can be smoothed out in time.
I do wish there was a way to instantly share screenshots to Twitter and videos to YouTube. Currently, users can easily connect the device to their PC and grab the content that way for uploading, but removing that step would be preferred.
GeForce Experience on the NVIDIA Shield TV also lets users stream their streaming gameplay to Twitch. Yes, you are streaming your stream. Anyway, I made sure to give this a test to see how well streaming my streaming gameplay would work. I decided to play Warhammer 40,000: Space Marine for this test and once again came away impressed. Now, streaming my streaming gameplay did feature a few more skips in performance compared to when I would play without streaming to Twitch. In my 75 minutes of playtime I had one instance where things got very choppy for about 3 seconds before it recovered. But again, for the most part, it ended up working really well. Also, when I streamed the gameplay to Twitch, I had the quality settings on High for the best possible stream. So, I'm streaming gameplay through GeForce NOW to get 1080p, 60 frames per second and then streaming that back to Twitch at high settings. Check out the video of the stream below.
The NVIDIA Shield TV also has more for gaming than just GeForce NOW. It also allows users to purchase and play apps that are available through Google Play. This includes games like Resident Evil 5, Metal Gear Rising: Revengeance, Super Mega Baseball, Borderlands 2, Riptide GP Renegade, and soo many more. I discovered for the first time how fantastic Super Mega Baseball is as I still can't stop playing it and progressing through my season. However, I do know how much fun Metal Gear Rising is as I played that originally on the PS3. However, unfortunately, that game has been completely unplayable for me as it always crashes during normal gameplay. Plus, you can intentionally crash it anytime you wish by attempting to use the video or screen capture option.
Speaking of game crashes, I've also seen crashes with other Android apps. That's where a majority of those problems come from. However, I have come across two GeForce NOW games that have caused me issues when messing with the settings, and only when messing with the settings. For example, when launching Just Cause 2, if you change the resolution to 2560×1440 before starting or continuing the campaign for the first time, you'll end up having a ghosting-like experience on the screen. Changing the settings during the game will fix this. Another example for settings comes from Astebreed where the game will crash if you change the display setting to windowed and then scroll the menu. Again, this isn't something you'll do anyway, but it's just something I randomly encountered when toying with the in-game settings. Most importantly though, I haven't seen a GeForce NOW game have any problems with actual gameplay, so that's not something to worry about. It's been a great experience.
Between GeForce NOW and all the compatible Android games, there's already so much to play and enjoy on the NVIDIA Shield TV. Another feature that's always been available on Shield devices is the ability for users to stream their own PC games from their computers. This is actually my first time ever making use of this feature. It finally made sense for me to take advantage of it as I can stream my PC games in 4K to my living room TV. This is such a wonderful feature that works great when playing titles that don't need a keyboard and mouse.
There are just so many ways to play and enjoy games on the NVIDIA Shield TV, and the controller that comes with it is for the most part excellent. I will complain slightly about the button positions of the start and back buttons on the bottom-center of the controller. I accidently touch those buttons so many times with my thumbs as they are too close to the thumb sticks. This causes the main menu to pop up over the game. Now, this wouldn't be so bad if the games would end up pausing when this occurs, but unfortunately they don't. Besides that, it's an excellent controller to game with.
Moving on to the apps. While I've been using my video game consoles to stream Netflix and Amazon Video, it also makes sense to use the NVIDIA Shield TV for that now as well as it can stream both of those apps in 4K HDR, which is perfect for someone who wants to take full advantage of their 4K HDR TV. I've also watched more YouTube consistently than ever before thanks to this device as it quickly streams 4K videos as well. I do have to point out the necessity to get the NHL TV app available on the Shield TV though. I'm good for baseball, but where's my ability to watch hockey?
It's been a lot of fun using the NVIDIA Shield TV as my all-around entertainment device. Everything I've done in the past couple of weeks for streaming has been with it, except for hockey. During this time I did try new 4K shows on Netflix to see how well the device handled the stream and maintained a solid quality image throughout each show. This is when I discovered a new favorite show of mine, Travelers, as I watched the entire season with the Shield TV. By the way, Travelers provides some excellent and intriguing sci-fi, and it's perfect for Stargate fans. It's created by the guy behind SG-1, Atlantis, and Universe. Plus, it features some guest stars from the Stargate series. Fun!
The NVIDIA Shield TV is a great entertainment device to have hooked up to your TV. It's also a very small device that doesn't take up much room at all. It's incredibly sharp-looking and looks great on the entertainment center. It comes with a good gaming controller and an easy to use remote controller for navigating every menu. The NVIDIA Shield TV also features Google Assistant for speaking into either one of the controllers to help you find whatever you may be looking for. The NVIDIA Shield TV is far better than I could have imagined and I'm thrilled to have it in my living room to use for all my streaming needs. I no longer need any other device to stream apps like Netflix and Amazon Video as it handles it perfectly and in 4K/HDR. Additionally, I may pay more attention to some Android apps that make good use of the Shield TV's gaming controller. Now the only thing that's missing is the NHL TV app. Once that's on it, I'll have my absolute favorite streaming device.
The NVIDIA Shield TV really is an excellent all-around device for gaming and streaming videos. It offers pure quality on all fronts and has plenty of room to grow when it comes to gaming. I'm so excited to see how GeForce NOW continues to expand with its library of games and can't wait to play more new releases on it. And by the way, users who purchase games through GeForce NOW may also receive a code for it on PC. That's pretty great, right? And once the Shield TV corrects a few of its issues and adds an easy way to share my clips and screenshots to social media, I will then say that it really is the perfect streamer for gamers. So it may not be perfect, but it's certainly excellent and by far the best streamer I've used.
I'm a big fan of the NVIDIA Shield TV and can't wait to continue using it for all my entertainment needs. I especially look forward to playing new game releases on GeForce NOW and then talking about them here and on Twitter. And by the way, I can't wait for UPlay to arrive with many of Ubisoft's games, such as Ghost Recon, For Honor, and The Division. Let's do this!