Acer Predator 15: Gaming on the Go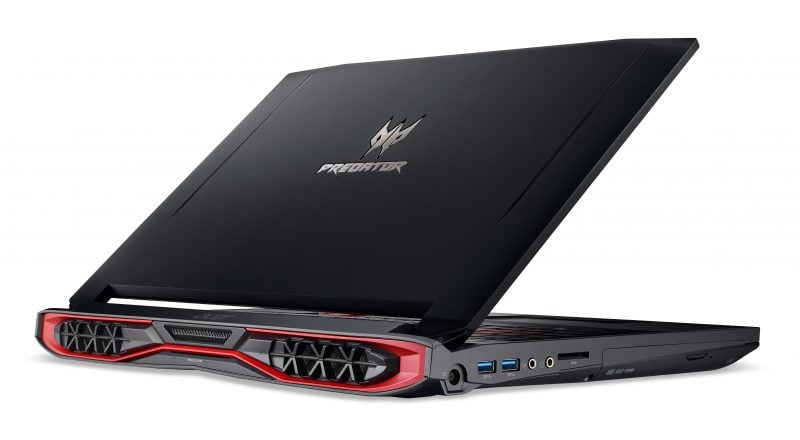 I fell in love with Acer's Predator brand when I recently experienced gaming on the Predator Z301c ultrawide monitor. It has a sharpness and quality to it that makes it the best monitor I've ever owned. The focus for any gaming monitor is always on the quality of picture for great gaming experiences, which it has, but it also boasted a stylish look that makes it awesome to see sitting on a desk. It has the full package deal.
Lately I've been testing Acer's Predator 15 laptop. Once again, much of the same can be said about the laptop of which I said about the monitor. It's great for quality gaming performance, but it's also one of the best-looking laptops I've ever seen. It looks as if it's ready for some serious gaming, and it certainly is.
Let's first start with the specs:
Processor: Intel® Core™ i7-6700HQ processor 2.60 GHz
Screen: 15.6″ Full HD (1920 x 1080) 16:9, G-Sync Monitor Support
Graphics: NVIDIA GeForce GTX 1060 6 GB
Memory: 16 GB, DDR4 SDRAM
Storage: 1 TB HDD, 256 GB SSD
The Acer Predator 15 laptop comes equipped with the 6GB GeForce GTX 1060, which is perfect for 1080p gaming (you can see my article on the 6GB GTX 1060 here). It features a 1080p monitor that runs at 60Hz with G-sync capabilities. The GTX 1060 can max out the graphical settings on most games for a 60+ frames per second average at 1080p. I've provided some random gameplay videos below from some of my favorite games that I'm currently playing.
But before I get into the gaming experience, I first want to speak more about the laptops sleek and glorious design. First of all, the material that covers the laptop and surrounds the keys and mouse pad is so incredibly smooth and remains cool to touch. It's very comfortable to rest your hands on the laptop while using the keyboard to play games which is ideal for longer gaming sessions.
The keyboard is also backlit with customizable lights in four sections. You can see how that works in the Predator Sense performance video below. The W, A, S, D keys are outlined in red while the rest of the keyboard, outside of the arrow keys, are in black. I really love the overall design of the laptop, and the Predator symbol and red lighting makes it even better.
Gaming on the laptop has also been an ideal experience. While it did take a while to get used to the laptop's 15-inch screen, I eventually forgot all about it and had a blast playing games like Battlefield 1, Bulletstorm: Full Clip Edition, Crysis 3, Rise of the Tomb Raider, F1 2016, and more.
To help maximize gaming performance by using Predator Sense owners can choose to increase the laptop's performance by selecting two overclocking options. In its natural state the option is Normal, but there's a Faster and Turbo option for increasing the performance of the GPU. Below are test results of all three settings using 3D Mark.
3D Mark Tests
Normal
Faster
Turbo
One of the best things about the laptop is that while it does get warm, it remains a lot cooler than any laptop I've previously used for gaming. I also like that owners can replace the CD tray with an additional fan to provide extra cooling support. I had no idea about that upon receiving the laptop, but I really do appreciate that feature to provide additional cooling for it. The CPU does still get near 85 Celsius in some games, while the GPU typically average closer to 65.
The Acer Predator 15 laptop also features 5 customizable buttons on the top left of the keyboard. This is also easy to do within the Predator Sense application. One of the options owners can use is the ability to maximize the fan speed at any time with a click of a button.
The Acer Predator 15 weighs in at just over 8 pounds. It's not too heavy, although I did carry it all around PAX East this year and did find my shoulders getting a little tired. I did have a sharp and useful Predator branded backpack with me though to carry it in which is a fantastic addition for anyone looking at getting the laptop. It features a ton of room to carry the laptop and additional gear such as keyboards, mice, headsets, controllers, and so on. Whatever you need for gaming, it'll fit!
It's been a great experience gaming on the Acer Predator 15 laptop. It's by far the best gaming laptop I've ever used on a long-term basis at this point. Everything about it is nearly perfect. I may personally prefer the Predator laptop with the 17-inch monitor, but there's absolutely nothing wrong with the 15 inch.
The majority of my gaming experience with the laptop was playing first person shooters while using the laptop's keyboard and an attached mouse. That ended up being a great experience, even on the smaller screen. I also recently got my hands on a racing wheel and tested it only with the Predator 15 laptop. It worked out really well to set up the wheel directly in front of the laptop for some fantastic racing experiences. That article can be found here.
Below you'll find some gameplay footage from my experience with the Acer Predator 15 laptop. Most videos are of generic gameplay with max settings unless otherwise shown in the video. The first two videos I'm about to show you are performance based while playing Battlefield 1 and Crysis 3, while the rest are random gaming experiences.
The Acer Predator 15 laptop with the 6GB GeForce GTX 1060 is the ideal package for 1080p gaming on a laptop. It remains cool, looks sharp, and provides gamers with excellent gaming experiences. It's definitely the best gaming laptop I've used to this point.
Crysis 3
Battlefield 1
Rise of the Tomb Raider
Bulletstorm: Full Clip Edition
F1 2016
FlatOut 4: Total Insanity
Forza Motorsport 6: Apex
Project CARS